There are wins, there are big wins, and there are wins that remind everyone who the team to beat is. The Yankees were staring at a five run deficit in the late innings of Game One with no answer for C.J. Wilson, but they're the defending champs for a reason. Some stellar bullpen work and an eighth inning rally later, Mr. Sinatra was letting to rip with New York, New York.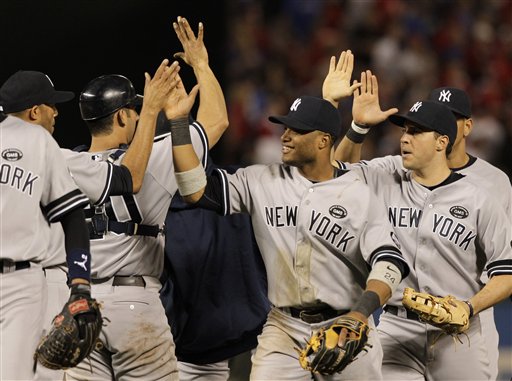 Let's do this chronologically…
Gardner Slides In Safe
Every game winning rally has to start somewhere, and in Game One it started with a weak groundball to first to lead off the eighth. Brett Gardner hustled down the line and pulled a page out of the Melky Cabrera playbook. sliding head first into the bag. His hand slipped in under Wilson's foot and that was it, the Yankees had their foots in the door.
Derek Goes Down The Line
Robbie Cano had gotten his team to within grand slam distance with a solo homer in the seventh, but Jeter pulled them even closer in the eighth. He yanked a double down the leftfield line, driving in Gardner to make it a 5-2 game in Texas' favor. The tying run was on deck, and the line had put in motion. The hit improved the Yanks' chances of winning by 6.9%.
Swish & Tex Take Ball Four
Jeter's double ended @str8edgeracer's night, and Ron Washington handled the ball over to the ageless Darren Oliver. Oliver had a great season and it stood to reason that he could record three outs before giving up three runs. Turns out he could even get one out, instead walking Nick Swisher and Mark Teixeira on 13 total pitches, loading the bases for last year's playoff hero.
Honorable Mention: A-Rod Hits One Through Michael Young
There's no substitute for hitting the ball hard, and few do it better than Alex Rodriguez. He wasted no time jumping all over sidearmer Darren O'Day's first pitch following the walks to Swish and Tex, grounding it sharply to Young at third. The ball ate him right up, coming closer to hitting him in the face than settling into his mitt. Jeter and Swish came around to score, Tex moved to second, and the score was suddenly 5-4 with still no outs in the inning. The WPA swing on this one registered at +.166.
Biggest Hit: Texas Is Now Aware
After the three time MVP brought the Yanks to within one, the possible 2010 MVP stepped to the plate facing yet another new pitcher. This time Washington gave the ball to funky southpaw Clay Rapada, who promptly laid a first pitch fastball right over the plate. Cano did what he's been doing all season, lacing the ball back up the box for a single, a single that drove in Teixeira and tied the game.
Texas' lead evaporated just like that, before a single out was recorded in the inning. This was the biggest hit of the game in terms of the WPA swing, checking in at +.266. Wowza.
Mr. Thames To You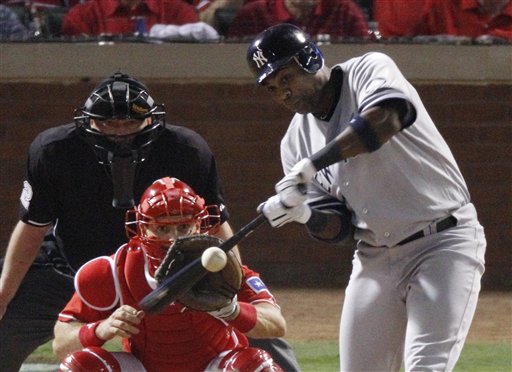 I told you Marcus Thames would be important in this series, and he wasted no time proving me right. After Cano's single tied the game, the Yanks' designated lefty masher dug in against (yet another new pitcher) Derek Holland with a chance to give his team the lead, but he had to work for it. The first pitch was a fastball for a strike, the second a fastball for a ball. Thames swung and missed at a slider in the dirt, and Holland tried to get him to bite on it again but to no avail. The sixth pitch of the at-bat, a 2-2 fastball on the inner third was the one that sealed the Rangers' fate. The pitch broke his bat, but Thames got enough of it to bloop it into shallow left and allow A-Rod to cross the plate as the go-ahead run. The comeback was complete, and then some.
In a season of big hits for Marcus, it gets no bigger than this one right here. Believe it or not, the WPA swing was just +.066, but we all know how big it really was. The numbers will never truly express the emotional high.
Not So Good, Very Bad CC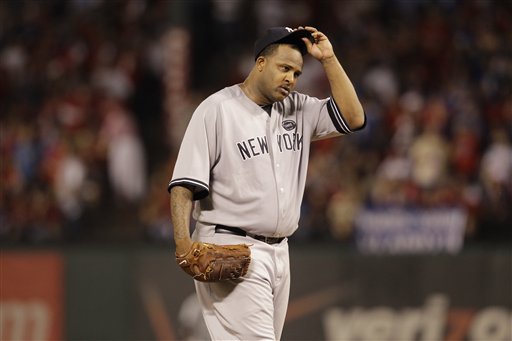 Given the outcome, it's easy to forget that CC Sabathia was pretty terrible in this one. His command was non-existent, his breaking ball did more ball than break, and it was a chore right from the get-go. CC allowed the first three batters to reach base and eventually come around to score on a Josh Hamilton homer (in an 0-2 count, no less. It was an awful pitch, a cement mixer slider that just spun out over the plate and did nothing. It wasn't until a runner got thrown out at the plate trying to score on a wild pitch that the first inning ended. Yeah, it was ugly.
The final line was 4 IP, 6 H, 5 R, 5 ER, 4 BB, 3 K, 1 WP with one balk. It's entirely possible that the nine day layoff screwed him up (one start in the last 17 days), but that's no excuse. CC has to be better than that and he knows it. Thankfully the rest of his team bailed him out.
Leftovers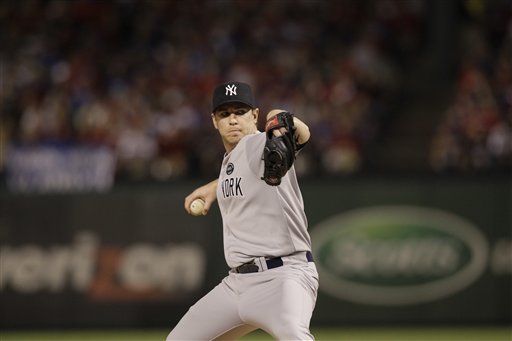 Unsung hero: Dustin freaking Moseley. How about that guy? Two perfect innings, four strikeouts, and 21 strikes out of 27 total pitches all against the meat of Texas' lineup. All told, the bullpen allowed just one hit and two walks in five scoreless innings or work, striking out six. The lone hit was a ten hopper just passed the outstretch arm of a diving Robbie Cano to lead off the ninth. The Yankees swing-and-miss bullpen has been a great asset all season, and it showed why again tonight.
At one point the top four hitters in the Yankee lineup were a combined 0-for-12 with three strikeouts. After that they went 3-for-4 with a pair of walks. Everyone in the lineup reached base at least once except Jorge Posada, who lined out to left and hit a ball to the track in that eighth inning.
Nick Swisher … stop effing bunting. That bunt attempt in the ninth following Jeter's leadoff double had to come from (or at least be endorsed by) the dugout (he made three attempts to bunt and no one told him stop), so stop telling Swish to bunt Joe Girardi. He predictably popped it up in foul territory, failing to advance the runner. Jeter never came around to score, but thankfully the Yanks didn't need him too.
Just as a quick aside: how the hell does Neftali Feliz not get in this game in the eighth? Ron Washington used five (!!!) relievers that inning and not one was his All Star closer. He was managing to the save stat, which is as stupid as it gets. I do thank him for that, however. Texas has still never won a playoff game in their home ballpark.
WPA Graph & Box Score
This what crushing the hearts of Rangers fans everywhere looks like. MLB.com has the box score and video, FanGraphs some other neat stuff.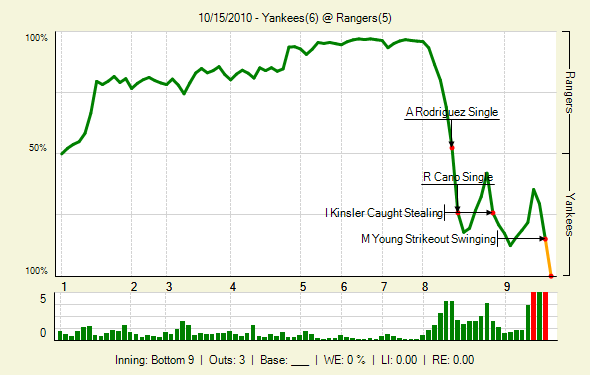 Up Next
Phil Hughes gets the ball in Game Two later this afternoon. Colby Lewis goes for Texas. That one's got a 4:07pm ET start time.