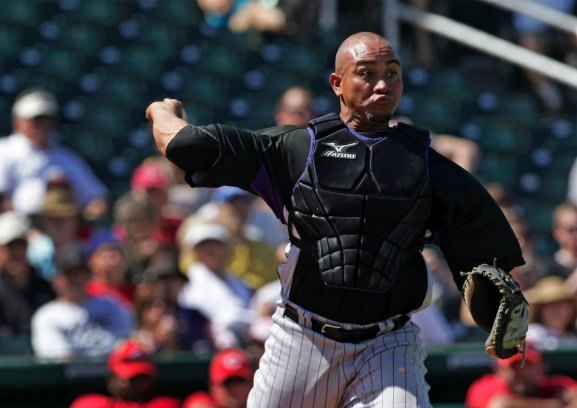 Yesterday was a big day for a number of teams. Anyone who reads MLB Trade Rumors knows that a number of players hit free agency after having their options declined. There are a few interesting names among them, perhaps a few that will draw interest from the Yankees. There's one name, though, that stands out a bit — if for no other reason than his mention in a recent post about catchers.
I'll defer to loyal commenter Ross in Jersey, who said: "Rockies released [Miguel] Olivo, go Cash go." They didn't technically release him, but rather declined his $2.5 million option for 2011, opting instead to pay him $500,000 to go away. It was the second consecutive year in which a team declined Olivo's option; after the 2009 season the Royals paid him $100,000 instead of picking up his $3.3 million option. That does sound a bit damning, but in the latest incident, at least, the Rockies might have had reasons beyond Olivo's performance for the release.
Why would the Yankees want Olivo? Because they have a peculiar catching situation in 2011. Jorge Posada hasn't started more than 90 games behind the plate since 2007, and might be good for only 70 or so in 2011 — he started just 78 in 2010. That leaves the bulk of the catching duties to Francisco Cervelli, which is not an ideal scenario for the Yankees. Cervelli is certainly passable in a backup role, but his defensive lapses and complete lack of power make him a poor choice to start 90 games.
There is Jesus Montero, but the Yankees can't really count on him in 2011. He's just 21 years old and has well-publicized defensive issues. There's a chance he could break camp with the Yankees and start as many games behind the plate as Posada, acting as a DH otherwise, but that's not a situation the Yankees can assume. There's also a chance that they could deal him this off-season. Given these parameters, acquiring another catcher does make sense. But does Olivo fit the bill.
He is basically the anti-Cervelli at the plate, in that he draws basically no walks but hits for plenty of power. His career ISO is .181 and he is coming off a season that equalled that mark. For those concerned that Coors Field inflated his power numbers, he did produce a career-high .241 ISO last year while playing in Kansas City. He has also hit for power at Petco Park, though that was back in 2005. Unfortunately, his OBP leaves much to be desired. In 2010, for the first time in his career, he broke the .300 OBP barrier. But that's less of an issue for a part-time catcher and No. 9 hitter.
On defense it appears he's a mixed bag. He's prone to lapses, as he's led the league in passed balls in four of the last five years. But otherwise he seems just fine. John Dewan's +/- rates him highly — he led the league in Defensive Runs Saved by a long shot this past season. Tom Tango's Fan Scouting Reports also rates him favorably. Olivo can certainly throw out runners as well. Last year 42 percent of base stealers headed back to the dugout, second best in the majors (again by a long shot). His career rate is 35 percent, which is 379th all-time and 12th among active players. In other words, while he does let a few too many balls get by him, he compensates in other areas.
No, Olivo is not a perfect fit should the Yankees need a catcher in 2011. Then again, there likely isn't an available catcher who can hit, field, and accept a less than full-time role. Olivo is one of a few catchers who has enough positives going for him that the Yankees could use him to start 70, 80 games if need be. Chances are they won't get him, though, as a number of teams need starting catchers. But should he remain on the free agent block while the Yankees take care of big business, they could certainly find use for him.