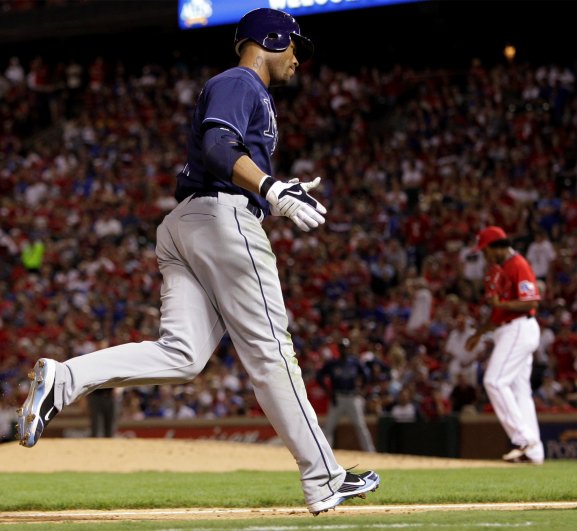 The Yankees would be a better team with Carl Crawford. Given his pull tendencies, Carl Crawford might be a better player with the Yankees. But that doesn't mean that the two sides will match up for a free agent contract. Crawford might have concerns other than how many home runs he hits. The Yankees have to look at the overall picture and determine what positions most need an upgrade. This week the team has met to determine a course of action, and according to a report by Mark Feinsand of the Daily News those plans will not include Crawford or the other big name outfielder on the market, Jayson Werth.
One of Feinsand's sources nails the issue with two crisp sentences:
"We are better with Crawford, but at that price?" a Yankees source said. "I'm not sure it's that good of an upgrade."
The biggest difference between Crawford and Brett Gardner is power, and even then the difference might be overstated with this year's results. Crawford produced a career high .188 ISO, while Gardner barely cracked the .100 mark. There's a chance that Crawford, 29, could improve on that mark, especially with the move to Yankee Stadium. But considering his .148 career ISO, I'm not sure that the Yankees can bank on that. Gardner has been the better on-base guy, at least in the past two years, while Crawford again produced a career high this year, .356. Even during his first full season Gardner was at .345, and last year produced a .389 OBP.
There are other issues with Crawford, too. While he ranked just below Gardner in UZR, Gardner can take that excellent range into center field. Crawford has expressed a desire to stay in left. He also prefers not to hit leadoff, which is perhaps the best spot for him. There's a good chance that Gardner will take over the leadoff spot at some time in the next year or two.
The biggest advantage Crawford has is his track record. Gardner fell off in the second half, which has led many to believe that he cannot handle a full-time starting gig. Whether he can or not remains to be seen, though it's hard to argue with the numbers he has produced in the past two seasons. Crawford, on the other hand, has been in the league since 2002, at age 20, and has had only a few truly poor seasons. He's more of a sure thing than Gardner, but he'll also be roughly nine times more expensive.
There is also the matter of need. All three of the Yankees outfielders produced 4 or more WAR this season, the only MLB outfield unit to do so. They can, in other words, stick with the same guys and look elsewhere for ways to improve the team. Upgrading the pitching staff, in other words, will have more of a net effect on the team's wins and losses, since there is more room for improvement on the pitching staff. Adding an outfielder would provide improvement on the margins.
Feinsand also mentions Jayson Werth, who recently retained Scott Boras to seek out the best possible deal. He's said to be seeking a Matt Holliday type deal, but that seems out of reach for the soon-to-be 32-year-old. Werth has thrived during his time in Philadelphia both on offense and on defense, but he faces the same issues as Crawford. Adding him provides only a marginal improvement over the current outfield corps, and he will cost more than any of them — even if he settles for a Jason Bay type deal rather than a Matt Holliday one.
There are many ways the Yankees can improve this off-season, but they should be looking to improve areas where they can realize significant improvement. That falls to the pitching staff. There might be concerns about Gardner's ability to maintain his high OBP, but those are theoretical concerns. The Yankees have actual pitching issues, and adding an arm can provide instant, tangible improvement. We pretty much knew this heading into the off-season, but it's nice to hear the Yankees come out and say it.