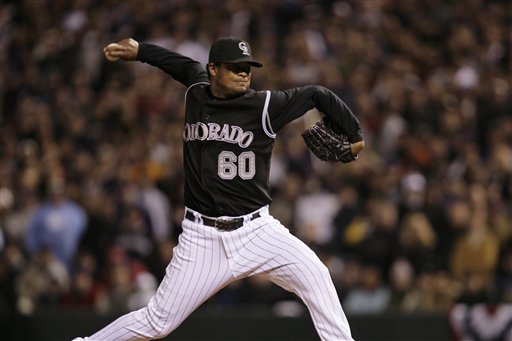 Yes, the Yankees spoke to the Diamondbacks about The Justin Upton today, as did the Red Sox and I'm sure a host of other teams. When you put a guy that talented on the market, you should expect 29 phone calls, if not more. I'll have a post on Upton up tomorrow morning, I promise, but for now I'll leave you with Dave Cameron's take on the matter.
One player I do want to quickly talk about reliever Manny Corpas, who the Rockies released today. He had Tommy John surgery late in the year and will miss basically all of 2011, but signing him would be a move geared towards 2012 and beyond. Assume he agrees to a minor league contract and rehabs next season, pretty much unavoidable at this point, he'll still be under team control in both 2012 and 2013. Corpas isn't the high strikeout guy the Yankees like to have on their staff (6.48 K/9 career), but he's a ground ball beast, at least until year when his grounder rate dipped to a career low 42.5%. He's generally at or above 50%, so perhaps the decline is injury related. Even though he has a ton of late game and closing (and World series!) experience (3.82 FIP career), I'm thinking about Corpas as just another middle innings guy to add to the inventory. They could go the Jon Lieber/Octavio Dotel route and let him rehab for a year before giving him his real chance.
Anyway, that's my hot stove musing of the day. Here's the open thread. The only local team in action are the Knicks, who are way out in Denver and don't start for another few hours. I have no idea how to entertain myself tonight. Hopefully you have better luck, and if you do, spill the beans here. Have at it.