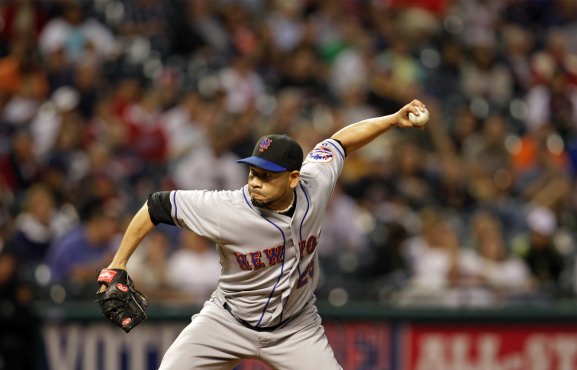 At the GM meetings this week, Rockies GM Dan O'Dowd said something that made me think of a situation the Yankees currently face. "But we're not looking for the best player; we're looking for the right player." That might sound odd at first — isn't the best player most often the right player? When it comes to team building, that's not always the case. Every team has constraints. The Rockies probably can't afford to sign a big-ticket free agent. While the Yankees can do that, they can't afford to do other things. Among them is giving up all of their draft picks.
The point about draft picks came up in the Scott Downs post. He is easily the best left-handed reliever on the free agent market, but he's not the best for the Yankees. Whether or not the Yankees sign Cliff Lee, or another Type A free agent, the cost of sacrificing another draft pick for Downs just isn't worth the benefits he brings. The Yankees always pick low, and they haven't had a supplemental pick in years now. To push their first pick into the triple digits just doesn't sound like a good idea.
This morning Newsday's Ken Davidoff mentioned that the Yankees are interested in Pedro Feliciano. That sounds interesting enough. Most of us are familiar with Feliciano because of his long tenure with the Mets; other than a stint in Japan during the 2005 season he has spent his entire career in Queens. He's regarded as a quality lefty who can take the ball every day — his 92 appearances was the most in the league by seven. This might make him appear to be a viable option for the 2011 bullpen, but there is plenty that works against Feliciano.
What first jumps out is his walks. In three of the last four years he has walked 4.3 per nine, which is something you absolutely do not want out of any pitcher, never mind a lefty specialist. As Mike noted on today's podcast, a good number of those are intentional. He issued intentional passes to six hitters in 2010, which would bring his walk rate down to 3.45 per nine. This trend continues back throughout his career. It does, in some way, mitigate the high walk rate. On the other hand, it speaks to another deficiency.
Feliciano is simply no good against right handers. All of those intentional walks in years past were issued to righties. This is unsurprising. We often see lefty relievers walk a righty in between two lefties. That's the strategy some managers play. The intentional walks do indicate that Feliciano's control isn't as bad as his walk rate would have you believe. But it means, at the same time, that he's putting more men on base. He certainly has the ability to strand those intentionally walked batters, as he is death on lefties. In 2010 he had a 9.55 K/10 and 2.73 BB/9 against lefties while not allowing a home run. That would be even better if he didn't face more righty batters than lefties.
If the Yankees were to use Feliciano solely against left-handed hitters, maybe he'd work out. His career numbers against them are tremendous. He's also a Type B free agent and so would not cost the team a draft pick. What he will cost is money. He will be 34 next season, so this is his chance to secure his future with a long-term contract. I suspect he'll seek something along the lines of Damaso Marte's three-year, $12 million deal. I also suspect some team will acquiesce to that demand. I just hope it's not the Yankees. If they're looking for a lefty reliever who is terrible against lefties there are other options — Randy Choate, for one. At least he'll be cheap and come on a short-term deal. Feliciano might be better, but he likely won't be worth the years and money. The Yanks can find their lefty elsewhere.