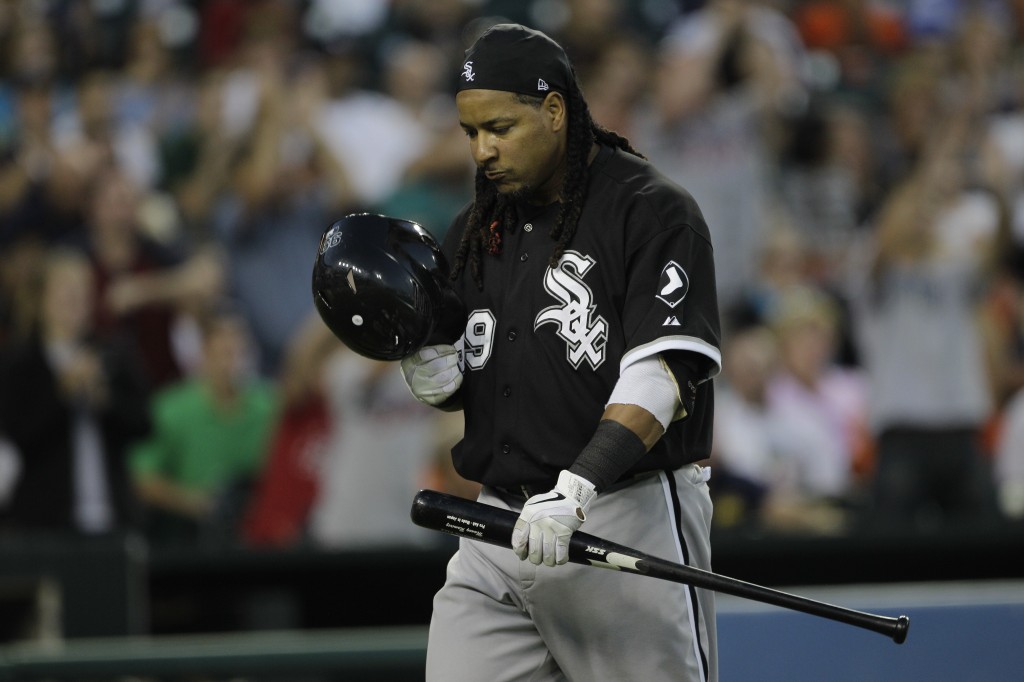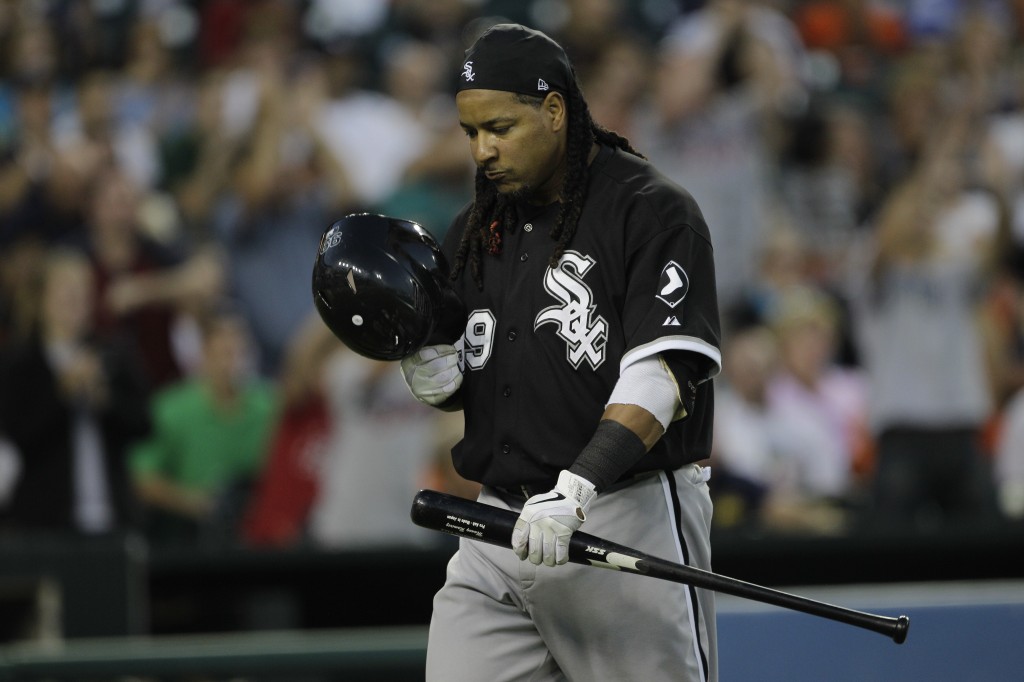 There's nothing more tempting to fans than a future Hall of Famer on the free agent market, especially after they've watched him do unheard of amounts of damage to their favorite team for the last decade. "I want that guy to do that in our uniform" is the feeling, and for the last three years there's been a decently sized contingent of Yankee fans that have pined for Manny Ramirez in pinstripes. If you're reading this site, then you're no doubt very, very familiar with Mr. Ramirez, perhaps more familiar with him than you care to be. He tormented the Yankees for years, hitting .322/.413/.607 (.422 wOBA) with 51 homers in 861 career plate appearances against them. That's MVP caliber production over a year-and-a-half worth of plate appearances.
Manny is a free agent this offseason, two years after his last crack at the open market. Over the summer he was placed on waivers and claimed by the White Sox, meaning that even if the Yanks wanted to claim him, they didn't get the chance since the ChiSox had a higher priority. Just three years ago he posted a .432 wOBA, whacking 37 homers with the Sox and Dodgers. The "Manny quit on Boston" narrative is blatantly untrue; he had a .398 wOBA with the Sox that year, and hit .407/.500/.712 (.480 wOBA) in the weeks leading up to the trade. If only every player would quit on his team like that. Yeah, Ramirez has had more than his fair share of off-the-field issues that have occasionally spilled over into his on-the-field effort, but he was a baseball mashing machine.
The problem is that over the last two seasons, the baseball mashing has occurred with less and less frequency. After averaging 39.75 homers per year from 1996 through 2008, Manny dipped down to just 19 homers in 2009 and then just nine this year. After a solid but injury plagued effort with the Dodgers (.393 wOBA in 232 plate appearances) this season, he really dropped off with the White Sox, picking up just two extra base hits in 88 plate appearances. His .353 wOBA with Chicago is inflated by five hit by pitches; if we remove those, he drops down to a .314 wOBA. Here's a graphical look at his power decline…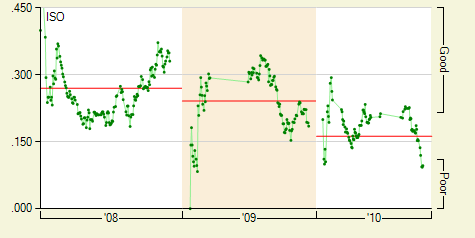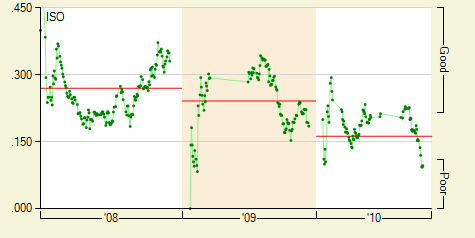 Buster Olney thought it would be a good fit to poll various talent evaluators around the league to see what everyone thinks of Manny at this point in his career. It's behind the iron curtain of Insider, but for the most part all of their opinions can be summed up by: "he's a DH," "solid bat, mid-.800 OPS guy," "incentive-laden deal," and "slow." One called him a healthier version of Nick Johnson, meaning his offensive value stems from the ability to control the strike zone and get on base rather than drive the ball with authority.
The Yankees need a replacement for Marcus Thames, some kind of right-handed bat that will crush lefties, but Ramirez isn't that guy. Not now anyway, it just doesn't make sense. Manny offers negative defensive value and in fact the health of his legs is a concern (he was on the DL three times with leg related issues in 2010), so he probably couldn't even play the field in an emergency spot. They'd be wasting one of three non-backup catcher bench spots on a guy that couldn't do anything other than walk to the plate and occasionally run the bases. He would also take at-bats away from Jorge Posada as the DH, which in turn would take at-bats away from Jesus Montero, which is clearly bad for the long-term outlook of the franchise.
Manny is first ballot Hall of Fame lock, one of the greatest right-handed hitters we'll ever see, but there's no place for him on the Yankees at this time. They need someone more flexible defensively and frankly a little cheaper to be in a reserve role, not someone used to playing everyday that could become a distraction if things don't go his way. I fully respect Manny's absurd career accomplishments (how the hell did he never a) win an MVP, or b) finish higher than third in the voting?), but there's no fit here. The Manny Ramirez option is a non-option for New York.