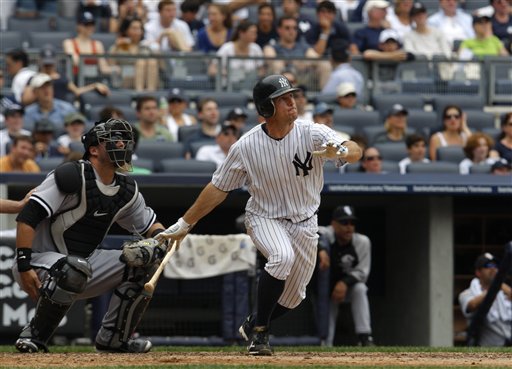 It's been quite some time since the Yankees had a true speedster in their lineup. Alfonso Soriano thrice stole 35+ bases in pinstripes, but his ability to flirt with 40+ homers annually is where the majority of his value lied. The Yanks tried to incorporate Brett Gardner into their lineup last season, but he eventually lost his job to Melky Cabrera and settled into more of a reserve role. With Johnny Damon in Detroit and Melky in Atlanta, Gardner was given another chance to earn a full-time job in the Yankee outfield, and this time he didn't disappoint.
Gardner started his season off in style, slashing a single to the opposite field off Josh Beckett in his very first at-bat of 2010. Two innings later he battled the Red Sox righthander for eight pitches before slashing another single to left, this time driving in a run. Derek Jeter followed that up with a single to put men on the corners, and with Nick Johnson staring at an 0-2 count, Jeter broke for second and Victor Martinez tried to gun him down. Gardner broke for home instantly and beat the relay to the plate, making him the first Yankee to steal home since Alex Rodriguez back in 2004. Two at-bats into the season, a professional wreaker of havoc of born.
Coming into 2010 as a complete unknown, Gardner established himself as the Yanks' everyday leftfielder by hitting .323/.397/.385 (.377 wOBA) through the season's first month. He tormented opposing pitchers with his patience, leading baseball by seeing 4.61 pitches per plate appearance (Daric Barton was a distant second at 4.40) and finishing second in the league by making contact on 97.5% of the swings he took at pitches in the zone. His 2.9% swing-and-miss rate was the fourth lowest in the game. Gardner's overall on-base percentage of .383 led the Yankees, and only two AL outfielders (Josh Hamilton and Shin-Shoo Choo) bested that mark. Once he reached base, he made life even more miserable for the fellas on the mound, swiping 47 bases (83.9% success rate). Only three big leaguers stole more.
A two-way threat, Gardner brought his Gold Glove caliber defense to leftfield in deference to the veteran Curtis Granderson, who assumed the centerfield job from the 2009 Gardbrera mash up. It's only a one year sample, but Gardner led all of baseball, regardless of position, with a +22.3 UZR and +39.7 UZR/150. He ranked third in both John Dewan's +/- system (+18) and in out-of-zone plays (78) among corner outfielders, and his defensive exploits earned him a Fielding Bible Award.
Gardner showed up to Dodger Stadium the proud owner of a .321/.401/.408 (.373 wOBA) batting line on the morning of June 27th, but he took a Clayton Kershaw fastball off his right wrist in his second plate appearance of the game. It all went downhill for Gardy offensively after that, and Joe will break it all down a little later today. But for now, this post is meant to acknowledge Gardner's awesome season, not focus on his second half. At 5.4 fWAR he was the 19th most valuable player in all of baseball in 2010 and seventh most valuable among full-time outfielders. There's no other way to describe it; Brett Gardner's 2010 season was a smashing success for both him and the Yankees.