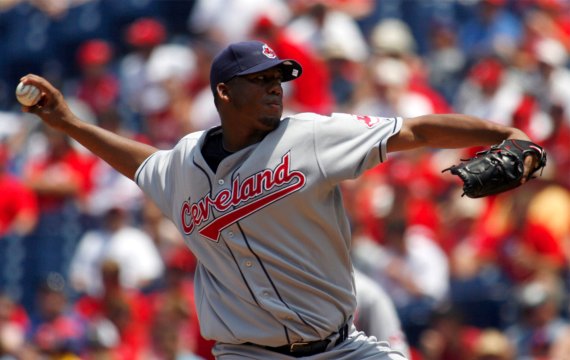 When Yankees fans think of Fausto Carmona, it's natural for Game 2 of the 2007 ALDS to spring into memory. While midges remain the most distinct recollection, Carmona's performance cannot be understated. His only flaw during his nine innings of work was a solo home run to Melky Cabrera. The extra innings victory put the Indians ahead two games to none, and while Phil Hughes helped stave off defeat in Game 3, the Yankees could not mount a comeback from the bring of elimination.
Carmona was brilliant in that 2007 season, finishing with a 3.06 ERA in 215 IP. It took him three years to get back to that level, but in 2010 he again crossed the 200-inning barrier and had a 3.77 ERA with a FIP right around his 2007 level. Now we've heard word that Carmona is generating heavy trade interest from other teams — perhaps from more teams than Zack Greinke. Since the Yankees are in the market for a starting pitcher, we can easily make the connection. Would Carmona be a worthy addition to the Yankees' rotation?
The Indians signed Carmona in 2000 as an international free agent, and finally put him in a stateside league in 2002. The next year, when he pitched in the Sally league, he produced a 2.06 ERA and 0.883 WHIP in 148.1 innings. That vaulted him to No. 76 on Baseball America's Top 100 prospects. In 2004 he moved up to advanced A ball and similarly dominated, a 2.83 ERA in 70 innings. The Indians got a bit aggressive with him and moved him to AA halfway through the season, but there he struggled, a 4.97 ERA in 87 innings. He eventually got the hang of AA, and then AAA, in 2005, and by 2006 he was headed up to the big league club.
The most noticeable thing about Carmona when looking at his stat sheet is his low strikeout rate. In his 746 big league innings he has averaged 5.50 K/9, which is far below the league average rate. He compensates with a heavy sinker, which helps him induce plenty of ground balls — almost 60 percent for his career. Since he came up full-time in 2007, only Derek Lowe has a higher ground ball rate, and even that is by only 0.3%. At the same time, only 13 pitchers during that span have a worse strikeout rate.
After his breakout 2007 season Carmona did what so many young pitchers do. He got hurt. The 215 innings he threw in 2007 represented an increase of about 40 over his previous high, which puts him in something of a risky category. After just 10 starts and 58 innings he went on the DL with a hip strain. Before the injury he had a 3.10 ERA. After his late July return he had a 7.61 ERA in 62.2 innings. That carried over into 2009, when he had a 7.42 ERA in his first 60.2 innings. This time the Indians sent him down to the minors until late July. After his return he was a bit better, but he still managed only a 5.29 ERA in 64.2 innings.
During his two down years Carmona got away from one aspect of his game that helped him succeed despite a low strikeout rate. In 2008 he walked 5.22 per nine, and in 2009 he walked 5.03 per nine. His minor league walk rate was 1.6 per nine, and in the 2007 season it was 2.55 per nine. In 2010 he regained some of that control, getting his walk rate down to 3.08 per nine. That and health appear to be the keys to his success. If he has both of them going he'll be a quality pitcher — a high-range No. 3 who will have an ERA somewhere between 3.50 and 4.10, give or take.
Before his injury in 2008 Carmona signed a four-year, $15 million extension that includes team options for 2012, 2013, and 2014. The 2012 option is absolutely team friendly, as it represents a mere $900K raise over his 2011 salary in what would have been his final year of arbitration. Carmona will earn $6.1 million in 2011 and will then have team options for $7 million, $9 million, and $12 million. A top five Cy Young finish will bring his 2012 option to $8 million, and two straight top five Cy Young finishes will increase his 2013 and 2014 options by $2 million each. If he continues pitching as he did in 2010, that could provide a little surplus value.
The question, as with any trade target, is of what Cleveland will demand. On one hand they have a young starter on a relatively team friendly contract. On the other they have a guy whose four years have ben divided among being good, being really bad, and being injured. Any acquiring team would assume plenty of risk, though that might be why Cleveland wants to deal him in the first place. Better to get a return now than have him flop in 2011 and get nothing for him. At the same time, hanging onto him until the trade deadline could yield an even bigger return if he continues pitching the way he did in 2009 — even more if it's more like 2007.
At this point I'm not sure what I'd consider a reasonable package for Carmona. Is he worth a high-ceiling guy such as Betances? Will the Indians take a package centered on Adam Warren or another lesser prospect get the process started? I'm really not sure what Cleveland expects for a pitcher with Carmona's history, and I'm even less sure of what the Yankees would consider a reasonable return. This leads me to believe that the Indians will roll with him to start 2011 with an eye on dishing him at the deadline. If the Yanks can get him for a price that doesn't include one of their high-ceiling pitchers, I'd endorse it. But otherwise he appears to be too big a risk at this point to justify a top-tier package.