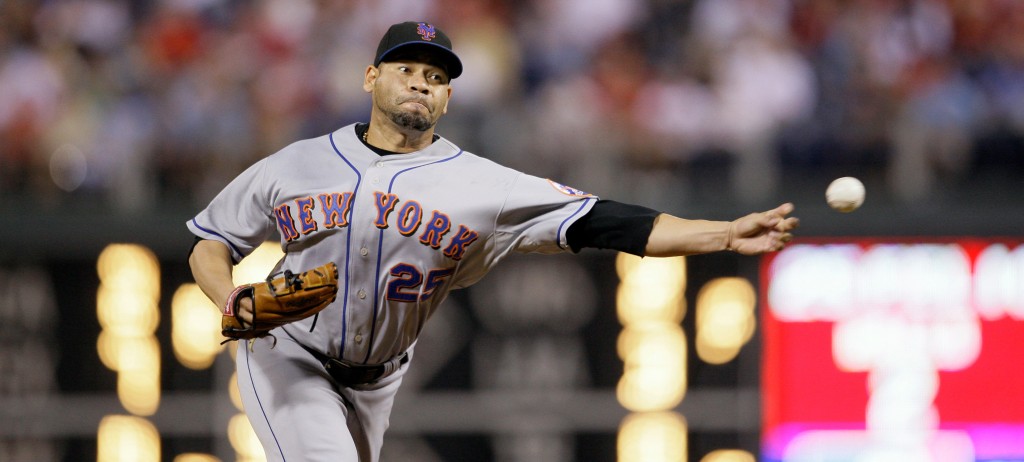 Update by Mike (12/17/10, 10:16 a.m.): Ken Rosenthal says it's a two-year deal worth a guaranteed $9M with a club option for 2013. Sounds like it's a $4M salary in 2011 and 2012 with a $1M buyout on the club option. There's no denying that Feliciano makes the bullpen stronger, but for how much longer? And the contract kinda stinks, but what can you do. Blame the Tigers and Joaquin Benoit.
Update by Joe (12/17/10, 10:02 a.m.): Jon Heyman reports that the Yankees have agreed to a two-year, $8 million contract with a third year option with Feliciano. It should be finalized and made official later today. If that's not a team option I will be disappointed. Actually, scratch that. I'm a bit disappointed as is. Feliciano isn't bad, but Bobby Jenks and Randy Choate both came off the board in the past couple of days and they're both better deals.
Original Post (12/16/10): According to Bob Klapisch, the Yankees are getting close to a deal with lefty reliever Pedro Feliciano. Our anonymous source that's both close to the situation and a friend of someone involved in he negotiations who asked not to be named but is a baseball person confirms that the two sides are close. Terms of the deal are unknown, but Scott Downs got three years and $15M while Randy Choate got two years and $2.5M, so I bet it's somewhere between the two. With any luck, it'll be a one year deal.
This move should come as no surprise. We first heard that the Yankees were interested in Feliciano one month ago today, and then learned that they had met with his agent at the winter meetings last week. Brian Cashman declared that acquiring a second lefty was one of his offseason priorities soon after the season ended, but it appears he isn't fully confident in Rule 5 Draft selection Robert Fish, or minor league signings Andy Sisco and Neal Cotts. Can't blame him, really.
Feliciano, 34, is well known around these parts after spending the last five seasons coming out of the bullpen for the Mets. He's a true workhorse reliever, leading the league in appearances in each of the last three seasons (86, 88, and then 92 in 2010) even though he's never faced more than 280 batters in a season. Feliciano has held left-handed batters to a .274 wOBA over the last three years, striking out 9.61 lefties for every nine innings pitched against them. He's also generated a ground ball 57.0% of the time against same-side batters since 2008, an excellent rate.
Like every other reliever, Feliciano has his warts. His unusable against right-handed batters; they've tagged him for a .360 wOBA over the last three seasons. He can also be prone to walks and homers, giving out an unintentional free pass to roughly one out of every eleven lefty batters faced since 2008, and he allowed exactly seven homers in both 2008 (1.2 HR/9) and 2008 (1.1 HR/9) before dropping down to just one in 2010. It could be legitimate improvement, or it could be a fluke that will regress at Yankee Stadium. My money's on the latter, but you're welcome to feel differently.
One thing Feliciano really has going for him is experience. He's spent the last half-decade as the Mets' primary lefty, so he's squared off against Chase Utley, Ryan Howard, Adam Dunn, and Brian McCann with great regularity. I don't think facing David Ortiz or Adrian Gonzalez or Adam Lind in a big spot will scare him. With Choate and Downs off the board Feliciano is the best of the lefty reliever lot, and hopefully the contract will not be too outrageous. I'm a little skeptical given his history of walk and homer issues, but I recognize that relievers are so damn volatile that he's just as likely to dominate as he is fall apart.