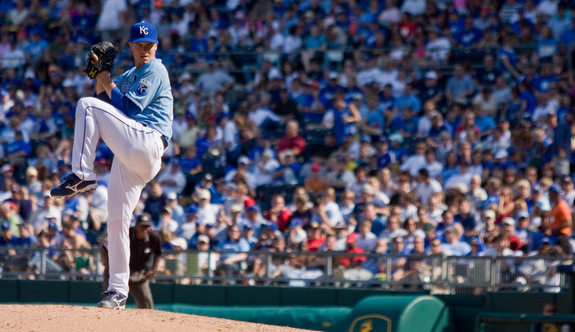 (Update, 10:31am): Turns out the Royals are getting a player to be named later, not Jeffress. The bigger news is that the Royals had a trade worked out with the Nationals, but Greinke told them he wouldn't waive his no-trade clause to go there, presumably because they aren't a contender. Jon Heyman says Greinke also told the KC braintrust that he wouldn't mind coming to New York, but it was his family members that had reservations. A deal was never close with the Yankees anyway.
(Original Post, 9:02am): Is this a crazy offseason or what? Late last night a blog by the name of Bernie's Crew reported that the Royals and Brewers had agreed to a trade involving former AL Cy Young Award winner Zack Greinke, but everyone was understandably skeptical. When I woke up this morning, Buster Olney had already confirmed it, so Greinke is in fact joining the Brewers. Kansas City will receive SS Alcides Escober, CF Lorenzo Cain, and pitching prospects Jeremy Jeffress and Jake Odorizzi. Milwaukee will reportedly receive Yuniesky Betancourt and $2M as well.
Before we get into the nuts and bolts of the trade, I want to congratulate Jim Breen at Bernie's Crew for getting the scoop. Independent bloggers get written off all the time because some schmucks out there throw out bad information as an attention grab, and it reflects poorly on all of us. Breen's scoop gives him some big time credibility, and I'm genuinely happy for him. This blogging stuff ain't easy if you want to be taken even remotely seriously.
As for the actual move, it really puts the Brewers right in the mix of NL Central contention. They picked up Shaun Marcum from the Blue Jays earlier this year and just added a bonafide number one guy that they run out there every five days. Yovani Gallardo drops back into the number two spot, a job he's overqualified for, and Randy Wolf becomes one of the better fourth starters in the game. They'll have that rotation for the next two years (before Greinke hits free agency), but I suspect they'll make some moves to really go all-in this season before Prince Fielder becomes a free agent next offseason.
Kansas City gets a young everyday shortstop and centerfield with five years of team control left each, plus one huge power arm in Jeffress (legitimately can touch 100, especially in relief) and one of the game's better pitching prospects in Odorizzi. Their farm system was the best in the game before the trade, but it was lacking when it came to up-the-middle players close to the big leagues. Escobar and Cain help correct that, and dumping the Yuni-Bomber is a net positive as well.
The Yankees were never really a serious contender for Greinke's services, even after Cliff Lee headed to the Phillies. They were concerned about his ability to handle New York, and while I don't necessarily buy those concerns, the team had them and acted appropriately. I'm not sure the Yanks could have matched that package anyway since they don't have a big league ready shortstop to send to the Royals (sorry, Eduardo Nunez fans). If the Yanks weren't going to get Greinke, the next best thing would be for him go to the National League, and that's what happened.
I was really hoping that Greinke would get traded to a big market just so he could put this "can't handle the pressure" stuff to bed, so now I'll hope for the Brewers to make it to the postseason and for Greinke to wreck the Phillies. Twice.