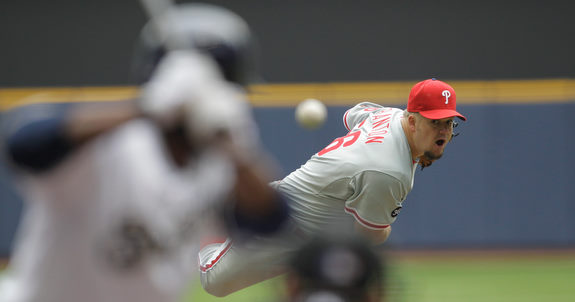 Angelo asks: I live in Philadelphia, and there's been some talk on sports radio of the Phillies dealing Joe Blanton to the Yankees. I don't personally care for him, but he'd be cheap considering the Phillies desperately want salary relief. I don't recall seeing any mention of him on RAB as of yet – if you've already discussed him, my apologies.
We haven't discussed him yet, and that's partially by design. As soon as the Phillies signed Lee everyone and their mother knew they'd have to trade Blanton just to keep the payroll in check. They signed the big right-hander to a three-year contract extension before last season, and there's still two years at $8.5M annually left on the deal. Their payroll is already approaching $160M according to Cot's and that's only because Lee's deal is so back-loaded. They still owe Ben Francisco and Kyle Kendrick arbitration raises as well.
Anyway, back to Blanton. He's a pretty generic righty in that nothing stands out about him. His fastball is mostly in the upper-80's and occasionally the low-90's, and neither his slider, changeup, or curveball is a legit put-away pitch. Blanton's strikeout rate unsurprisingly jumped once he got the National League, but it's been decidedly below average over his entire career (just 5.82 K/9). He atones for that slightly by limiting walks, issuing just 2.33 unintentional free passes for every nine innings pitched in his career, and that number has been pretty steady over the last two or three seasons. The groundball rate has dropped off since his days with the Athletics, sitting around 41% now after being at ~44% for most of his career.
Blanton's best quality is his ability to eat a boatload of innings. The 175.2 innings he threw in 2010 was the lowest full season total of his career, and that's because he missed all of April with an oblique strain. That is the only disabled list stint of his career, and otherwise he's thrown no fewer than 194.1 innings in any of his other five seasons as a big leaguer. I mean, that's really it, there's not much more to know about Blanton. He's a decidedly average pitcher, with no more than 2.1 fWAR and no less than 1.9 fWAR in each of the last three seasons. Dead, solid, average.
Is Blanton better than Ivan Nova and Sergio Mitre? Certainly. He could be a fine innings guy in the fourth or fifth starter's spot, giving the team someone they can run into the ground to spare the bullpen every so often. The AL East will probably knock him down the peg into the 1.5 fWAR range, but that's nothing more than my speculation. Don't expect greatness, because you won't get it.
As always, cost is the most important thing. Everyone knows the Phillies have to move Blanton because of their payroll situation, so their hands are tied. No one will give up anything of value, especially if they have to eat the contract. Philadelphia would preferably pay at least part of the $17M that Blanton is owed over the next two years, but even if they eat $5M or so, they're still not going to get anything great back. I'm not a big fan, but he makes sense for the back of the rotation to a certain degree. The Yankees just have to make sure they get him almost for free. Ruben Amaro's hands are tied, so take him to the cleaners. Anything more is an overpay.