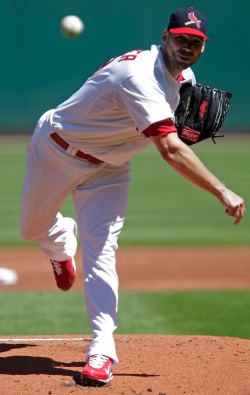 You might have missed it on the podcast last week, but Mike finally got me to reveal this mystery pitcher he'd mentioned in a chat a while back. Yes, if the Yankees miss out on Cliff Lee and turn to the trade market for another starter, I think they should target St. Louis's Chris Carpenter. He's not a perfect option, but the Yankees aren't going to find one of those — not even Lee himself is a perfect option. In Carpenter they will find a number of benefits.
1. He's a free agent after next season
There is a small but smart faction of Yankees fans who don't want Lee at all, because of the effect he'll have on mid-decade teams. At $23 million per year, he'll drive the Yankees commitments up to around $96 million to four players in 2014. How they plan to field the other 21 I'm not sure. That's the point of the anti-Lee movement, I suppose: sustainability in the future. Carpenter would bring no such problem. The Yankees can let him walk after the 2011 season and start over again. At that point their prospects will be one step closer to the majors — the ones they don't trade for Carpenter, in any case. It might lead to a better outlook for 2012.
2. He could be a burden on St. Louis's payroll
There's good reason the Cardinals missed the postseason in 2010. They were lacking at several positions. The only upgrade they've come up with is Ryan Theriot, and he's not a great bet to outperform Brendan Ryan next year. That still leaves a hole at third — David Freese is hardly proven — and second — Skip Schumaker might not have as putrid a year with the bat, but the dude simply cannot field his position at second. The Cardinals also have the Pujols negotiation, and indications are that they want to hammer out a deal this winter. He'll get a significant raise over his $16 million 2011 salary.
That's not to say that the Cardinals can't afford Carpenter. It's just that he'd be one of their better trade chips. With the need to improve not only in 2011, but for the subsequent decade that Pujols is under contract, they might need upgrades elsewhere. They won't get Jesus Montero, but they could find a few prospects of their liking from the Yankees' farm system.
3. He's, you know, a good pitcher
Carpenter might not be the same guy he was when he won the Cy Young Award in 2005, but he still has something left in the tank. He induces plenty of ground balls and he doesn't walk many guys. His strikeout rate isn't killer, but it's not in the mold of some other ground ball pitchers (a la Nick Blackburn). He also threw over 200 innings last year, another plus in his column.
There are downsides, of course. There are in any potential trade. With Carpenter they are considerable:
He's not the healthiest guy. While he made 28 starts in 2009 and 35 starts in 2010, he missed most of the previous two seasons.
He hasn't pitched in the AL since 2002, and he wasn't that good when with the Blue Jays. Note, though, that he's a completely different pitcher at this point.
The Cardinals could end up asking for a lot, since he will help them in 2011.
If he does become available, a number of other teams will be in on him.
It's not a perfect fit, but looking around the league there aren't many others who would work much better. It's tough to find a guy who can pitch in the middle or top of your rotation who are available in a trade.
I won't make a trade proposal, since it will inevitably suck. But I do think that the Yankees have the pieces to entice the Cardinals if it comes to that. I hope it doesn't — it doesn't sound like that attractive a proposition, and I don't see many other viable options. This is why there is such a vocal and vehement pro-Lee clan. Without him, the 2011 rotation looks shaky at best.