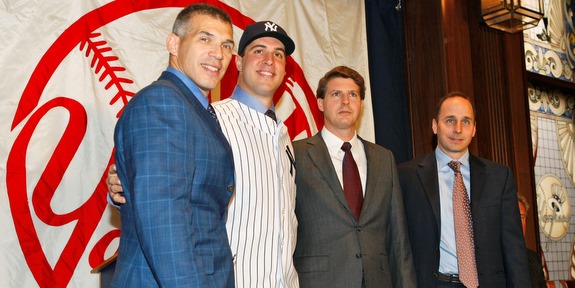 The holidays are always a slow time for baseball news, and this year is no different. The Yankees haven't done anything significant this offseason beyond agreeing to a deal with Pedro Feliciano, so any further improvements to the team will have to take place after the New Year. I decided to take a look back at the moves the team has made in January and February of the last five years just to get an idea of what we can expect over the next few weeks, and unsurprisingly, it's nothing excited. Let's recap…
2010
January: Signed Royce Ring, traded Mitch Hilligoss for Greg Golson.
February: Signed Marcus Thames, Dustin Moseley, and Chan Ho Park.
Ring didn't contribute much to the Yankees since he spent basically all season in Triple-A Scranton, but Golson played quite a bit in September as a pinch runner and defensive specialist. He even made the postseason roster. Thames, Moseley, and CHoP all spent a lot of time with the big league team, though Thames was the only one to have a positive impact. Park was the only one of the three on a big league contract, but he had a case of homeritis before being cut at the trade deadline. Moseley was below replacement level filling in for Andy Pettitte.
2009
January: Signed Pettitte and Angel Berroa, finalized deal with Mark Teixeira.
February: Signed Brett Tomko.
Tex agreed to his deal a few days before Christmas, but it wasn't made official until after the holidays. The same will be true of Feliciano this winter. Berroa was a minor league signing that ended up spending some time with the big league team after both Alex Rodriguez and (shudder) Cody Ransom hit the disabled list. Tomko was another minor league deal that was sub-replacement level in a handful of appearances for the Yanks before being jettisoned.
Pettitte was coming off a terrible second half in 2008 and was doing the retire or not retire thing all winter, then the Yankees played hardball with him salary-wise. I suspect we'll get some resolution as to Pettitte's status for next season during January, one way or the other.
2008
January: Signed Billy Traber and Morgan Ensberg.
February: No significant moves.
Blah. Both Traber and Ensberg were signed to minor league contracts yet opened the season on the 25-man roster, but both guys were terrible and banished to the minors and released before the All Star break, respectively. It's worth noting that the Yanks did sign both Al Aceves and Manny Banuelos in February, but those were long-term moves not necessarily designed to impact the 2008 team.
2007
January: Signed Doug Mientkiewicz and Miguel Cairo. Traded Randy Johnson and $2M to Arizona for Luis Vizcaino, Ross Ohlendorf, Alberto Gonzalez, and Steven Jackson.
February: Signed Ron Villone.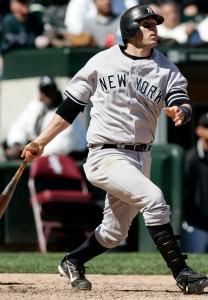 Finally, something interesting. Minky was better with the Yankees than people remember, posting a .346 wOBA with studly defense at first. Cairo and Villone stunk, and the writing had been on the wall about an RJ trade for weeks by time it was consummated. Vizcaino was the team's best middle reliever that year, at least until Joba Chamberlain showed up in August, and Rock 'n Rohlendorf was actually on the postseason roster that season. Gonzalez did little in his brief time in New York, Jackson even less. The trade did save the Yankees $14M, money they eventually gave to Roger Clemens when they signed him at midseason.
2006
February: Signed Bernie Williams, Octavio Dotel, Miguel Cairo, and Al Leiter. Finalized deal with Johnny Damon.
February: Claimed Darrell Rasner off waivers from Washington. Signed Scott Erickson.
Bernie's deal was just a formality since we all knew he was coming back, and Damon's contract was made official after being agreed to in December. Dotel was on a minor league rehab deal as he came back from Tommy John surgery, but his contribution to the Yankee cause later that season was minimal. Cairo and Leiter were forgettable, as was Erickson. Rasner proved useful for a few seasons before heading to Japan, though he was never anything special. Just a nice arm to take a beating whenever the team needed it.
* * *
For the most part, every move made in January and February over the last five seasons has involved complementary pieces or minor league filler, not counting Damon and Tex. Pettitte should get resolved next month like I said, and based on recent history, any moves the Yankees make before Spring Training will be rather insignificant. They'll probably bring in a starting pitcher, but we all know it's unlikely to be some kind of high-end arm. Count on it being an innings guy for depth. With any luck, he'll be better than Rasner.