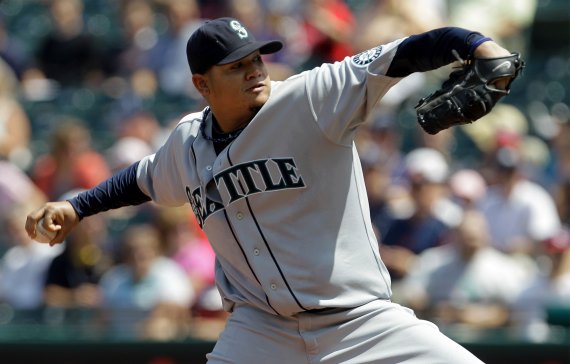 The No. 1 question we receive every day is some variant of, why don't the Yankees trade for Felix Hernandez, or the Yankees should trade the farm for Felix. This is an understandable reaction to a rough situation. Many fans had so vividly imagined Cliff Lee in pinstripes that the reality of him going to Philadelphia has caused a bit of a blinder. The most prominent such blinder is the thought that Seattle might trade Hernandez to the Yankees.
The reason the Yankees won't acquire Felix, at least in the near term, relates more to Seattle than it does New York. After all, they're the one that holds the prized player. They have a number of reasons to hold Felix rather than cash him in for prospects. Given Felix's ability and contract, along with the team's overall situation, I can't see them making a trade any time soon. I won't go so far as to guarantee it — baseball is a weird game — but I'm confident that Seattle will hold onto Felix through at least 2013.
The first and most obvious reason for Seattle holding onto Felix is his ability. Whether or not you think he deserved the AL Cy Young Award, he is still a top five pitcher. He's probably a top three pitcher. In the past two seasons he's shown improvements in both his strikeout and walk rates, and now has the lethal combination of 8-plus strikeouts per nine and a 50-percent-plus ground ball rate. Only four pitchers in the majors accomplished this in 2010. Oh, and he's only 25 years old. It would take quite the set of circumstances for any team to consider trading such an elite young pitcher.
Considering his performance and service time, Seattle has Felix signed to a team-friendly contract. After the 2010 season Felix has five years of service time, meaning he'd have been a free agent after the 2011 season had he not signed an extension. What kind of contract would Felix command if he hit the free agent market as a 26-year-old? I imagine he might have become the first $200 million pitcher. Yet he signed an extension with Seattle that covers five years and pays him $78 million. That will cost the Mariners just $10 million in 2011 before it jumps to $18.5 million in 2012 and gets to $20 million in 2014. He is the consummate bargain, even at $20 million annually.
Seattle can easily afford this contract. They're not the Marlins; they're not the Pirates; they're not the Indians. They play in a fairly robust market and can certainly afford to keep elite players under contract. Their payroll is actually a bit down now, $91 million in 2010 after approaching $120 million in 2008. Furthermore, they have few large commitments in the future. The 2012 payroll has just $54 million committed, mostly to Felix and Ichiro, and after that their only big obligation belongs to Felix. Why, then, would they trade an elite pitcher? They can clearly afford him.
At this point we can turn to Zack Greinke to answer the previous question. The Royals could afford to keep him, but instead traded him to the Brewers. Kansas City is a bottom dwelling team, but has a big set of eyes on the future. Their farm system ranks as the best in baseball by no small measure, and they could start seeing those players pay off in 2012. Even then, it's tough to expect a crop of 20- and 21-year-olds to bring a team into contention. The more realistic impact year is 2013, and at that point Greinke would have been a free agent. Trading him now, then, theoretically provides Kansas City with the best return, since they're providing two years of Greinke at a below market rate. This is not the same situation Seattle faces.
Yes, the Seattle offense was historically bad in 2010 — often bad enough to negate the benefits that Felix brought. But this won't always be the case. As with the Royals, the Mariners will rebuild. They might not have the same caliber system, but it still has a few strong prospects at the top. In June they'll draft second overall, and they figure to have another decent pick in 2012. This will help them reload the system. Given their current young talent, their talent on the farm, and the talent they can afford on the free agent market, I imagine that Seattle will be back in the contention conversation before 2014. If they plan to contend before then, they have even less of a reason to trade Felix.
Let's just imagine for a moment that Seattle's target contention year is 2014, the final year of Felix's contract. Might they then decide to trade him and fortify the team for a run that year? Again, I don't think so. No player they can acquire will provide the impact that Felix himself can. They might be able to shore up multiple parts, but they'll be left weaker at starting pitcher. That brings me to the final point: Seattle can, in all likelihood, sign Felix to a mega deal once he hits free agency, or perhaps before. He'll be just 29 at the time, so he'll probably be in line for a Sabathia-like deal if the current baseball economic structure holds up. Why wouldn't Seattle give it to him? In fact, if they didn't I'd suspect that they know something that we don't, and are holding off on a big offer for that reason.
When an opportunity arises to trade for a pitcher of Hernandez's age and ability, any team will jump all over it. They might even empty the farm. It would be a justifiable move. But there's a reason that pitchers of Hernandez's age and ability typically do not become available in trades. Seattle has little reason to trade him. Maybe if they catch a few terrible breaks he'll become available in a couple of years. But right now the team simply has no reason to trade him. I'd love to see him in Yankee pinstripes as much as the next guy. But let's be realistic. It's just not happening.