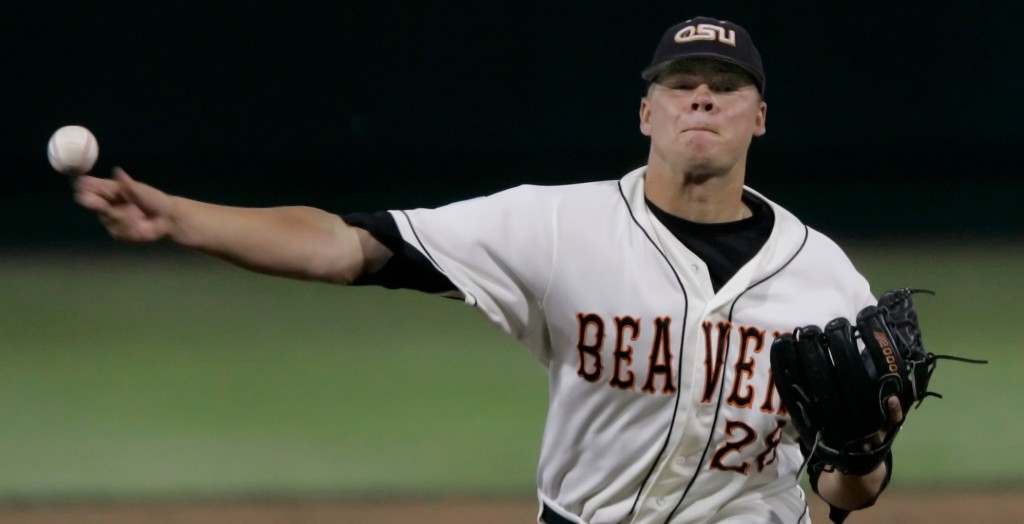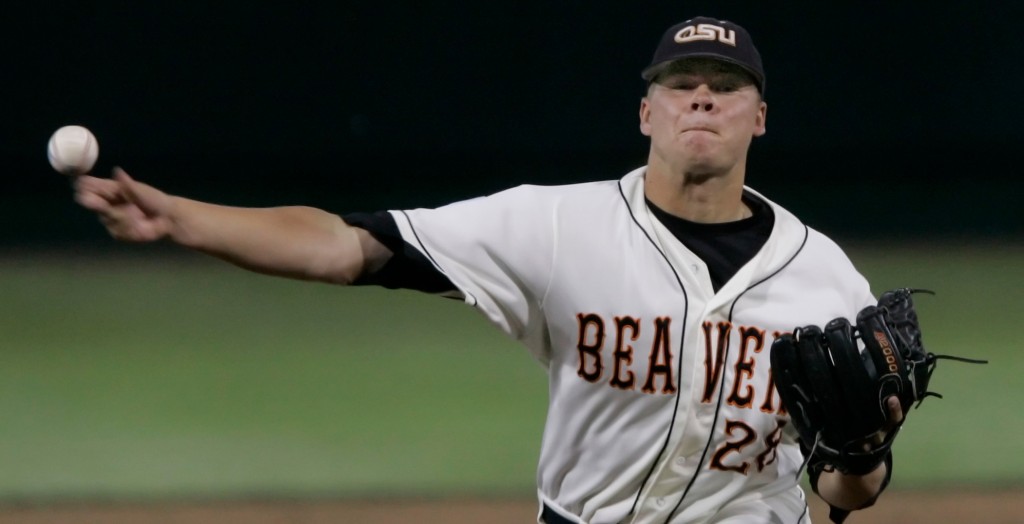 The Yankees selected two players in this morning's Rule 5 Draft, taking lefty reliever Robert Fish from the Angels and righty reliever Daniel Turpen (above) from the Red Sox. Neither player cracked their former teams' top 30 prospects list in the 2010 edition of Baseball America's Prospect Handbook, but that's par for the course in the Rule 5. The Sox originally acquired Turpen from the Giants at this year's trade deadline in exchange for former Yankee farmhand Ramon Ramirez, and his name also popped up in the Adrian Gonzalez talks, which is not terribly interesting or relevant.
Turpen is the more polished and lower ceilinged prospect of the two. The 24-year-old Oregon State product was an eighth round pick in 2010 after a three-year career as a swingman, squeezed out of the rotation by some of the higher upside arms the perennial College World Series contenders boasted. Turpen's strikeout rate jumped in the pros, from 5.3 per nine in school to 7.5 as a paid player, somewhat surprising for a generic sinker-slider guy. The 6-foot-4, 230 pounder sits 92-94 from a low arm slot according to BA's Jim Callis, making him a ground ball pitcher that's tough against righties but suspect against lefties. Over the last two seasons, Turpen's posted a 2.77 ERA (3.27 FIP) in 136.2 relief innings over the last two seasons.
Fish, 23 in January, is the more intriguing of the two. He was a sixth round pick out of a California high school back in 2006 and spent the next two-and-a-half years as a nondescript starter (4.76 ERA, 4.34 FIP in 300.2 IP). The Angels shifted him to the bullpen at the start of the 2010 season, and although his ERA (8.93) is ugly, the peripherals at the Double-A level were fine (10.2 K/9, 3.8 BB/9). Baseball America's Ben Badler noted that Fish (listed at 6-foot-3, 225 lbs.) is a lefty that hits 95 and can miss bats, evidenced by his 9.1 K/9 in the minors. Back in May, Halos Heaven (ugh) noted that BA graded both his curveball and changeup as average pitches, though scouting reports change over time, so don't take that to heart. Here's some video from this past April…
The Yankees tried to trade up in the draft so they could take righty Elvin Rodriguez from the Mets, but they were unable to get it done and he landed with the Nationals. Both Fish and Turpen will compete for bullpen jobs in Spring Training, but it's unlikely either will stick. They almost never do. Fish will battle minor league free agent pickups Andy Sisco and Neal Cotts for the second lefty job, but his chances of making the team go right out the window if the Yankees sign someone like Pedro Feliciano, Scott Downs, or (please please please) Randy Choate. Turpen will have to outperform players like Ryan Pope and Romulo Sanchez, who are long shots as it is.
I wouldn't expect much out of the two newest Yankees, but there's no harm in rolling the dice on some interesting arms and seeing what sticks. With teams paying close to $5M per WAR this offseason, the Yanks would need to get just one one-hundredth of a win out of each player to justify the $50,000 selection cost, and that's basically one scoreless inning at the big league level. The rate of return is extremely high if a Rule 5 guy sticks, even if he's nothing more than a specialist reliever like Fish and Turpen.