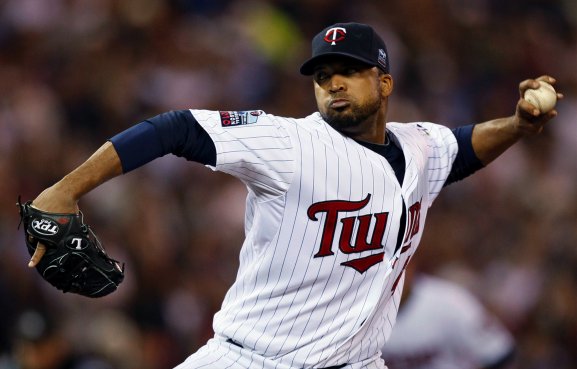 Think there's no Plan B in the case the Yankees don't land Cliff Lee? That does not appear to be the case. In his media session yesterday Joe Girardi said that they had a list of five players that they'd consider in that scenario, and according to Joel Sherman one of those players is Francisco Liriano:
Several teams have called Minnesota to inquire about the availability of ace Francisco Liriano , including the Yankees, who are making sure of what is available in case they don't land Cliff Lee . But a Twins official said the team is focused on upgrading the front of the rotation and could not imagine how they would let Liriano go unless it were a trade that led to obtaining another high-end starter.
This does strike me as a bit odd, for the same reasons mentioned in the final sentence. Why would the Twins trade their best starter when they'll be right in the AL Central hunt? It's nice to hear that the Yanks are calling around for viable alternatives, but as I found when I sought the mystery pitcher, there just isn't much that figures to be available.
Sherman goes on to mention the White Sox, who are right up against their budget limit after re-signing Paul Konerko, as a possible trade partner. While they almost certainly won't trade John Danks, they do have Edwin Jackson and Gavin Floyd. The rotation situation is tough for them, since Jake Peavy will miss the start of the season and his recovery is not guaranteed, but if they want to save some cash they could trade a starter and hope that Chris Sale makes an impact in the rotation. Again, considering the moves the White Sox made this winter, I think they're more focused on fielding the best possible team than freeing up payroll.
(Unless, of course, they have a move in mind that would improve the team and require a bit more payroll.)
With a seventh year tacked onto the Cliff Lee offer, the Yanks have to be the favorites right now. But they're not resting comfortably. It's good to see them looking around the league and inquiring on top-end pitchers. They do have a few nice trade chips, including Jesus Montero, so they have room to maneuver. What will be even more interesting is if they land Lee and continue shopping for a top-end pitcher. But we'll worry about that after the weekend, when Lee will supposedly make his decision.