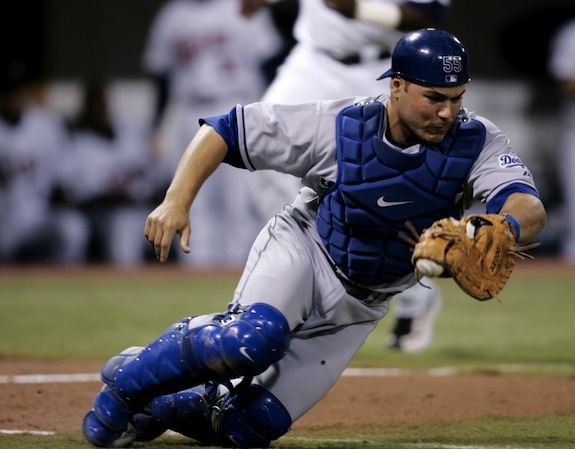 As the arms race between New York and Boston has been kicked up a notch over the last 12 hours, the two rivals are reportedly engaged in a bidding war. According to Yahoo! Sports' Tim Brown, both the Yanks and Red Sox are "going very hard on Russell Martin." The recently non-tendered 27-year-old is an appealing target for two teams who are soft at the catching position, and a Martin deal could be a key low-cost signing for 2011.
For both teams, Martin is a very obvious target. Right now, the Red Sox's starting catcher is Jarrod Saltalamacchia who played just 12 games in 2010. Saltalamacchia, 25, was a heralded prospect with the Braves, but he's never caught more than 83 games in a season and has a career OPS+ of 82. A 38-year-old Jason Varitek is the back-up.
The Yanks are in a similar boat. They're apparently entrusting the starting job to Jesus Montero, questionable defense and all, and the team has clearly soured on Francisco Cervelli as a back-up. Jorge Posada will be the primary DH as his body can't withstand the impact of catching. If anything, the constant rumors connecting the Yanks to Martin suggest that the team isn't sold on Montero's defense right now.
So Martin has emerged as a pawn. He'll turn 28 before Opening Day, and he's coming off of two bad injury-plagued years. During his ages 23-25 season, he hit .285/.373/.433 but turned in a Cervellian .249/.350/.330 slash line during his past two seasons. For the right price and with the right expectations, Martin would be a fine addition both for depth and for potential behind the plate.