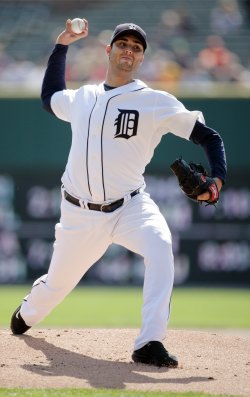 You don't often see a team agree to a $2.3 million contract with a player only to DFA him a day later. But that's what happened with the Tigers and Armando Galarraga. They avoided arbitration by signing him to the contract, and then designated him for assignment to make room for the newly acquired Brad Penny. That gives the Tigers 10 days to work a trade, and GM Dave Dombrowski is confident that he can do so. While he'll certainly ring up Brian Cashman, he hopefully will not find a match.
All winter we've been exploring options for the back end of the Yankees bullpen, which currently comprises Ivan Nova and Sergio Mitre. Having Nova there can be a good thing. He gained big league experience last winter and he's a decent prospect, so they might as well see what he can do. The issue is with Mitre, who, despite having played in the bigs for parts of seven seasons, has limited starting experience. In fact, we're so desperate to get Mitre out of the picture that we've measured all external options by the BTM scale: Better Than Mitre. Unfortunately, Galarraga doesn't necessarily fit that bill.
If Galarraga has one advantage over Mitre it's experience. He has made 78 stats in his four big league seasons, while Mitre has made just 64. He has also pitched at least 143.2 innings in each of the last three years, while Mitre's career high is 149 — and that came in 2007. That is the only reason I can see that Galarraga could potentially represent an upgrade. But in all other aspects the two are relative equals.
| | K/9 | BB/9 | HR/9 | ERA | FIP |
| --- | --- | --- | --- | --- | --- |
| Galarraga | 5.70 | 3.52 | 1.42 | 4.58 | 5.17 |
| Mitre | 5.38 | 2.96 | 1.10 | 5.27 | 4.72 |
Neither strikes out many batters, but at least Mitre mitigates that somewhat with a lower walk rate. Galarraga owns the better career ERA, due mostly to his flukey 2008 season. He's clearly not that good, though he might not be quite as bad as his 2009 campaign. Mitre, on the other hand, has an ERA that far outpaces his FIP. Given the walks and the FIP I'd pick Mitre, but there is one more factor that has me certainly favoring him.
The most glaring number on the above table is home run rate. Galarraga's 1.42 homers per nine rate is bad enough as is, but it looks much worse when you consider his home park. Comerica Park suppresses home runs, yet during the past three seasons only two pitchers have a worse homer rate. Now imagine him, a soft-tossing righty, facing David Ortiz at Yankee Stadium.
As the winter wears on and we pine for baseball, we're going to explore any Yankees topic possible. A final starter is the foremost topic, and we're going to explore every possible angle. (In fact, today or tomorrow we'll have something on a name you haven't yet heard.) But Armando Galarraga just doesn't fit the Yankees needs. He's a homer-prone soft-tossing righty who had one good season three years ago. Even then he greatly outperformed his horrible strikeout and home run rates. There is someone out there who can provide an upgrade to the rotation. Galarraga is not him.