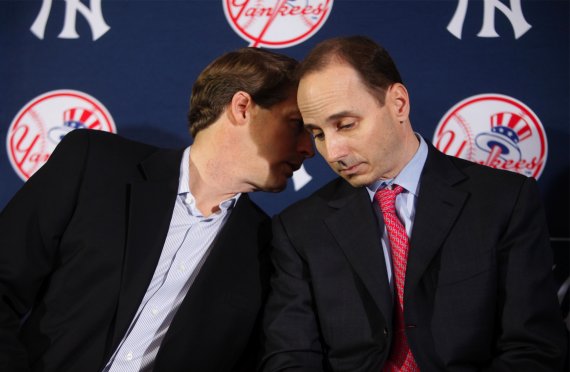 We are indeed plodding through the worst six weeks of the year. In fact, right now we're at the halfway point. There is sunshine neither behind us nor ahead of us. In many years this leads to idle chatter, but this year, after a rough off-season that saw Cliff Lee snub the team's millions, fans are starting to get cranky. Despite having made overhauls to the team in the last two years that resulted in a World Series title and an ALCS appearance, Brian Cashman has come under fire. But if we're to believe Hal Steinbrenner, this vitriol comes from only the fans. He has no problem with his general manager.
Despite Cashman's recent outspokenness, which consisted of him honestly answering questions, Hal says that he and the GM continue working together as normal. Joel Sherman of the Post has Steinbrenner's exclusive comments.
[Cashman] and I have a great working relationship. There is no problem, right now. I think we have a bunch of drummed-up drama.
…
I value his opinion and his advice. That does not mean that I am always going to go with that advice and all of my VPs know that I might go a different way. There are no hard feelings between Cash and I. There never was. Reasonable men can differ in opinions.
…
I keep reading about dissension and discord. We are a well-functioning company. The bosses have a decision to make. Sometimes people don't agree with those decisions. So I told him, "You are always honest with the media, be honest now. Tell them what you have to tell them." I was already onto the next decision. I told him, "You and I are fine. Answer in any way you want." We are not always going to be on the same page. It is my job to think what is best for the family, partners and company.
Hal also said that he wants to keep Cashman beyond 2011, but that "now is not the time for that." It would be quite hypocritical, indeed, if the Steinbrenners extended Cashman's contract before it expired, when Cashman refuses to do so for his players.
When reading these comments, it is important to remember that Hal has every reason to say what he did. The franchise does not benefit from the perception of internal unrest. Hal's comments are meant to smooth over what has been seen as a rough patch for the organization. Continued silence would only lead to further speculation. In that way, Hal did a good job of quieting doubters and maintaining an image of solidarity in the front office. But I'm not convinced he actually means it. Nor am I convinced that he doesn't mean it.
This is merely the media's nature. Sometimes we get exclusive information. Other times we get a long PR spiel. This was certainly the latter. It is nice to hear the owner of the team backing up his GM, but to take this at face value is a mistake. After all, how often do we see a GM or owner give a public vote of confidence to an employee, only to fire him within days? I do hope that Hal is sincere in his words, but experience studying the media tells me to take his comments lightly.
In his column today, Joel Sherman offers a sober look at the situation. It doesn't make me think Hal's comments are any more sincere, but reading it reminded me of one thing. There might be a perception of turmoil right now, but it won't affect how the Yankees approach the season. They're still going to look for a pitcher, whether that's in February or it's in June. If there is a front office issue to deal with, it will come in October or November. Which serves as a reminder that we have seven months of baseball between now and then. That's the sweetest reminder of them all.