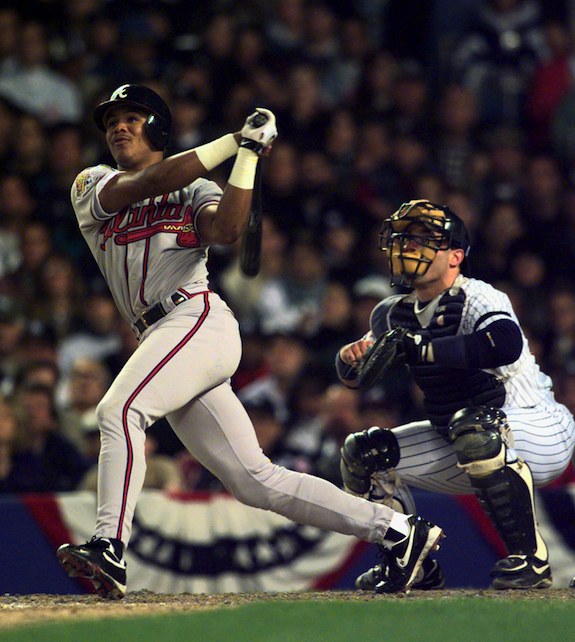 Game 1 of the 1996 World Series was a shocking one for the Yanks and their fans. After a 15-year wait, the Bombers were back in the Fall Classic, but the Braves knocked around Andy Pettitte. Some 19-year-old kid named Andruw Jones stole the show as he belted a two-run home run in the second inning and added a three-run shot off of Brian Boehringer in the third. The Yanks would go on to lose the game 12-1, and with his glove and bat, Jones earned himself comparisons to both Willie Mays and Mickey Mantle.
Over the years, Jones almost lived up to his potential, but he never took baseball as seriously as he should have. In his age 28 and age 29 seasons, he hit 51 and 41 home runs respectively, and after 10 full seasons in the league, he had a .267/.345/.505 triple slash line with 342 home runs and over 1,000 RBIs. Those are the makings of a Hall of Fame-like career.
Since then, though, Jones' production has dropped precipitously. He signed a two-year, $36.2 million contract with the Dodgers and couldn't last in Los Angeles. Over the past four seasons, he's averaged 104 games with a slash line of just .212/.312/.412 and has managed to add just 65 home runs to his total since then. He'll turn 34 shortly after Opening Day, and he remains a free agent.
Throughout the winter, the Yankees have been intrigued by Andruw Jones. They realize his defense has declined along with his bat, and in fact, his once-mighty UZR now ranks him as merely an average player in the field. Yet, they see one number that intrigues them. In 102 plate appearances against lefties, Jones hit eight home runs in 2010 and sported a nifty .402 wOBA. With Curtis Granderson and Brett Gardner vulnerable to lefties, the Yanks want a power right-handed bat who can play the field if need be. Jones, on their radar in 2009, might once again be there man, and the team is strongly interested in him.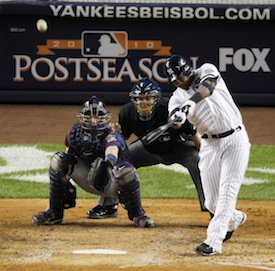 But what of the incumbent? Another 34-year-old with suspect defense held down the righty bat/fourth outfielder spot last year with mixed results. He certainly couldn't play the field, but Marcus Thames broke out the boomstick at the right time. He hit .288/.350/.491 with 12 home runs in 237 plate appearances, and his .365 wOBA was just .005 off his career high. Against lefties, though, his numbers dipped. He hit just five home runs in 142 plate appearances and sported a .354 wOBA.
So now, as the Yanks look to fill in the blanks before Spring Training, the question becomes "who would you rather?" After running down these numbers, it might be tempting to lean toward Thames. He was productive against both lefties and righties last year and put up a career year, but his .248/.311/.491 body of work suggest that he's not in line to do it again. They don't call 'em career years for nothing. We also don't need to know Thames' -4.3 UZR to know he was a disaster in the outfield. That game against the Red Sox during which he just flat-out dropped a pop-up is good enough for me.
Perhaps then Jones with his .261/.361/.501 career line against lefties is the Yanks' man. He can play a passable outfield for a few innings and can still flash the power. But salary demands are a concern. He'll want way more than the $500,000 he earned in 2010, but Thames will want a raise from the $900,000 he earned. It seems that Jones will be the more expensive sure thing while Thames has the good will of 2010 going for them. With the Yanks' money to spend, I'd err toward Jones. Would you?