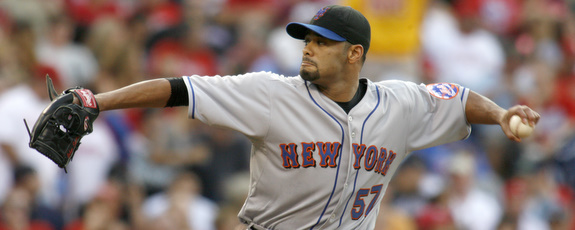 Darl asks: Any chance Johan Santana goes on the trading block? 31 year old with some injury trouble making $20MM. Mets likely will get blasted in NL East. New management will want to rebuild. He is under contact through 2014.
I think you answered your own question. A 31-year-old with injury trouble making $20M a year is ALWAYS on the trade block. The problem is that no one is going to bite. Remember, Santana is currently rehabbing from major shoulder surgery and isn't expected to be ready until midseason. And it's not just the shoulder either. His 2009 season came to an end in August because he had elbow surgery, so that's two arm operations in as many years. In fact, Johan has not finished even one of his three seasons with the Mets healthy. In '08 it was his knee.
We were adamantly against trading for Johan three years ago, and that's when he was healthy and on the top of the game. Now that he's on the wrong side of 30 and has been dealing with some serious injury issues, we're even more against it, regardless of his availability and the cost. The injury concerns are very real, and are even more troubling since the last two involve his prized left arm.
Not only would the Yankees have to worry about injury-related decline, but at age 31 (32 in March), age-related decline becomes an issue as well. A case could be made that a healthy Johan Santana won't be worth his contract for the next four years, especially since his peripheral stats have been declining since before he won his second Cy Young Award…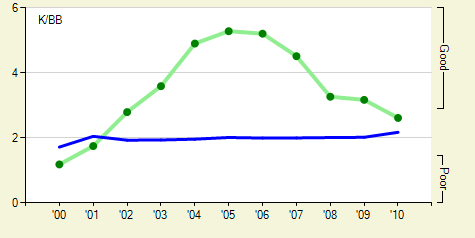 The injuries are just the most obvious of the red flags. Johan's fastball velocity has been declining while his changeup velo remains unchanged, so it's not much of a surprise that the latter's effectiveness has slipped in recent years. There's not the same kind of separation on the pitch anymore. His swinging strike rate has been falling for about four years now, and he's gone from a guy that gets 40%+ ground balls to the mid-30's. Naturally, his homerun rate has shot up despite the move to the easier league.
Don't get me wrong, the Yankees definitely need pitching and there's nothing wrong with taking fliers on injury rehab starters, but there's a limit. It's okay to go after those guys on cheap one-year deals when they're free agents, but absorbing four years and $80-something million of a contract and giving up talent for that kind of guy is a backwards move, regardless of how talented the pitcher is. Johan is drawing ever closer to the cliff, and no one should want the Yankees to be on the hook for his contract whenever he decides to tumble off.
Anyway, it's not going to happen, but I figured it was worth addressing since quite a few people ask each week. Santana was a devastating pitcher at his peak, a high-strikeout lefty that walked next to no one, but he's no fewer than two seasons removed from that peak. He's more name than production and reliability now, and that's exactly the opposite of what the Yankees need.