Time for another edition of the RAB Mailbag, and this one is free of Rafael Soriano/Joba Chamberlain vitriol. We've got questions about Dave Bush as a rotation candidate, Austin Romine as the catcher of the future, Brett Gardner's long-term outlook, and what happens with Jorge Posada after the upcoming season. Remember to use the Submit A Tip box in the sidebar to send in your questions throughout the week.

Arad asks: What about Dave Bush as a 4th or 5th starter?
Once upon a time, Bush was arguably the most dominant closer in college baseball history. The Blue Jays have done a great job in recent years of turning college relievers into starters (Shaun Marcum and Brett Cecil among them), which is what they did with Bush before trading him to the Brewers in the Lyle Overbay deal. But that is neither here nor there.
Bush's last three seasons have been pretty damn awful. He had a 4.93 FIP in 2008, a 5.07 FIP in 2009, and a 5.13 FIP in 2010, so he's bad and getting worse as he enters into his 30's. Although his walk rate is solid (2.64 uIBB/9 in the last three years), his strikeout rate is below average (5.80 K/9) and so is his ground ball rate (38.9%). Oh, and he's amazingly homer prone. Over the last three seasons he's surrendered one homerun for fewer than every 6.1 IP. And this is in the NL Central, stick him in the AL East in Yankee Stadium and we could start taking bets on which sections of the bleachers will get souvenirs on the nights he pitches.
As I always say, there's nothing wrong with a minor league deal with an invite to Spring Training, but there are enough red flags here to keep me away.
Ashley asks: If the Yankees were to use Jesus Montero as trade bait sometime throughout the season, how much will the drop off be from Jesus to Austin Romine? Is there any benefit to having Romine as the "catcher of the future" or will we trade for a big name catcher (if he exist)? Basically, assess the Yanks catching situation.
Romine was always a much safer bet to remain at catcher long-term, but questions popped up about his catching ability last season. Keith Law didn't like what he saw out of him blocking balls in the dirt and what not in the Arizona Fall League, though in fairness Romine was probably fatigued after his first full season as an everyday catcher. His bat also dropped off considerably in the second half. Romine is still a quality catching prospect though, a borderline top 100 guy with the tools to catch in the show. He just has to continue developing those tools into baseball skills. It'll definitely be a big hit though, Montero is going to be a star because of his bat. Romine will just a solid backstop.
The wildcard here is Russell Martin. If he plays well and the Yankees like what they're getting out of him over the next two years, there's always a chance they'll re-sign him when he's due to become a free agent in two seasons. IF not, and they trade Montero for a starter, I suspect Romine will get the first crack at that vaunted "catcher of the future" job. If he can't handle it, they'll either have to go out and get someone or hope Gary Sanchez doesn't flame out. This isn't an immediate concern though, we're at least two seasons away before we have to really worry about who will do the catching long-term.
Anonymous asks: Gardner. Lead off guy? Centerfielder? Big time contributor or eventual fourth outfielder/pinch runner?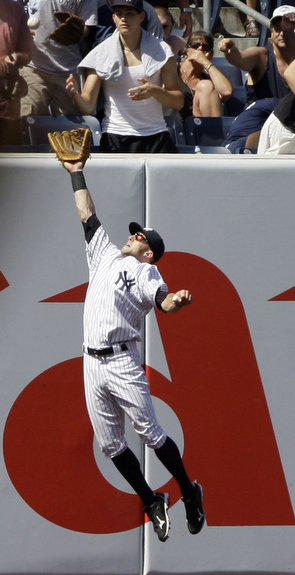 If he continues to play like he did last year, he's a legit leadoff hitter that can play center full-time. He's just masquerading as a leftfielder now because of Curtis Granderson. The wrist injury and subsequent offseason surgery is a bit of a problem and we don't know if or how it will effect Gardner in the long run, so that's something we're just going to have to wait and see about.
Remember, Gardner is already 27, so this is pretty much what he's going to be going forward. He won't suddenly develop power, and there's nothing wrong with that. He absolutely needs to get better at bunting, but the overall skill set is there to be a legit big league leadoff man for a few seasons. I believe in his ability to be at least an average regular a whole lot more now than I did twelve months ago, and at the absolute worst he's a good reserve outfielder.
Mark asks: How many games will Jorge Posada have to play and what offensive #'s will he have to put up in 2011 to obtain a contract for 2012? Or due to his age and inability to play defense are we simply counting down the time until we say goodbye to yet another of the all-time Yankee greats to wear the pinstripes later this fall?
I'm in the camp that thinks (hopes) Jorge will retire after the season. Even if he doesn't, any contract he gets for 2012 would absolutely have to be a one-year deal. That's imperative. But in order for him to get a new deal after the season, Posada would need to a) handle the move to DH with ease, and b) hit at an above average rate for the position. Offense around the league sucked last season, and AL DH's (not counting NL DH's in interleague play) hit just .252/.336/.426 in 2010. Posada easily cleared that playing mostly catcher (.248/.357/.454) and over the last three seasons he's hit .267/.361/.474, so being an above average DH shouldn't be much of an issue. Moving to the new position can be, since we've seen some playing in the past having trouble dealing with all the down time between at-bats. Becoming a full-time DH after playing the field for two decades isn't as easy as it seems.
To be perfectly honest, I had never even considered the possibility that Posada could be back in 2012. I don't think that either A-Rod or Jeter will erode so much next summer that they'll be relegated to full-time DH duties in 2012, so it seems like the opportunity will be there if Jorge wants to come back for another season. But like I said, one-year contract, nothing more. They already gave him his legacy contract.