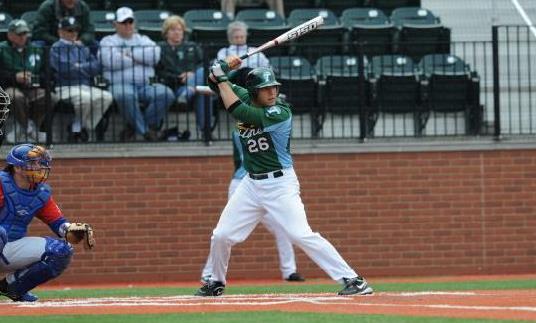 Rob Segedin | 3B
Background
A semi-local kid, Segedin grew up a Yankees fan in Old Tappan, New Jersey. He attended Northern Valley Regional High School, where he lettered in baseball all four years. Segedin helped the Golden Knights to the county championship as a freshman, and the state sectional title as a junior while placing as the runner up as a sophomore and senior. As you can imagine, he racked up plenty of hardware, so let's recap…
Owns the New Jersey state record with 181 career hits
All-League honors all four years
New Jersey Hitter of the Year as a junior and senior
First Team All-State as a junior and senior
First Team All-County as a junior and senior
Second Team All-County as a sophomore
Member of the National Honor Society
Segedin also played for the Bayside Yankees, a prestigious travel team whose alumni includes Jon Lester, Rocco Baldelli, Steve Karsay, Nick Hundley, John Lannan, and Pedro Alvarez. He helped them to the Premier National Baseball championship in 2006 and 2007, winning team MVP honors in '06. Because that's not enough, Segedin also served as his class vice president and graduated Magna Cum Laude.
Despite all of his prep accomplishments, Segedin was not considered a major prospect for the 2007 draft and went unselected. That took him to Tulane, where he played in all 62 games as a freshman in 2008. He led the Greene Wave in hits (75), batting average (.322), doubles (18), and RBI (59) while placing second in on-base percentage (.414) and third in both slugging percentage (.485) and total bases (113) that season. Doubling as a reliever, Segedin also made 14 appearances on the mound, saving five games and striking out 21 batters in 19.1 innings pitched.
While playing with the Falmouth Commodores of the Cape Cod League after the season, Segedin suffered a lower back injury that limited him to just five games during his sophomore season. That combined with a shoulder issue led to him taking a medical redshirt. Segedin was healthy enough to play for the Bourne Braves on the cape that summer, hitting just .179/.214/.281 in eight games during the team's championship run.
Picking up right where he left off as a freshman, Segedin led the Green Wave in batting average (.434), on-base percentage (.516), slugging percentage (.788), hits (92), doubles (29), homers (14), total bases (167), walks (33), hit by pitches (five), runs scored (55), and RBI (54) as a redshirt sophomore in 2010 while placing second in stolen bases (four) and triples (two). His triple-slash line was good for 9th/23rd/11th best in the country, respectively, and he was named to the All-Conference First Team.
That monster season led to Baseball America ranking Segedin as the 88th best prospect available in the 2010 draft, though he had some leverage as a draft-eligible (redshirt) sophomore. The Yankees grabbed him with their third round pick, the 112th overall selection, and signed him to an above-slot $377,500 signing bonus a few days before the signing deadline.
Pro Debut
Segedin was initially signed to the rookie level Gulf Coast League squad for a two game tune-up (two-for-eight with a homer) before a promotion to the short season Staten Island Yankees. He finished the season there, posting a .329 wOBA in just 78 plate appearances.
Scouting Report
Standing on a 6-foot-3, 220 lb. frame, Segedin has a powerful line drive swing from the right side that produces a ton of hard contact. He's a polished hitter with the innate ability to get the barrel of the bat on the ball, rarely swinging and missing. An "aggressively patient" approach has him waiting for his pitch before launching an all-out assault on the baseball, but he's more than happy to take a walk if he doesn't see anything he likes. Segedin's power is more towards the gaps than over the fence right now, but he puts backspin on the ball in batting practice and should take it into games soon enough.
The bat is very real, but so are the long-term questions about his position. Although he can handle third base at the moment, Segedin is not fluid there and could end up moving to the outfield down the road. His fastball ran as high as 95 when he pitched as a freshman, so he has enough arm for the hot corner or a corner outfield spot. He's not a threat on the bases nor does he offer much speed. The back and shoulder issues are not a long-term concern, however they did rob him of a year of an important year of development at age 20.
You can see Segedin's draft video here. YouTube offers up several clips as well, including a few of him on the mound.
2011 Outlook
Vice president of baseball operations Mark Newman confirmed that Segedin will be assigned to Low-A Charleston to begin the 2011 season, where he'll work mostly at third base but also mix in some rightfield. His bat is more than ready for the level, and it shouldn't be much of an issue to find both he and Rob Lyerly playing time should Segedin be promoted to High-A Tampa at some point during the season.
My Take
I'm a fan, though I wish he was a left-handed hitter. That's nothing more than nitpicking on my part. The questions about his ultimate position suck, but it's not often that you can land a hitter of Segedin's caliber in the third round and for less than $400,000, so it's a tremendous value both in terms of pick slot and signing bonus. He should climb the ladder fairly quickly, meaning he could replace Brandon Laird as the team's best upper level corner infielder/outfielder in short order should the Yankees decide to use Laird as trade bait in the next year. Segedin will be a fun prospect to follow because he should crush Single-A pitching, and he's simply a rock solid prospect with a nice blend of upside and probability.