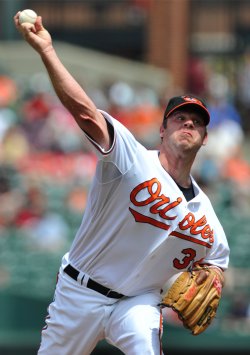 Just one more pitcher. Sure, the Yanks could use two more quality arms, but at this point in the off-season they'll have to settle for one mediocre one. The only question remaining is of which mediocre starter will fill that fifth, or even fourth, slot. In his column yesterday SI's Jon Heyman brings up a name that we've heard uttered before, but until this point none of us wanted to think about him too deeply: Kevin Millwood.
A glance at Millwood's numbers, especially the ones he produced last year in the AL East, might not inspire confidence, but remember the situation the Yankees face. As it currently stands they have fairly unattractive options for the final two spots in the rotation. Sergio Mitre is nothing more than a placeholder. Ivan Nova, though he has potential, has completed six innings just once in seven career starts. Hector Noesi, David Phelps, and the other AAA guys might present options down the road, but it would be quite the leap to start the season with them in the rotation. Considering this mess, Millwood might actually represent an upgrade.
One thing Millwood can give is innings. In five of the last six years he has made at least 31 starts. In the year he fell short he started 29. That immediately gives him a leg up on Mitre, who has topped 120 innings just once in his career. Having a pitcher at the back of the rotation who can give you six or seven innings a start, even if he's giving up three or four runs on average, has value. It's not ideal, especially for a first division team such as the Yankees. But at this point it's better than someone who has pitched six innings just once in the past three years.
Of course, just because he can provide innings doesn't mean they'll be quality innings. Just once in the past five years has Millwood finished with an ERA below 4.50. That came in 2009 with the Rangers, and his peripherals were all well above that. It was a welcome change, of course, since his peripherals in the preceding three seasons were all considerably worse than his results. Last year he returned to 2007-2008 form. His high home run rate is also cause for concern, especially as a righty at Yankee Stadium. But there are at least a few mitigating factors.
First, pitching in Texas can absolutely kill a pitcher's ERA. Rangers Ballpark in Arlington is one of the most hitter friendly parks in the league. Then, when he moved to the AL East last year, an injury might have made his overall season numbers look worse. At the beginning of the season he actually pitched quite well, but then he hit a rough patch that started with one game against Toronto and two against the Yankees. After this poor stretch he hit the DL with forearm soreness, and returned to pitch pretty well: 83 IP, 88 H, 41 R, 39 ER, 30 BB, 48 K, 10 HR — 4.23 ERA and 4.60 FIP. Again, they aren't great, but they're — wait for it — better than you'd expect from Mitre.
That's the gold standard right now. If there is a pitcher out there who can pitch more innings and provide better results than Sergio Mitre, the Yankees have to at least kick the tires. Many of us wish that Joba Chamberlain would be the answer here, and maybe there's still hope. If the Yankees do indeed move Joba to the rotation I wouldn't at all advocate for Millwood. But if they don't, then I will. It really has come to that. The Yankees need reliability and depth right now, and Millwood brings some degree of both. He's not ideal, and I really wish I didn't have to write this. But considering the situation, he's far from the worst option.