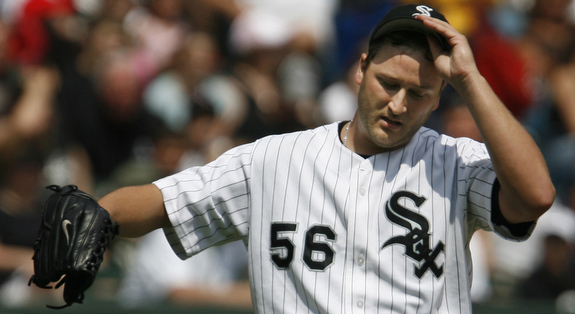 The World Series hangover effect is a relatively new phenomenon, at least in terms of public awareness given all the innings limits and pitch count stuff going on these days. I'm sure it's been around a while, but it hasn't gotten much publicity until recently. And no, I'm not talking about players celebrating too much during the offseason or anything like that, I mean pitchers seeing their performance suffer the year after a World Series appearance because of the increased workload.
Both Tim Kurkjian and Tracy Ringolsby recently penned articles focusing on the Giants and how their pitching staff will try to rebound after such a long and stressful season, each citing examples of pitchers who've seen their production decline the year after a World Series berth. They used things like wins and losses and ERA to prove their points, but we have better tools. So what I did was compile innings pitched, FIP, and fWAR data for every pitcher to start a World Series game in the Wild Card era, a sample consisting of 78 different pitchers and 111 individual pitching seasons. I looked at the two years leading up the World Series berth plus the two years after for comparison.

I should mention that I stopped at 2008; I didn't include the 2009 and 2010 pitchers because it hasn't been two years since their World Series appearances. The FIP and WAR are weighted averages based on innings pitched, and the innings is just a straight average. There's a drop-off but not a huge one when you go from the World Series season to the following year or two, less than one-tenth of a run in terms of FIP and about four-tenths of a win. Nine innings is a lot, but not a complete red flag. Against, it's certainly a drop-off, but not an extreme one.
However, as I was compiling the data, I noticed something: the same pitchers were in the World Series pretty much every year in the late-90's. Blame that on the Yankees dynasty and the Braves thrice making it to the Fall Classic. As you know, those rosters featured some all-time greats like Greg Maddux, Tom Glavine, John Smoltz, David Cone, Andy Pettitte, Roger Clemens, etc.  Those guys were remarkable for their consistency from year-to-year, rarely seeing a significant change in production whether they pitched in the World Series or not.
So yeah, those guys were skewing the data, or last it appeared that they could be, so I went ahead and eliminated them from the sample. I instead looked at pitchers who started a World Series game from 2002 through 2008, eliminating all the Yankee repeats, the Braves guys, as well as the two freaks of nature Arizona featured in 2001 (Randy Johnson and Curt Schilling). None of those guys are normal pitchers, not in any way, so we shouldn't lump them in with everyone else. Here's what I get for the mere mortals…

Now we're talking. Two-tenths of a run in FIP and almost a full win is a considerable drop-off, as is the 24 inning (!!!) decrease. The declines were evident in both veteran pitchers and young guys as well. Mark Buehrle went from a 3.42 FIP and 6.3 fWAR in 2005 to 5.27 and 1.9 in 2006, respectively. Mike Mussina went from a 3.09 FIP and 6.4 fWAR in 2003 to 3.95 and 3.3 in 2004, respectively. He experienced a similar drop from 2001 to 2002 as well. Young guys like Jeff Francis and Jeremy Bonderman went from career years and a World Series appearance to the disabled list and eventually the surgeon's table within a year or two. The examples go on and on.
There are certainly exceptions, of course. Some pitchers never feel the consequences of the high workload and continue to pitch well, others actually got better the next year. These guys aren't all created equal, but as a whole they experienced a decline from a World Series year to the next. Also keep in mind that it's not just the increased workload that effects the pitcher, it's the smaller recovery time. Reaching the World Series extends your season by a full month, which means their offseason is that much shorter.
One thing I found interesting was how performance peaked during the World Series year. You need a lot of things to go right to win a World Championship, especially on the pitching side, and this supports that theory. Sometimes a Jeff Weaver or a Jeff Suppan or a Josh Fogg or a Brandon Backe has to turn into an ace for a few weeks to make these things happen. And then they quite often turn back into Weaver or Suppan or Fogg or Backe the next year. It's not as simple as compiling the best staff on paper and running them out there, performance isn't guaranteed.
Joe already looked A.J. Burnett's workload in recent years and how that may have effected him in 2010, and the 2009 World Series appearance certainly factors into that equation. Pettitte had been through the whole World Series thing a bunch of times before and he showed no ill effects last year. Joba Chamberlain went from starter to reliever while Phil Hughes did the opposite, so it's tough to get a read on if/how the long '09 season effected them. CC Sabathia is a freak, and I mean that in the nicest way possible. He's big, strong, fat, and absurdly durable, and even if the World Series dragged him down last year, it was hardly noticeable.
Obviously this doesn't really tie into the 2011 Yankees at all, other than Hughes' considerable increase in innings (which would have been true even if they missed the playoffs), but I've been meaning to look into this for a while and figured it was about time to do. It shows you why the Yankees were eager to acquire Javy Vazquez last winter (protect against injury), and why it's so damn hard to repeat these days.