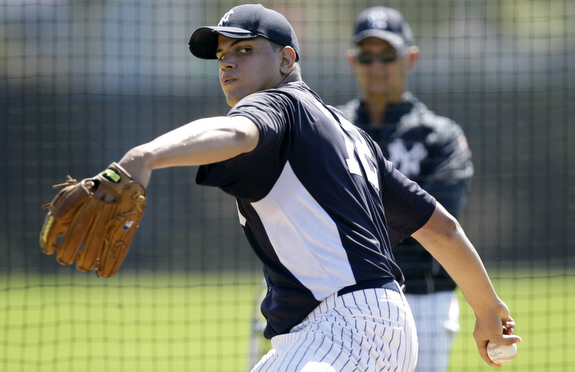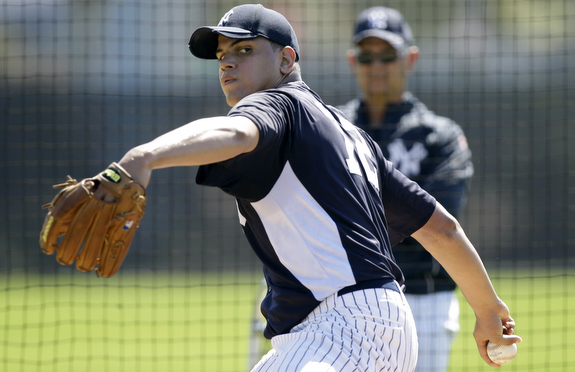 If you're new to this whole amateur draft thing, "signability" a fun little term that defines players with bonus demands so large that they fall in the draft because no one (or very few, anyway) wants to pay them. The Yankees and other teams have grabbed a few of these players in the mid-to-late rounds of the draft and met their demands in recent years, landing a premium prospect far below where their talent says they should have been taken. Dellin Betances is a perfect example of this; the Yanks grabbed him in the eighth round back in 2006 and bought him away from a Vanderbilt commitment for a cool million bucks.
Big market clubs aren't the only ones gobbling up these signability players anymore, teams like the Royals and Pirates have smartened up and starting taking advantage of the generally broken draft system as well. That makes it that much harder for the Yankees to land premium talent, but that doesn't mean it can't be done. Here's a few high-end guys that could fall a few rounds in the draft because of money, not talent…
Josh Bell, OF, Jesuit College Prep (Dallas)
A switch-hitting outfielder with a commitment to Texas, Bell is being advised by Scott Boras and is coming back from a minor knee injury suffered last year. He's a physical specimen at 6-foot-3 and 205 lbs., featuring good bat speed and above-average power potential with the approach of a player several years his elder. Although he's athletic and can run a little, Bell will probably be limited to a corner outfield spot down the road, where his bat will fit just fine. There's quite a bit of projection here, which is why Baseball America ranked Bell as the sixth best high school prospect in the draft while Keith Law had him as the 22nd best prospect overall.
Archie Bradley, RHP, Broken Arrow High School (Oklahoma)
There might not be a better high school pitching prospect in the country than Bradley, who has big-time leverage as a top quarterback recruit for Oklahoma. Listed at 6-foot-4 and 210 lbs. with plenty of athletic ability, Bradley runs his fastball as high as 96 and misses bats with a downer curveball. Like most kids his age, the changeup and command are very much a work in progress. The size and athleticism portend a future as an innings eater, and the stuff suggests front-line potential. Baseball America considers Bradley the third best high school prospect in the country while KLaw had him ninth overall in his top 50 prospects list.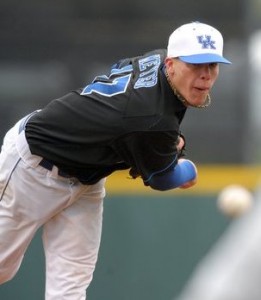 Alex Meyer, RHP, Kentucky
A 20th round pick of the Red Sox in 2008, Meyer passed on their $2M offer and headed to Kentucky. It's not easy for a kid to make himself more money after passing on an offer of that size, but that's exactly what Meyer's done. Checking in at a monstrous 6-foot-9 and 220 lbs., Meyer touched 100 with his fastball in fall workouts and will typically work at 93-96 with sink. Right-handers can't touch his filthy slide piece, but the changeup is still a work in progress. Meyer's control comes and goes (he walked 81 batters in 110 IP during his freshman and sophomore years), but that's to be expected for a guy his size. If you want to a pitcher to dream on, here's your guy. Meyer is a Boras advisee, and with so much college pitching available this year, it's possible he could slip through the cracks. Baseball America calls him the 21st best college prospect in the draft but KLaw is much more bullish, ranking him 23rd among all players.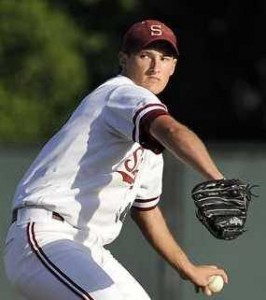 Brett Mooneyham, LHP, Stanford
Arguably the top left-handed high school pitcher available in the 2008 draft, Brett is the son of former big leaguer Bill Mooneyham and passed on signing with the Padres as  a 15th round pick. He's a big guy (6-foot-5, 235 lbs.) with control issues (116 BB in 154 IP as a freshman and sophomore) like Meyer, though his stuff isn't as explosive. Mooneyham will sit 91-93 and occasionally flash 95, and his slider will be a knockout pitch one day and a cement mixer the next. There's a lot of potential here but also a lot of progress to be made, and unfortunately he won't make any this spring: Mooneyham will miss the college season after having surgery on the middle finger of his throwing hand. The injury combined with his status as a Boras advisee could have him falling down draft boards. Baseball America had him as the 58th best college prospect in the draft while Law recently called him a second or third rounder based on talent.
Bubba Starling, OF, Gardner-Edgerton High School (Kansas)
The best high school prospect in the draft class hit the leverage trifecta: he's a Boras advisee, he's one of the best quarterback recruits in the nation with a full ride to Nebraska in his back pocket (they'll let him play baseball as well), and he's a legitimate first round (if not top ten) talent both on the mound or in the outfield. Plus he's got a really cool name. Although he can run his fastball into the mid-90's with a power curveball, Starling's upside is much greater as a position player and he has legitimate five-tool potential. Listed at 6-foot-5 and 195 lbs. with the kind of athleticism you don't normally see in a white kid (/stereotype), his bat speed is electric with foot speed to match, and there's enough projection in there that 30 homers a year isn't out of the question. Starling's going to get offered some major, major money this summer, but in a class this deep, there's always a chance teams will turn their attention to player they know they can sign. Ranked as the top high school prospect by both Baseball America and KLaw, his talent warrants a top five selection in any draft, even a deep one like this.
* * *
There's always a chance that the super-elite players like Anthony Rendon, Gerrit Cole, and Matt Purke will fall because of bonus concerns, but I would be floored if any of those guys fell out of the first round. Starling is in that group in terms of talent, but the combination of Boras and the football scholarship make it slightly more realistic in his case. Realistically, Mooneyham is the only guy guaranteed to be around when the Yankees' first pick (#51) comes along, though it wouldn't be a major upset if any of the other guys price themselves out of the first day.