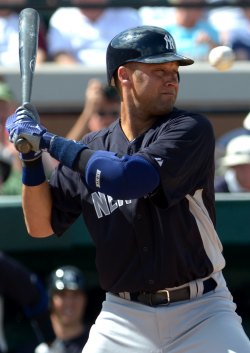 Derek Jeter was too busy to notice the analogy. This morning, while taking swings in the batting cage, he apparently did a double-take when he noticed a gaggle of reporters observing him. It was just BP, and not even of the live variety. What could be so interesting?
As expected, there was nothing particularly noteworthy about Jeter's cage session. He hit some baseballs and worked on his timing. Why, then, would reporters deem it worth their time to stand around? Because Jeter is one of the spring's primary story lines. In the current media environment, which involves constant updates, no matter how trivial, reporters have had to adapt. In years past they might not have sat in on the session, but in 2011, when Twitter updates go out to the masses instantaneously, they want to be around to observe and report. They've had to make adjustments.
Jeter, too, is making adjustments out of necessity. At 36 — 37 in June — his body isn't as strong and nimble as it once was. His old timing mechanism worked before, but as he has aged it has caused something of a hitch. If he's going to remain the Yankees' leadoff man, and if he's going to live up to the contract he signed this past winter, he can't just do what worked in the past. If a reporter tried to do that, he'd fall behind his peers. The same goes for Jeter.
In the same way that it took the media time to adapt to the new environment, it will take Jeter time to commit his new mechanics to muscle memory. No one does something a certain way for 15 years, with great success, and then changes overnight. When it involves something mechanically complex, such as swinging a baseball bat, we can expect a lengthy learning curve. The question is of how long it will take — and, furthermore, how long the Yankees will let him adjust before doing something about it.
Jeter does understand the process he's undergoing. As he told reporters yesterday: "When was the first game? Two days ago? That was the first time I've seen pitching with (the new mechanics). It's going to take a while to get comfortable. You have more time because there's no stride. Now you've just got to figure out when to swing." Emphasis mine. That seems to be a rather weighty task for someone who has done things the same way his entire life to this point.
There's a decent chance that Jeter continues his adjustments when the season begins. While he's facing live pitchers now, and for the most part he's facing real major leaguers, it's still not a real game situation. Pitchers are still out working on their things, which could make it harder for Jeter to work on his. There will likely be a further adjustment period when live games start on March 31. If Jeter gets off to a slow start, don't be surprised. It will lead to cries for his demotion in the batting order, and there is a point when the Yankees will have to consider that. I just don't think it will come early in the season.
The key will be what Brian Cashman preached all winter: patience. He might be past his prime, but Jeter has proven that he's a world-class hitter who is working hard to make the necessary adjustments. There's a chance that it never happens, but the Yankees have a big enough investment in him that they'll give it every chance. That might get frustrating in the first month or so, as he adapts to his stride-less swing. But the potential payoff, an experienced leadoff man with .380 OBP potential, will be worth it.