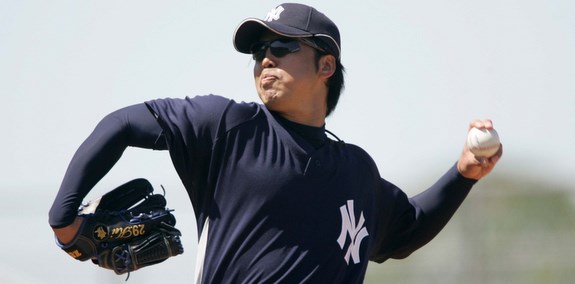 Chris asks: Can we see a post on the Minor League rotations? So far I see them looking something like…
Scranton: Phelps, Warren, DJ Mitchell, Brackman, Noesi (assuming Nova makes the big club)
Trenton: Banuelos, Igawa, Betances, Stoneburner, Bleich
Tampa: Jairo Heredia, Jose Ramirez, Brett Marshall, Shaeffer Hall , Sean Black
Charleston: Bryan Mitchell, Gabe Encinas, DePaula, Cotham, and Rutckyj
I agree with your Triple-A rotation, though I don't think they'll line up in that order. Not that it matters, just sayin'. Kei Igawa won't start in Double-A, he'll do the swingman think out of the Triple-A bullpen yet again. If Nova doesn't make the big league team, then I suppose Adam Warren would go back to Double-A. That would only be temporary anyway, he won't stay there all season.
Jeremy Bleich is on his way back from major shoulder surgery, so he won't be ready to start the season in any rotation, let alone Double-A. Hall pitched pretty damn well last season (2.61 FIP in 68 IP for Low-A then 3.30 FIP in 69 IP for High-A), so I expect him to jump up to Trenton. Manny Banuelos and Dellin Betances are obvious locks for Double-A. That last spot could go to one of two guys: Craig Heyer or Cory Arbiso. Both did nice jobs after shifting into the rotation in the second half last year, and it really depends on what they do with Heyer (the actual prospect). If they move him back to the bullpen, his ultimate destination, it'll be Arbiso. If not, then it'll be Heyer.
Your High-A rotation is spot-on except for Hall. That spot will probably go to Josh Romanski, who signed early last year then pitched to a 3.44 FIP in 88.1 IP for Low-A Charleston last summer. He also made a three start cameo with Tampa at the end of the year and figures to go back there.
The Low-A rotation is interesting and completely unpredictable. I could see all those guys starting the year there, but I could also see none of them there. Rafael DePaula still hasn't secured a visa, so he's not even in the United States. Let's count him out. Cotham is still coming back from labrum surgery and it's unclear if he'll be ready in time to start the season, so let's count him out as well. The Yankees have been pretty reluctant in recent years when it comes to pushing high school pitchers into full season ball in their first full pro season, so I would be surprised if Encinas and Evan Rutckyj started in Charleston. Ditto Taylor Morton.
Mikey O'Brien had a fine stint with Short Season Staten Island last year (3.10 FIP in 60.2 IP), so he'll probably get a Low-A assignment. Nik Turley will probably make his full season debut as well (3.18 FIP, 0 HR allowed in 61.2 IP with Staten Island last year), and I could see both of SI's college guys – Zach Varce (2.61 FIP in 71.1 IP) and Shane Greene (3.38 FIP in 49 IP) – in Charleston as well. Greene actually finished last season with four starts there, so he's a safe bet. The last spot could go to Dustin Hobbs, who made seven starts with the rookie level Gulf Coast League Yankees last year before making a pair with Staten Island. Evan DeLuca's pretty raw and probably needs more time in Extended Spring Training.
Alright, so based on all that, here is my best guess at the rotations (in no particular order one through five)….
Triple-A: Noesi, Brackman, Warren, Mitchell, Phelps
Double-A: Banuelos, Betances, Stoneburner, Hall, Heyer
High-A: Heredia, Ramirez, Marshall, Black, Romanski
Low-A: O'Brien, Turley, Varce, Greene, Hobbs
That leaves guys like DeLuca, Morton, Encinas, Rutckyj, Brett Gerritse, and Matt Richardson for the short season league rotations, plus 2011 draftees. Trenton will clearly have the most exciting rotation, but Scranton isn't far behind. Marshall and Ramirez are reason enough to pay attention to Tampa, and Charleston … hey, Gary Sanchez!