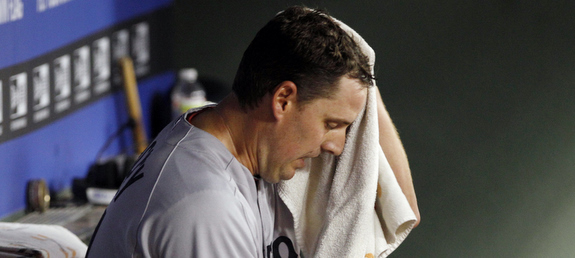 Blue Jays (4-1, +17 run differential)
Orioles (4-1, +9)
Yankees (3-2, +4)
Rays (0-5, -15)
Red Sox (0-5, -21)
Those are the AL East standings as of this morning. The teams in Baltimore and Toronto are overachieving due to pitching and timely hitting while the Rays and Red Sox have fallen victim to a lack of offense and pitching, respectively. Tampa has scored seven runs total in their five games and haven't even held a lead yet all season. Seriously, they've been nothing but tied or behind in 2011.
And then there are the Yankees. Right in the middle of the division, winners of three (really should be four) games and the only club in the East doing pretty much exactly what was expected of them. The offense is averaging just over six runs a game but is doing so with heavy reliance on the long ball. Take out their league-leading 13 homers, and they're hitting just .190 with a .261 OBP as team. Of course it doesn't work like that, those homers count so we can't just take them out to fit a narrative, but at some point the balls won't be flying over the fence with the same frequency. Neither the team ERA (4.89) or FIP (3.56) represents the pitching staff's true talent level, which is probably somewhere in between those two numbers. We're still well short of the point where some of these statistical indicators stabilize, so there's no sense in obsessing over numbers just yet.
While it's certainly fun to watch Boston and Tampa struggle out of the gate, we know it won't last. The Red Sox will win a game soon enough, and if it doesn't happen against the Indians this afternoon, then there's a really good chance that it'll happen against the Yankees over the weekend. That will probably begin a stampede toward to top of the standings. The Rays' offensive ineptitude (.212 wOBA) won't be around to make fun of all season, unfortunately. On the other side of the coin, eventually the Orioles' team ERA will climb north of 2.00 (probably once their .212 BABIP and 87% strand rate returns to Earth). Reality will slap the Blue Jays in the face once they stop playing games against AL Central and AL West opponents.
There's nothing special about the first five games of the season, at least not when it comes to predictive value. We just happened to remember these games more because we've been baseball-starved for the last five months or so. The first five games are really no different than a randomly selected five-game stretch in June, it's just one small slice of the bigger picture. We're talking about five games people, which is just slightly more than three-percent of the season. If the season was a nine inning game, there wouldn't even be one out in the top of the first yet. That how much is still left to be played.
By all means, enjoy the Rays inability to get a hit (.152 BABIP) and Boston's hilariously bad pitching performances (8.25 FIP) while they last. Reality is going to rear it's ugly head soon enough, crashing through the wall like the Kool-Aid guy saying "OH YEEEEAH!!!" The standings right now are pretty much the exact opposite of what one could reasonably expect coming into the season, but the power of small sample sizes can work in mysterious ways.