No one makes mountains out of molehills quite like baseball fans, so you can be sure that I'm going to write entirely too much about Bartolo Colon's start against the Blue Jays. However, instead of writing one big post and stuffing it all in there, I'm going to break it up into a few smaller posts this morning just so there's no information overload and the discussion can remain focused. Earlier we talked about Colon's velocity, now we're going to look at how he attacked Jose Bautista…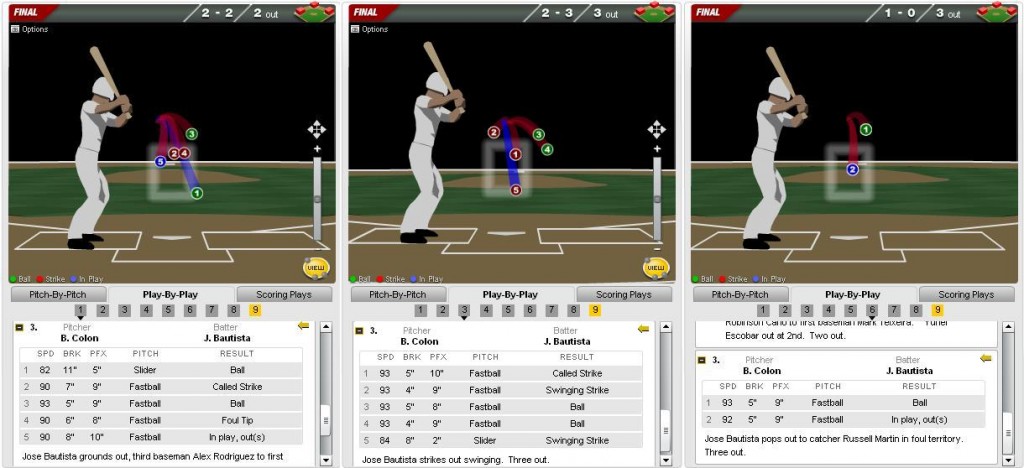 Bautista's superman act has been going on for more than 200 games now. He hit ten homeruns in his final 26 games of 2009, 54 homers in 161 games last year, and he's already knocked four balls out of the park in 15 games this season. That's 68 homers over the last 20 months. The Yankees' certainly haven't solved him; Bautista is hitting .271/.463/.686 with nine homers in 20 games against New York during that time. Heck, he took A.J. Burnett deep in his first at-bat of the season series on Tuesday. Colon shut the Jays' slugger down on Wednesday night by pitching to his strength, even though it just so happened to be Bautista's strength as well.
The three Gameday screen grabs above show Bautista's three at-bats against Colon from last night's game. The first encounter is all the way on the left, the third all the way on the right. I recommend clicking the image to open a larger and far more easier to read view. As you can see, there's twelve pitches total, and ten of them of them are fastballs up in the zone. Ten! We've seen enough of the guy over the last year and change to know that he usually parks those pitches over the fence. If you don't believe me though, here is Bautista's strike zone breakdown against fastballs from right-handed pitchers in 2010…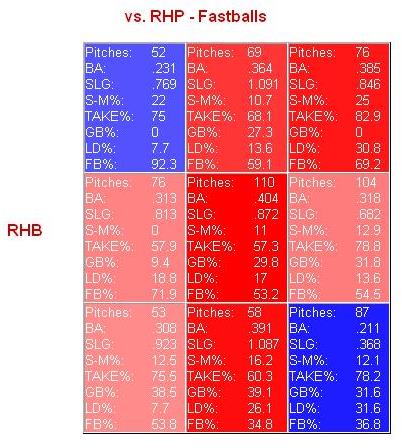 The guy crushes the high cheese. We're talking ISO's ranging between .450 and .720 on fastballs in the upper third of the zone and ISO's well north of .360 on fastballs in the middle third. And yet, despite all that, here comes 37-year-old Bartolo Colon challenging the reigning homerun champ with low-to-mid-90's gas up in the zone. After trying to steal strike one with a first pitch slider in the first at-bat, Colon threw four straight fastballs up in the zone before Bautista hacked one of them into the turf for a ground out. The second at-bat was the exact opposite, first came the four high fastballs before the swing-and-miss on the down-and-away slider for the strikeout. Bautista popped up a high fastball two pitches into his third at-bat for an air out that went backwards; Russell Martin caught it in foul territory.
Simple, right? All you have to do is pound Bautista with high fastballs and you're golden. Well, no, of course it's not that easy. Executing those high fastballs is much easier said than done, but Colon did it perfectly last night. The Yankees' right-hander threw the ball with conviction when one mistake would have resulted in instant offense for Toronto, so give him props for that. You definitely can't say that about about everyone on the staff when Bautista's at the dish.
Bautista's strike zone report via Joe Lefkowitz's site.