No one makes mountains out of molehills quite like baseball fans, so you can be sure that I'm going to write entirely too much about Bartolo Colon's start against the Blue Jays. However, instead of writing one big post and stuffing it all in there, I'm going to break it up into a few smaller posts this morning just so there's no information overload and the discussion can remain focused. First up, Colon's velocity…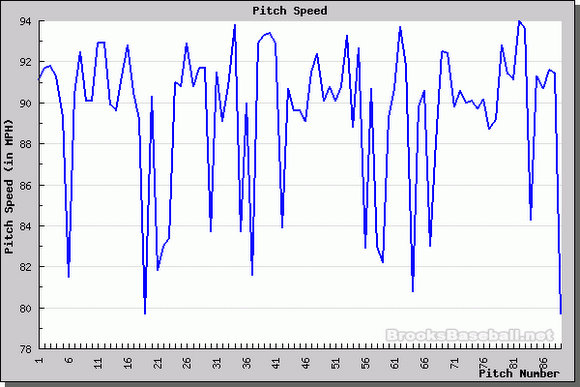 When Spring Training ended and the Yankees headed north for the regular season, we heard many reasons why Freddy Garcia had beaten Colon in the (supposed) fifth starter's competition despite their drastically different showings in camp. Garcia was a safer bet in terms of innings given his work with the White Sox last year, his repertoire was better suited for starting, and Colon wasn't holding his velocity over multiple innings. Well, as the graph above shows, Colon held his velocity and then some last night.
In his first three outings, all in relief, Bartolo had thrown no more than 69 pitches. In fact, his pitches totals declined: 69 on April 3rd, 62 on April 8th, and then 54 on April 14th. And yet his fastest pitch against Toronto, a 94.0 mph four-seamer to J.P. Arencibia, came on his 82th pitch of the night. It's clear from the graph there was no significant drop-off in velocity as the game progressed, with all the hard stuff comfortably humming in at or above 90. For a guy that's a month shy of his 38th birthday with major shoulder injuries in the past, that's damn impressive.
We have to remember that Colon isn't in typical April form however. He did pitch in winter ball, so he's (theoretically) closer to mid-season form than some of his peers. As you watched that game though, it was obvious that Colon is still the guy he's always been, a power pitcher that challenges hitters with his fastball. That's pretty much the last thing we could say about Garcia, who's the polar opposite at this point. Bartolo threw just 14 offspeed pitches last night, instead burying the Jays with 39 four-seamers and 36 two-seamers. It was pitching in it's purest form: here it is, try to hit it. And they couldn't.
Now the question becomes this: how long will it last? There's not a person around that could give you that answer, but the Yankees will milk it for all it's worth. Colon seemed genuinely thankfully to be back in the big leagues after the game, going as far as saying that he thought his career was over in 2009. Is he old with a pitching arm held together by duct tape? Yeah. Is he out-of-shape? Yeah, that too. Is he one of the five best starting pitchers in the organization right now? You bet your ass he is. It's completely unreasonable to expect a repeat performance of last night's effort in the future, but hey, Colon has surprised us all by getting this far.
Velocity graph via Brooks Baseball.