During the first four games of the 2011 season we've seen something a bit different from Brett Gardner. It's not just that he's looked a little more aggressive, but it's that it appears he's swinging with a bit more authority. You can notice this especially on outside pitches. Last year he'd invariably slap at those pitches with one hand on the bat. This year he's keeping both hands in place, and his swings look a bit harder. Maybe that will help in the long run, but for now it has caused him a few problems.
This chart comes from Joe Lefkowitz's PitchFX tool, and it shows the trouble Gardner has had with any pitches up in the zone. Save for one lonely fly ball, he has done nothing but whiff at and foul off these pitches. At first I guessed that this had something to do with his revamped swing. It can take time to adjust. But looking back at last year might paint the issue differently.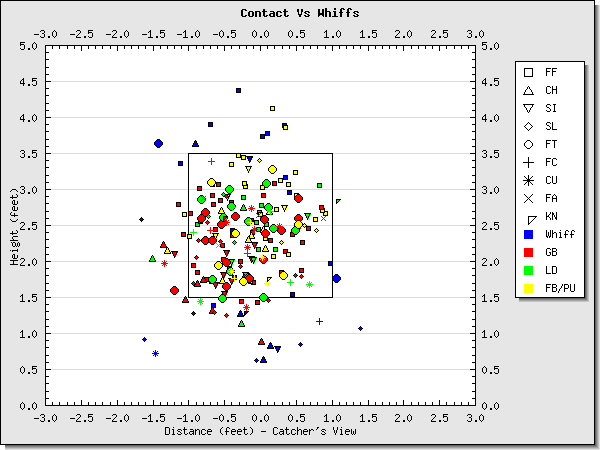 That's the same chart, only from April through June of 2010. Notice how there are a number of line drives in the upper half of the zone. They're not predominant, but there are still a fair number of them. There are also a good number of fly balls, and presumably some of them went for hits. Finally, there are relatively few swings and misses. Now let's move to July and beyond.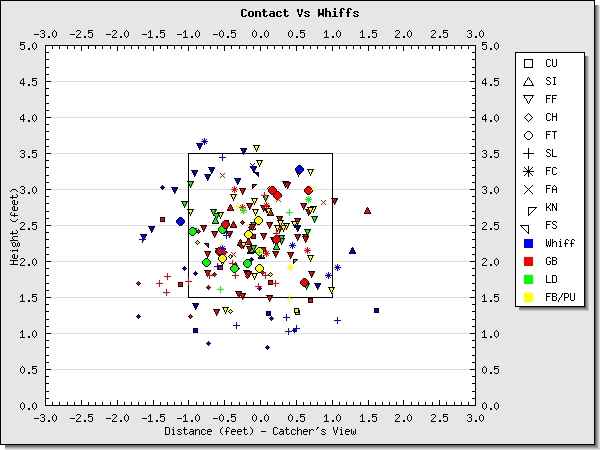 The green dots in the upper half of the zone nearly disappear, and ther are plenty more blue dots. We can then overlay that with foul balls.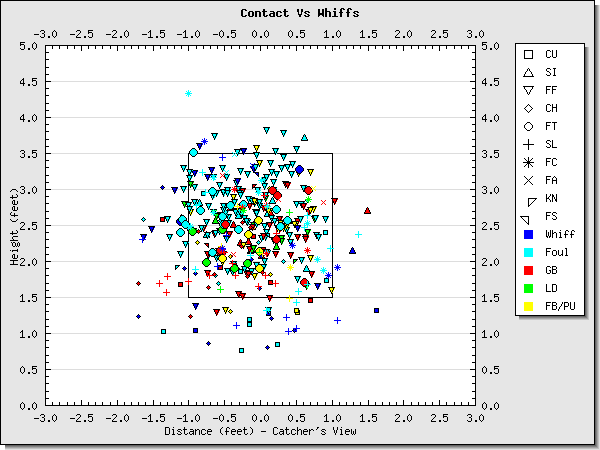 Now it's starting to look like an extrapolated version of Gardner's 2011 chart. That has to be a concern. We know that Gardner's ailing wrist affected his second half performance, and we know that he had wrist surgery during the off-season. He says he's fine, and no one has given any indication that anything is wrong. But what we've seen from him so far is starting to resemble the second half of 2010.
After looking at this data, I'm just going to hope that Gardner is indeed working on some swing adjustments that will allow him to drive pitches with some more authority. That would go a long way in explaining his inability to do anything with high fastballs. The alternative just isn't something I want to consider right now. Thankfully, we don't have the data to make such a conclusion.