The minor league season is now just two days away, so the rosters for the four full season affiliates are starting to trickle in. Yesterday we learned that David Phelps will get the ball on Opening Day for Triple-A Scranton, and over the winter I made an attempt to piece together the rest of the roster. Remember, that was back in December, so a lot has changed. I also took a stab at the minor league rotations and previewed the farm system as a whole last month.
Rosters for Double-A Trenton and Low-A Charleston were released yesterday, so let's dive in and take a look. First up, the Thunder, courtesy of Mike Ashmore…
Pitchers: Cory Arbiso, Wilkins Arias, Manny Banuelos, Dellin Betances, Steve Garrison, Shaeffer Hall, Fernando Hernandez, Craig Heyer, Kei Igawa, Tim Norton, Naoyo Okamoto, Graham Stoneburner, and Pat Venditte.
The Yankees signed Hernandez and Okamoto as minor league free agents back in February and October, respectively. The starting rotation is pretty clear cut with Banuelos, Betances, Garrison, Hall, and Stoneburner, and there's a good mix of lefties and righties in the bullpen. Hernandez might be the de facto closer so Heyer and Venditte can pitch multiple innings in middle relief as part of their development. One of these guys has to go, since the Thunder won't be carrying 13 pitchers on a 24-man roster, and I suspect it'll be Norton.
Catchers: Austin Romine and Myron Leslie.
Infielders: Corban Joseph, Addison Maruszak, Yadil Mujica, and Jose Pirela.
Outfielders: Cody Johnson, Austin Krum, Ray Kruml, Melky Mesa, Jack Rye, and Damon Sublett.
Johnson was acquired from the Braves in November for cash considerations, and Mujica came on board a little more than a month ago. Baseball America ranked Johnson as Atlanta's ninth best prospect before the 2010 season, calling him a "minor league version of Adam Dunn." He owns a .233 ISO, a 10.0% walk rate, and a 39.0% strikeout rate for his career. I suspect he'll see more time at DH and first base than in the outfield though, since his defensive value is nil.
Romine returns after posting a .328 wOBA last year, the right move for him after he wore down late in the season. Melky Mesa won the Florida State League MVP last year after putting up a .378 wOBA with 19 homers and 31 steals while playing center field. Those two figure to bat three-four in the lineup with Johnson providing protection in the five-hole. Krum (64), CoJo (58), and Pirela (57) ranked one-two-three in the system in walks last year, and I get the feeling that the first two will bat ahead of Romine & Co. Sublett provides some nice flexibility since he can play the outfield or the infield in a pinch. David Adams won't be ready to start the season, he's currently battling plantar fasciitis.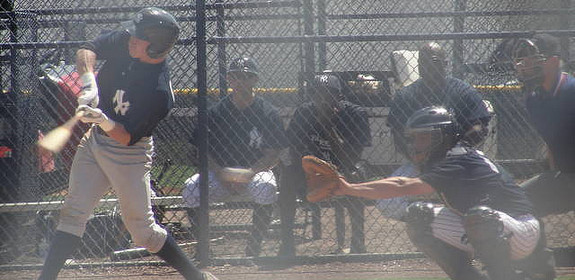 Let's move on to Low-A Charleston, with the roster coming via milb.com…
Pitchers: Manny Barreda, Dan Burawa, Nathan Forer, Mike Gipson, Shane Greene, Tommy Kahnle, Fred Lewis, Rich Martinez, Zach Nuding, Mikey O'Brien, Wilton Rodriguez, Kramer Sneed, and Nik Turley.
It's definitely a veteran-laden staff, in that most of these guys were drafted out of some kind of college (either four-year or JuCo). The only exceptions are Barreda (HS), Martinez (IFA), O'Brien (HS), Rodriguez (IFA), and Turley (HS). The Yankees have emphasized power arms in recent years, and this staff shows it. Nuding is a major sleeper after signing for $265,000 as a 30th round pick last year; his fastball has been clocked as high as 97, though he's maxed out physically at 6-foot-4 and 265 lbs. Greene is another hard thrower and was the ace of last year's Short Season Staten Island club. Those two plus O'Brien and Turley will make up four-fifths of the rotation, and the other spot could go to any one of Forer, Gipson, Lewis, or Sneed. Barreda, Burawa, and Kahnle are arguably the three best relief pitching prospects in the system, and all three offer big-time fastballs. Again, one of these guys is going to have to go because of roster limitations, maybe Rodriguez.
Catchers: Jeff Farnham, J.R. Murphy, Gary Sanchez.
Infielders: Kelvin Castro, Anderson Feliz, Jose Mojica, Kyle Roller, Rob Segedin, and Jose Toussen.
Outfielders: Kelvin DeLeon, Ramon Flores, Slade Heathcott, and Eduardo Sosa.
New manager Aaron Ledesma (former Triple-A Scranton third base coach) is going to have his work cut out for him with the lineup, just by making sure everyone gets playing time. Murphy and Sanchez will presumably do the catcher-DH dance that Jesus Montero and Romine enjoyed a few seasons ago, likely relegating Flores to first base so he plays every day. There's also a chance Murphy moves around (he played third and some outfield in Instructional League last fall), but that doesn't really clear up the logjam. Segedin will definitely play everyday at the hot corner, and masher Kyle Roller (.362 wOBA for Staten Island last year) is probably going to get stuck on the bench since DH and first base figure to be occupied by actual prospects. It's a good problem to have, but it'll take some creativity. Again, someone has to go because of the roster size, and I'm guessing it'll be Toussen.
The process of elimination tells me that first rounder Cito Culver and fellow 2010 draft picks Mason Williams, Angelo Gumbs, Gabe Encinas, Taylor Morton, Ben Gamel, Tyler Austin, and Evan Rutckyj are staying in Extended Spring Training and will then be assigned to Staten Island or the rookie level Gulf Coast League when the seasons start in June. A (finally) healthy Abe Almonte, Rob Lyerly, Luke Murton, DeAngelo Mack, Kyle Higashioka, Jairo Heredia, Scottie Allen, Sean Black, and Chase Whitley seem like safe bets for High-A Tampa. Ditto Bradley Suttle, who will be repeating the level after last year's .348 wOBA. That's a shame, but it's better than being released.