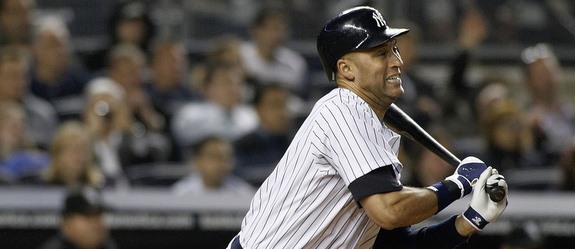 It's no secret that the Yankees have a great offensive team, they've been showing it off pretty frequently in the first few weeks of the season. They're out-wOBA'ing the rest of the league by several points and are within striking distance of the MLB lead in runs scored despite playing at least two fewer games than 28 other teams. The Orioles are the lone exception, playing just one more game than New York.
Despite that dominant offense, the individual pieces that make up the everyday lineup fall into one of two categories right now: hot or cold. There's no middle ground, everyone is either tearing the cover off the ball or struggling to find their way on base. It's far from ideal but they've gotten by so far. Let's quickly recap everyone's current status…
Derek Jeter – COLD – Jeter's been could for a full year now it seems. The Yankees' captain managed to go 4-for-6 in Sunday's game, but he still has only seven hits and two walks in his last 33 plate appearances. A .273 OBP (during that stretch) is never good for a leadoff hitter, small sample size or not.
Curtis Granderson – HOT – The Grandyman extended his hitting streak to nine games with that ninth inning single last night, during which time he's hitting .417/.447/.946 with five homers, three doubles, and a triple. That'll do, that'll do just fine.
Mark Teixeira – HOT – It's safe to say that Tex has avoided his annual April slump with his monster showing this month, but he's been even better of late: in his last ten games, the Yankees first baseman is hitting a stout .333/.457/.639 with the same number of walks (eight) as strikeouts.
Alex Rodriguez – HOT – A-Rod's never not been hot this year. He went 1-for-4 with two strikeouts last night and is still hitting .346/.478/.750 on the season with nearly twice as many walks (14) as strikeouts (eighth). That man is mighty good at baseball.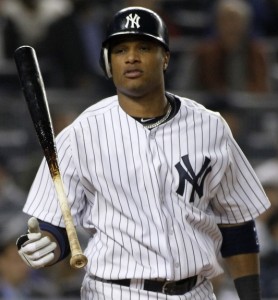 Robinson Cano – COLD – Although he had a 13-game hitting streak snapped last night and his season line sits at a more than respectable .304/.309/.544, I'm sticking Cano in the cold category because his plate discipline has regressed to cover-the-children's-eyes levels. He's striking out in 17.7% of his at-bats (11.9% career) and has drawn just one walk all season, seeing just 3.22 pitchers per plate appearance. Cano's still getting his hits, but if pitchers throw him anything out of the zone, he'll get himself out right now.
Nick Swisher – COLD – It's a tale of two Swishers this season. He's hitting a gaudy .524/.500/.609 as a right-handed batter this year (24 PA) but just .089/.275/.089 as a lefty (58 PA). He also hasn't hit a homer yet. Since there's way more righty pitchers than lefties, he goes in the cold bin.
Jorge Posada – COLD – Joe chronicled Jorge's struggles yesterday, and after last night's 0-for-3 with a whiff, his season line is down to .145/.243/.435. He's had just two hits (one homer) in his last 31 trips to the plate. At least there's not four years left on his contract.
Russell Martin – HOT – The Yankees' new catcher hasn't stopped hitting since showing up to Spring Training, and is currently sitting on a .311/.391/.656 batting line for the season. I don't think it's a stretch to say he's been the team's best hitter behind A-Rod so far.
Brett Gardner – COLD – If it wasn't for his brilliant defense in left field, Gardner would be useless. He's hitting just .136/.190/.254 with as many stolen bases (three) as caught stealings on the year, and he's been ever worse of late: .079/.079/.184 with no stolen bases and all three of those caught stealings in his last eleven games. Gardner hasn't drawn a walk in 18 days now.
* * *
So that's five slumping bats (three in a row) out of nine, though I admittedly made a judgment call on Cano. If it makes you feel better, we could call it 4.5 cold bats and 4.5 hot bats. Doesn't make much of a difference either way. Obviously some of those cold bats are extremely likely to snap out of it and get back to (at least) their career norms, Swisher and Cano for sure, but we can't be certain about the other three. There's a very real chance that Jeter and Posada are just straight up done, and perhaps Gardner is incapable of adjusting to the adjustments the league made against him. We can't say for sure just yet.
Because it's so early in the season, the best thing to do is just sit back and wait (hope) things correct themselves. They might not, at which point the team will need to make some changes, but 19 games isn't enough to say anything definitive about anything. It's frustrating to watch, no doubt about it, but Grandy, Tex, A-Rod, and Martin are enough to carry a team for a little while. At some point the others have to begin contributing though, preferably soon.