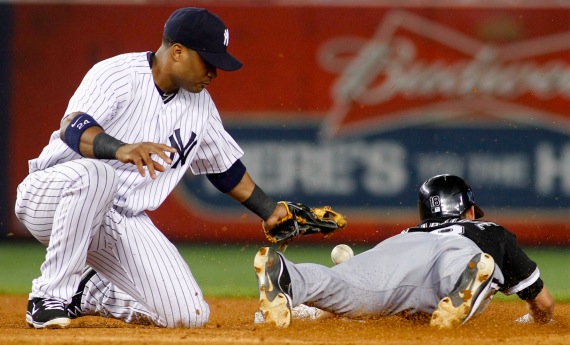 A few times every year there's a game that is so straight forward that no one wants to relive it. If you saw it, you don't want to see it described. If you didn't see it, you're better off without the frustrating facts. If, for some reason, you chose to skip this one, well done. You will live a less stressful existence for the next 20-odd hours. But considering the frequency of off-days, I'm not sure many of you missed this one.
The Yankees did have some decent at-bats: five, six, seven pitches. They just never amounted to anything. It took them 19 outs before they finally got a hit and finished with just three singles on the day. Two of their precious five base runners were erased via the double play, including Curtis Granderson after a single to lead off the ninth. They weren't facing the most formidable of foes in Philip Humber, which raises the frustration level. If you believe that the Yankees somehow can't hit pitchers they haven't seen previously, you have that to gripe about, too.
It's not every night that a Yankees pitcher goes into the seventh, and even rarer for him to see the eighth. Yet for the second time in three game that's what the Yankees got. A.J. Burnett pitched what was easily the best game of his season, lasting eight full innings and needing just 108 pitches to dispatch of 24 White Sox. He didn't have the swing and miss thing working, as he struck out only two. But he got 11 ground balls and allowed just three hits all evening. It's a shame to fall so flat in support of such a stellar start.
Then there are the usual gripes. Robinson Cano swings at everything. Jorge Posada looks like he's 50, Nick Swisher can't hit from the left side, Rafael Soriano hangs too many sliders and is too smug to catch a pop up, etc. There are plenty to choose from.
Baseball might break your heart and make you tear out your hair, but it always comes back the next day. The Yanks will again trot out their guys to face the White Sox tomorrow evening. Just a hunch, but I'm feeling that they'll get a few more hits and maybe score a couple'a runs.