We're starting to get into repeat mode here in the end of April, as the Yankees are starting to play some clubs for the second time in 2011. They played the Orioles for the second time last weekend, and this weekend it's the Toronto Blue Jays. The two teams split a two-game set in Toronto about a week-and-a-half ago, and surely you remember that Mariano Rivera blown save in the first game.
What Have The Blue Jays Done Lately?
Unlike the last few teams the Yankees have played, the Blue Jays are coming in hot. They just took three of four from the Rangers in Arlington, outscoring the defending AL Champs 27-16. Although they're just 8-12 since a 4-1 start, Toronto is coming to the Bronx with some momentum and feeling pretty good about themselves.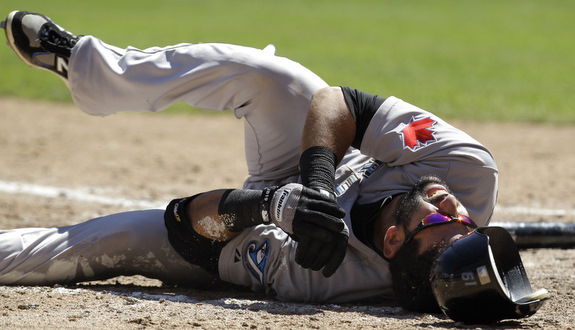 Blue Jays on Offense
Jose Bautista! Seriously, he's the only everyday player on the team with a wOBA better than a .334. Of course he leads all of baseball at .542, and right now he's getting on base more than 52% of the time. His eight homers and .360 batting average are the best in the AL. However, it's worth noting that in the seventh inning of yesterday's game, Bautista took a 93 mph Pedro Strop fastball to his left wrist, sending him to the ground in obvious pain. He remained in the game and drew five pitch walk in the ninth, and as far as I know he'll be in the lineup this weekend. Fastballs to the wrist are never good though.
Aside from Bautista, both Juan Rivera (ten for his last 26 with two homers, six walks, and three strikeouts) and Adam Lind (12 for his last 38 with two doubles and three homers) are coming into the series hot. Nobody else is though. That's generally what happens the rest of the lineup is filled by guys like John McDonald (.303 wOBA), Mike McCoy (.281 wOBA), Corey Patterson (.318 wOBA), Edwin Encarnacion (.293 wOBA), Jayson Nix (two for his last 16), and Yunel Escobar (.192/.192/.269 since April 16th). Travis Snider was just sent to the minors in favor of former first rounder David Cooper, who had a .459 wOBA in Triple-A. Toronto's 21st best prospect (according to Baseball America) will probably make his big league debut at some point this weekend.
Blue Jays on the Mound

Friday: Ricky Romero, LHP: It's a tough assignment right off the bat, as Toronto is running their ace out there later tonight. Romero has pitched as well as pretty much anyone in the AL so far, striking out more than a batter per inning while walking fewer than three men per nine and generating a ground ball on more than half of his balls in play. He gives the Jays length, pitching into the seventh inning in four of his five starts and completing seven innings three times. Ricky does it with four pitches, but one out of every three is a low-90's two-seamer to get those grounders. A low-90's four-seamer and a mid-80's changeup are his two other primary weapons, and every once in a while he'll break out a loopy, 70-something mile-an-hour curve. Romero is quietly ascending into the category of the game's elite starters, so this will be a tough game.
Saturday: Kyle Drabek, RHP: The Yankees faced Drabek during their series in Toronto last week, roughing him up for six hits, four walks, and four runs in 5.1 IP. He held the Rangers to three runs over six innings last time out, though the scouting report hasn't changed since last week. The kid will work himself into trouble with walks, but he has swing-and-miss stuff with his high-octane fastball and curve. Patience.
Sunday: Jesse Litsch, RHP: This is Brett Cecil's spot, but the certified Yankees Killer™ was demoted to Triple-A after his start against New York last week because he's dealing with the same problems as Phil Hughes: loss of velocity, loss of control, unexplained dead arm, yadda yadda yadda. About the only interesting thing about Litsch is that he's a ginger, but aside from that he's a generic right-hander with 88-90 mph fastballs (two and four-seamers, cutter), a mid-80's slider, a low-80's changeup, and the occasional low-80's curveball. He doesn't miss many bats, doesn't walk too many or too few, gets an okay amount of grounders, stuff like that. Litsch has made six career starts against the Yankees, so the They Haven't Seen Him™ rule doesn't apply. No offense to the guy, but Jesse Litsch is pretty boring.
Bullpen: Same story as the last time these two clubs played, so there's not much to add. Jon Rauch is still closing, Frank Francisco is setting up, and Marc Rzepczynski is still handling the lefties.
Recommended Blue Jays Reading: Drunk Jays Fans, Ghostrunner on First, and Tao of Stieb.