Away from home for only their second series this season, the Yankees will play a pair of games in Toronto this week. It's kind of an oddly timed series, just two games sandwiched between two off-days. But it's Yankee baseball, so who are we to complain?
Last year the Yanks had trouble with the Jays, and actually finished 8-10 against them. Thankfully for the Yanks, these aren't the 2010 Blue Jays. They lost a few key players during the winter, and while they're stronger in the long run, they're definitely weaker for the 2011 season. The Yanks definitely have an opportunity to jump out ahead here and steal a pair of games before heading down to Baltimore.
What Have They Done Lately?
After looking like the Blue Jays of 2010 during the first week of play, the Jays have slipped considerably in the last week and a half. That includes three straight losses to the Red Sox, in which they managed just one run per game. Before that they managed to let Seattle put up an eight spot on them. Things just aren't looking that bright for the Jays currently.
Blue Jays On Offense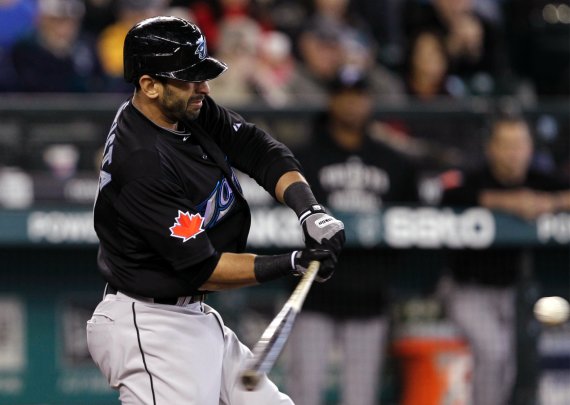 Last year the home run was the Jays' calling card, as they led the league by a decent margin. This year they've hit only 13, which ranks them 19th among the 30 teams. In fact, hitting for power has been a general problem for the team this year. They've hit just 24 doubles, which ranks 24th in the league, after finishing second last year. That's an enormous problem for a team built like the Jays. They're not an on-base type of squad — last year they ranked 26th with a .312 OBP — so when they're not hitting for power they struggle to bring around runs.
Three players, really, have carried the Jays on offense to this point. Jose Bautista has kept up his power hitting ways, smacking three homers so far. While he likely won't hit 54 again, he remains a legitimate power threat. He's backed up by J.P. Arencibia, who has two doubles, two triples, and two homers already. Yunel Escobar has taken to his new home north of the border, hitting .333/.414/.563 with a double, two triples, and two homers this season. Jayson Nix, too, has stepped up, hitting .256/.356/.462 through 45 PA.
The biggest disappointments this season have been Adam Lind and Aaron Hill. They were in the same position last year, meaning their performances in 2011 became all the more important. Hill is just 14 for 60 (.233) so far, with three doubles and three walks. That production, a .262 wOBA, isn't worst among his peers, but it's not far from it. Lind, whom the Jays are trying at first base this season, has a nearly identical wOBA, .268, and also ranks near the worst of his peers. Travis Snider, a full-time player for the first time in his career, has also disappointed, hitting .151/.250/.245 in his first 60 PA.
At some point, at least one of Lind, Hill, and Snider will turn it around. There's just too much talent there for all three of them to tank. Yet that's not guaranteed to happen in this series. The Jays have really struggled at the plate lately. We know that momentum can shift in any given moment, but it's tough to count on these struggling players at the moment.
Blue Jays On The Mound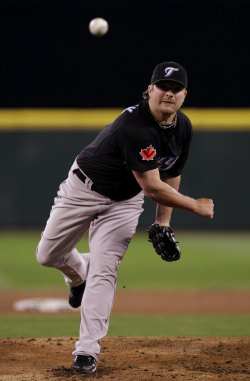 Game One: Kyle Drabek. Tonight marks Drabke's seventh major league start, though his first against a team he has previously faced. Last year he ended his season against the Yankees, tossing six innings and allowing three runs in a losing effort. This year the 23-year-old made the team out of spring training and put on a show in his first start, striking out seven Twins in seven innings on his way to a Blue Jays victory. But things haven't been so easy for him since then.
The Twins, remember, currently sport the league's worst offense, which could have played into Drabek's success. In his next start he pitched only six innings, while facing two more batters and throwing two more pitches than his previous start. He also allowed a ton more balls in the air, walked more batters, and struck out fewer. And then in his last start, against the hapless Mariners, he recorded one fewer out while throwing 11 more pitches than his previous start. He all the sudden didn't look as dominant.
This year his weakness has been the free pass. He has issued 11 to the 77 batters he has faced. This plays into the Yankees hands, as they are one of the more patient teams in the league. They've already seen him, so that stigma of getting beat by guys they see for the first time is erased.
Game Two: Brett Cecil. Just hearing the name Brett Cecil makes many Yankees fans cringe. He faced the Yankees five times, and generally gave them fits. What sticks in our heads are the two eight-inning performances in which the Yankees seemingly hit everything on the ground. What gets lost is that his final two outings weren't all that great.
On September fifth he lasted 6.1 innings, but allowed three runs in the process. He walked four and struck out only three in that time, so things could have gone far worse. The Blue Jays did win the game, though, which makes the positive aspects of the game more forgettable. Then, in his final start of the season, he gave up three runs in just 5.1 innings. This time the Yanks hit plenty in the air. Again, Cecil won. He won't get that lucky all the time.
As with Phil Hughes, Cecil threw far more innings last year than he had in the past. Also as with Hughes, he experienced reduced velocity in spring training and into the year. He hasn't been quite the ground balling machine he was last year, and even allowed 10 fly balls in his previous start against the Red Sox. Overall he has been generally unimpressive this season, which is good news for Yankees fans. Maybe we'll finally see them beat Cecil this year.
Bullpen: The Jays underwent a bullpen overhaul this winter, as they lost both Kevin Gregg and Scott Downs to free agency. But they did make a few pick-ups, including Frank Francisco, who returns to action this evening. Shawn Camp, Jason Frasor, and Carlos Villanueva have performed well so far. That is, their late-inning force appears to be in full effect. The Yankees can weaken that strength, though, by forcing Drabek and Cecil from the games early.
Blue Jays Featured Blog: Drunk Jays Fans.