It was the best of times, it was the worst of times, then it was the best of times again. For the second straight game the Yankees jumped all over a young Orioles' starter for some first inning runs and got a quality start out of their pitcher, but the last few innings of this one were a bit rockier than we'd like. Thankfully, it all worked out in the end.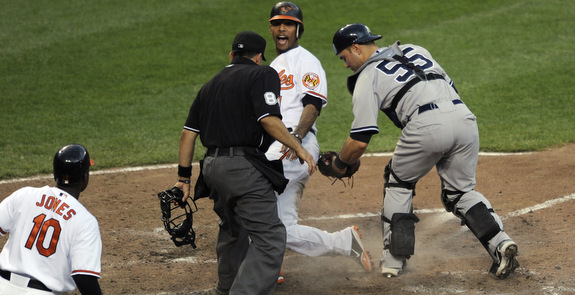 What's Wrong With Mo? Week™
It happens every year. Mariano Rivera will get knocked around a bit and blow some saves, prompting a few "Mo is done!" comments and articles. The standard reply: "He does this every year, don't worry about it." The standard reply to that standard reply: "But he was never XX years old before!" And then Rivera will right the ship and finish the season as his usual dominant self. Been like that for what, a decade now?
Rivera blew his second save in as many chances on Sunday afternoon, giving up the tying run on a double down the line by Brian Roberts, his 33rd (and final) pitch in what would have been his first four-out save of the season. The only reason the Yankees lived to see the tenth inning was because of a great set of relay throws by Nick Swisher and Robinson Cano, gunning down Robert Andino at the plate to end the inning.
As is the pattern whenever he struggles, Mo battled command today, missing either too far outside or two much over the plate on pitches that were supposed to hit the black. Complain about the strike zone if you want, but Rivera shouldn't need a generous zone to retire Adam Jones (ten pitch leadoff walk), Mark Reynolds (seven pitch strikeout), or Matt Wieters (another seven pitch strikeout). He had four days off following his five games in seven days stretch, but who knows how that contributed to Sunday's struggles. Mo will get back on track, he always does, but that doesn't mean it doesn't suck when he struggles and blows leads.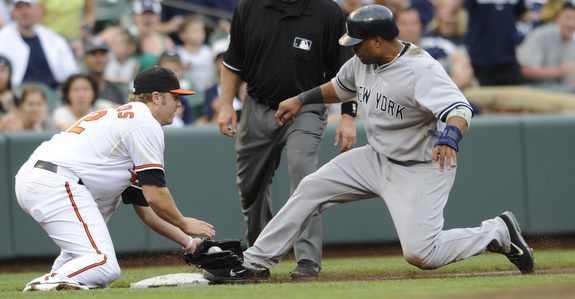 Putting The Mental Back In Fundamentals
After a scoreless tenth inning (more on that in a bit) and a 45-minute rain delay, the Yankees got back on the scoreboard with some help from the shoddy Baltimore defense. Cano led the inning off with a double (after the rain interrupted his at-bat with a 3-2 count), then he managed to steal third when the O's botched a run down. Cano broke for third then held up, but Matt Wieters' throw to second was off line and pulled Andino to the first base side of the bag. That gave Robbie enough time to get to third safely.
Pinch-hitting for pinch-runner Eduardo Nunez, Eric Chavez was intentionally walked to set up the double play. Russell Martin almost obliged, grounding to short only to have Andino throw the ball away on the flip to second. After Brett Gardner's fourth strikeout, Reynolds threw an infield hit by Derek Jeter away to score another run. A ball off the glove of Roberts allowed Curtis Granderson to reach safely and score another run. Three of the five balls in play in the 11th were somehow derp'd by the Orioles' defense, and although the Martin and Jeter plays were tough, they certainly weren't impossible.
Of course, the 11th inning wouldn't have been needed if the Yankees managed to capitalize on a first and second situation with one out in the tenth. They tried the small ball approach  with Mark Teixeira moving the runners up on a sacrifice fly before Alex Rodriguez tried to do the same, only to watch Jeter get thrown out on what was a straight up beast mode block of the plate by Wieters. He just planted his leg and didn't budge as Jeter slid into him feet first. The Cap'n didn't touch the plate until after the home plate ump called him out. Next time, just hit the ball out of the park and take your time around the bases guys. Good thing Buck Showalter's crew reverted to their little league days in the 11th.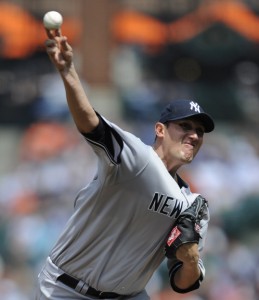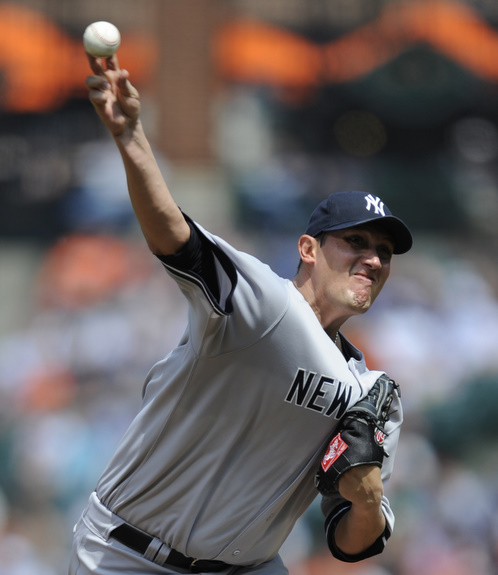 Sweaty Freddy Grounds The Birds
In his first start of the year, Freddy Garcia lulled the Rangers to sleep with a mix of junk, slop, and cement mixers. He did the same to a far inferior offense on Sunday, working Orioles' batters up and down, inside and out with changeups and splitters, fastballs and sliders, curveballs and who knows what. Despite a hot YES Network gun, Garcia was only sitting 86-88 mph, but you wouldn't know it by the results. He struck out seven and allowed just four baserunners (three in one inning), needing 90 pitches for 18 outs.
It's been just 18 games, but the early returns on Garcia and Bartolo Colon (add Chavez to the mix as well) have been far better than expected. It's clear that Garcia's margin for error is small (if some of those 85 mph floaters catch too much of the plate one day, watch out), but the Yankees have no long-term investment in him and can milk it for all it's worth. He's been surprisingly awesome so far.
Leftovers
Under-rated moment of the game: Garcia pitching around Wieters in the second inning. The Yankees were up by two and the O's had two on with two out, but he threw the O's catcher (.368 average over his last six games, .310 in his last nine) four wide ones to load the bases for … Cesar Izturis. The offensively inept shortstop struck out on three pitches to end the inning, swinging over the top of curveballs for strikes two and three. Risky? Sure. But I thought that was a great job of pitching around the guy that could hurt you for the one that can't.
Joba Chamberlain allowed a two-run homer to Reynolds to cut the lead from three runs to one, then David Robertson made thing interesting by allowing two hits in the eighth. That prompted Mo coming in for the four out save. With Rafael Soriano unavailable due to a tight back (which we didn't know at the time of the game, of course), I like that Joe Girardi went to Joba in the seventh to face Baltimore's top two power hitters (Luke Scott and Reynolds), saving the bottom of the lineup for Robertson in the eighth. Of course I didn't want to see him take Garcia out in the first place, but I digress.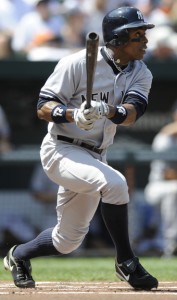 For the first time all year, I can honestly say: great job by Boone Logan. Cut right through two lefties and a righty in the tenth, then came back out after sitting for an hour (because of the rain) to retire Scott to leadoff the 11th. Very nice work from him after the letdown of the blown save. Also, big ups to Buddy Carlyle for the final two outs. Yeah, he threw one garbage time inning on Saturday, but he also threw multiple innings for Triple-A Scranton earlier in the week. That's not to say he was gassed, but I can't imagine he was completely fresh.
Jeter's four hits were all ground balls, including two infield singles. The Grandyman clubbed his league leading seventh homerun in the first inning, then went opposite field for a double later in the game. He's now 14-for-33 (.424) with five homers during his eight-game hitting streak. A-Rod walked three times to bring his season OBP to .492. He's drawn 14 walks while striking out just six times this season. Cano's double extended his hitting streak to 13 games, but he's definitely taking some ugly hacks on pitches out of the zone. He's always been a free swinger, but never to that extent.
Nick Swisher went hitless with three strikeouts in five at-bats, further continuing his struggles against righties. Brett Gardner continued his struggles against all pitchers by striking out four times (twice looking), though he did make a legit game-saving catch to end the eighth. Mark Teixeira made a nice play at first and reached base twice (hit and walk). He's at .273/.403/.621 right now, so it's safe to say he's avoided the (prolonged) April slump this year.
WPA Graph & Box Score
So that got a little dicey. MLB.com has the box score and video highlights, FanGraphs everything else.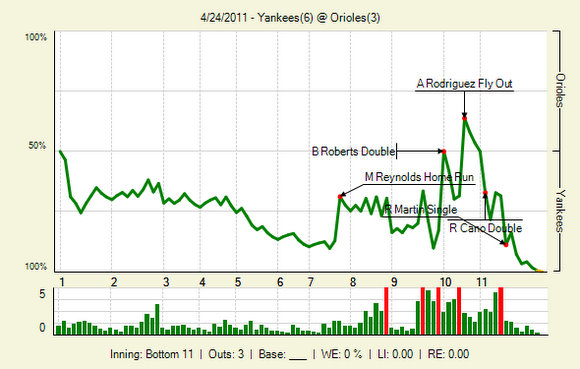 Up Next
Back to the Bronx, where the Yankees will welcome to slumping White Sox to town for a four game set starting Monday night. Ivan Nova A.J. Burnett will look to get back on track while Phil Humber (!!!) goes for Chicago. Tickets are dirt cheap on the secondary market if you want to catch a game, just check out RAB Tickets.