If you're not new to the site, then you're probably aware of my infatuation with high school pitchers come draft day. I like seeing them get into the organization and under professional training programs, instructions, diets, the whole nine, as soon as possible. Most college coaches aren't concerned with long-term development, so pitchers can fall into a lot of bad habits in school (like not pitching inside because of aluminum bats), not to mention the insane workloads. UCLA righty Trevor Bauer is expected to be a first round pick this year, but he's averaging over 120 pitches per start this year. Texas righty Taylor Jungmann, another expected first rounder, has thrown 89.2 IP in eleven starts this year, or 8.1 innings per start. That's crazy.
The best college-drafted pitcher in baseball right now is probably Tim Lincecum, though Justin Verlander, Cliff Lee, Dan Haren, and Jered Weaver have a case as well. But the high school draftees, you're talking Roy Halladay, CC Sabathia, Jon Lester, Josh Johnson, Clayton Kershaw, John Danks, Matt Cain, Cole Hamels, Chad Billingsley, the list goes on and on. Even international signees like Felix Hernandez and Ubaldo Jimenez fall into the "weren't ruined by a college coaches" category. Anyway, that's just my two cents. Here's a few high school arms I've got my eye on…
Ricky Jacquez, RHP, Franklin HS (Texas)
Jacquez doesn't necessarily pass the eye test at first glance, since he's listed at just 5-foot-9 and 155 lbs. The best right-hander to stand no taller than 5-foot-10 in expansion era is Tom Gordon (by far), so the recent history of guys that size isn't great. Of course Jacquez is still just a teenager and could easily tack on a few inches and pounds, so there's no sense in writing his baseball obituary just yet. His stuff is very real though, he'll sit in the low-90's and touch 94 on most days, getting swings and misses with a hammer curveball that's allergic to bats. Jacquez challenges hitters and pitches aggressively, and he's expected to be a third to sixth round selection. If he doesn't sign, he'll head to Texas.
Clay Holmes, RHP, Slocomb HS (Alabama)
It happens every year, some guys will go from suspect to prospect with strong showings in the spring and force their way onto teams' draft boards. Holmes is part of that group, garnering attention for his two low-90's fastballs (four-seamer and a traditional sinker) and 12-to-6 power curve. He's a big athletic kid with an ideal frame (6-foot-5, 210 lbs.) and a solid delivery, playing other sports besides baseball for his high school. The problem is that Holmes doesn't have too much room for growth, so the raw tools might not get a ton better as he gets into his early-20's. I honestly have no idea where he's expected to go right now, could be anywhere from the second through tenth round. I like him though, just wish I had a feel for his actual stock. Holmes is committed to Auburn.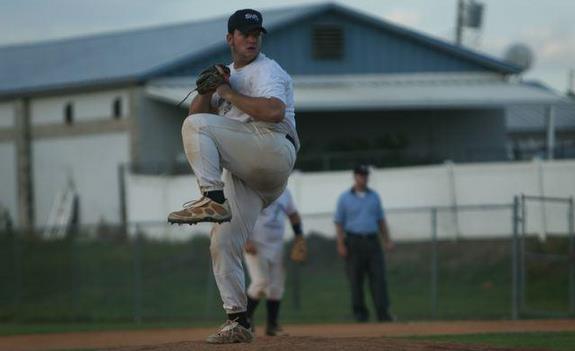 Hudson Boyd, RHP, Bishop Verot HS (Florida)
Boyd (above) was my pet prospect coming into the year, the guy I liked more than the consensus. That's not the case anymore, as he went from being a possible top 50 high school prospect before the season to Keith Law's top 50 overall prospects last week. Boyd's a big kid (listed at 6-foot-2, 245 lbs.) with a big arm, regularly sitting 93-96 mph with his fastball and throwing his slider in the low-80's. It's one of those sliders that breaks downwards and not really sideways, similar to Brad Lidge's or Josh Johnson's, so it often gets confused for a curveball or split-finger. Boyd will always have to keep his weight in check, but it's premium power stuff right now and there's serious workhorse potential here. He would not at all be a reach for the Yankees at #51, though he might not last that long. He's committed to Florida.
Austin Robichaux, RHP, Notre Dame HS (Louisiana)
Another "pop-up" guy like Holmes, Robichaux went under the radar because he didn't play in any national showcases last year. Big and lanky at 6-foot-5 and 180 lbs., he sits in the low-90's with his heat and can spin a curveball, but he's all about projection. He's the kind of kid that gets drafted based on a dream and you hope he grows into something special. Think Nik Turley, a big project like that. Robichaux's father is the long-time head coach at Louisiana-Lafayette, so a) he's grown up around the game, and b) it might be tough to buy him away from that commitment (yes, of course he's scheduled to go to school there in the fall). He's a late round flier guy, not a top target for the first two or three rounds.
* * *
One more prep arm to keep in mind: Andrew Chin of Buckingham Brown & Nichols School in Massachusetts. A 6-foot-1, 180 lb. southpaw, Chin blew out his elbow last month and had/will have Tommy John surgery. He wasn't a top draft prospect before the injury, more of fifth to tenth round kind of guy, plus he was considered a tough sign given his strong commitment to Boston College. When healthy, Chin throws in the upper-80's with okay secondary pitches in his changeup and curveball, and he's the kind of guy that could come out of college in three years as a top draft prospect because there's room for growth. Obviously his stock is down now. Not a savior, but a decent prospect likely to be undervalued on draft day.