The draft is just 11 days away, so between now and then I'm going to highlight some players individually rather than lump a few together in one post.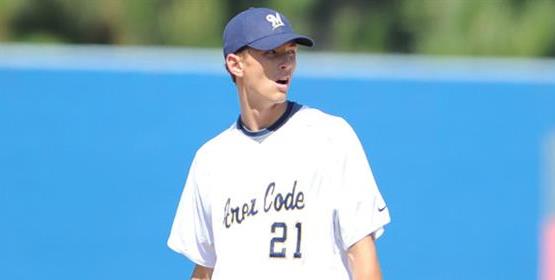 Tyler Goeddel | 3B, OF
Background
The brother of Mets' prospect Erik Goeddel and the son of a pioneer in the biotech industry, Tyler attends St. Francis High School just outside of San Jose in Mountain View, California. He missed part of the spring with mono, but Goeddel's prospect status was cemented long before his senior year. Like his brother before him, he's committed to UCLA.
Scouting Report
Long and lanky at 6-foot-4 and 170 lbs., Goeddel's athleticism is most evident in the field. He's an above-average runner with a strong arm, and he has to tools to play either third base or center field. Goeddel has good bat speed and bat control, consistently getting the barrel on the ball even though he doesn't have much power to speak of at the moment. With a frame like that, it's not all that hard to envision him growing into some. Goeddel has a great feel for a game and is very instinctive, and he has a history of playing well against top competition in showcase events. Here's some video of him hitting and fielding.
Miscellany
The Yankees have been "heavily linked" to Goeddel this spring, and he fits the Damon Oppenheimer mold of athleticism, well-roundedness, and upside. The potential is there for him to be an impact player on both sides of the ball in center field, where he would provide the most value, though he could end up in right if he really fills out over the next few years. There's no word on his asking price, but for what it's worth, he's a better prospect than his brother and Erik eventually got an above-slot deal from the Amazin's.
Keith Law considers Goeddel the 35th best prospect in the draft, so he sees him as a borderline first rounder. Baseball America doesn't like him quite that much, ranking him 89th overall. Either way, it sounds like he's a guy that will be in the mix for the Yankees at number 51, their first selection.