The draft is just 16 days away, so between now and then I'm going to highlight some players individually rather than lump a few together in one post.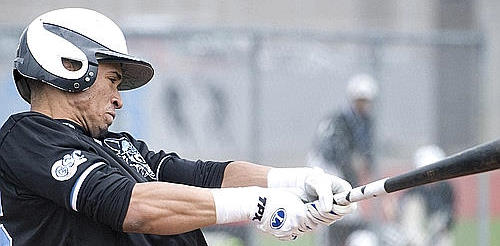 Williams Jerez | OF
Background
Born and raised in the Dominican Republic, Jerez moved to New York City with his father two years ago. He attends Grand Street High School, Dellin Betances' alma mater, and opened eyes this spring while playing for the Hank Steinbrenner sponsored Hank's Yanks team that gives underprivileged players a chance to participate in showcase events they otherwise couldn't afford. This article says Jerez has a full ride to JuCo powerhouse San Jacinto waiting for him, though his high school coach says he'll turn pro as long as it's a "big contract" because he "wants to help his family."
Scouting Report
Jerez certainly passes the eye test. He's fantastic athlete and a big kid at 6-foot-4 and 190 lbs., showing off all five tools. Power is his weakest tool at the moment, but the lefty swinger gets good leverage in his hacks and projects to have average pop down the road. Jerez has good foot speed that he uses both in the field and on the bases, and his arm is strong and accurate. How much he fills out and slows down as he gets older will determine if he can remain in center field long term. There is definitely some rawness to Jerez's game, especially since he hasn't faced the best competition as an amateur. He's a long-term project, not doubt about it, but one with considerable ceiling. Here's some video of him taking a few swings. The kid certainly looks good in a uniform, eh?
Miscellany
The Yankees very clearly have some interest in Jerez, and it's not just because he played for Hank's Yanks. They had a pair of scouts on him at the James Monroe Tournament last month, and even brought him to Tampa over the winter to work out with the team and introduce him to some players, including Robinson Cano. Damon Oppenheimer has always been fond of toolsy athletes, and he really kicked it up a notch last year. Jerez fits that profile to a tee, though it's unclear what a "big contract" is to him. If he wants seven figures, then he's a candidate to slide in the draft because a) teams are skeptical about giving that much money to a project, and b) there will be a ton of alternatives available.
Jerez did not make Keith Law's latest top 100 draft prospects list, though Baseball America recently ranking him 53rd overall. He's a candidate to go anywhere from the second round on down.