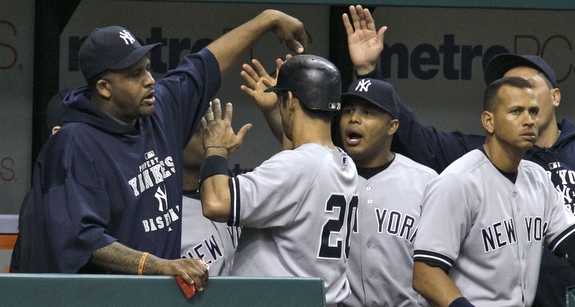 We all slept a little easier last night following the Yankees' win over the Rays, but that's all it was: a win. Singular. One win in a season that's nowhere close to being over with a long stretch of terrible play not far enough away in the rear view mirror to rest easy. The Yankees have still lost ten of their last 14 games and are just as close to last place as first place (two games), so they're not out of the woods yet. Last night's win was a positive first step, but that's it, nothing more.
Tonight's series opener in Baltimore will be a tough challenge in more ways that one. First of all, the Yankees will definitely be without the services of Joba Chamberlain, who Joe Girardi said will sit tonight no matter what after pitching in each of the last three days as well as in four of the last five. David Robertson is probably a no-go as well; he threw 27 pitches last night and has thrown 119 pitches in five appearances over the last eight days. If the Yankees have a smallish lead late, there's a pretty good chance we're going to see Boone Logan and Luis Ayala do the heavy lifting. Furthermore, the Orioles are starting rookie lefty Zach Britton (who got pushed back after they got rained out last night), a sinkerballer that the Yankees have never seen before. We know how that usually goes.
The good news is that Camden Yards always seems to brings out the best in the Yankees' offense. They scored 21 runs in two games there earlier this season, and last year this same cast of characters (give or take a catcher) hit a collective .289/.371/.446 in Baltimore, a 118 OPS+. It won't hurt that the Orioles' pitching staff has the fifth worst ERA (4.37) and fourth worst FIP (4.43) in baseball in 2011, the Yankees could certainly use all the help they can get at the moment. An offensive explosion, I'm talking double-digit runs and an unmerciful amount of homeruns, is what I'm hoping for this evening. I want them to Amaury Sanit-proof tonight's game and early, we can all do without a nail-biter or hair-puller-outer for once.
Like I said, tonight's game is just the next step in getting out of this slump. There are still some big time questions about the pitching staff and a whole lot of hitters still trying to right the ship, and it's not all going happen at once. The Yankee have a favorable schedule coming up – eight of their next eleven games come against losing teams – but then again they didn't exactly take care of business against the White Sox and Royals recently either. It can be very easy to overstate that one win, the one that got them off the schneid, but make no mistake about it, the Yankees still have a long way to go before they're out of the hole they dug themselves this month. The process continues tonight.