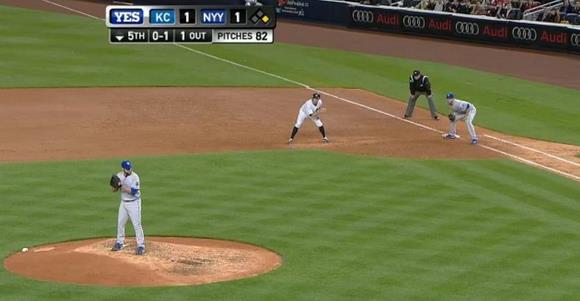 When Brett Gardner stole second base in the third inning of Sunday's game, it was his first successful steal in ten team games and just his second stolen base in his last six attempts. That's not just a horrible success rate for a fast guy like Gardner, it's horrible for anyone. For all his speed, Brett isn't exactly the best base stealer in terms of instincts and jumps and stuff like that, often frustrating us fans as we sit around wondering why he hasn't run yet. I mean, I know he's not going to run every time he reaches base, but still.
I don't have any evidence of this, it's just a theory, but is it possible that Gardner's leads are just too big? Meaning that he's so far off the bag that he's drawing so many pickoff throws from the pitcher that he's effectively slowing himself down. That screen cap above is from last night's game, and you can see that Brett is taking a pretty aggressive lead. He took a similarly-sized lead in Sunday's game, and it's also worth noting that Chris Getz took a lead that big in last night's game as well. Perhaps Gardner could help himself by shortening up just a bit, maybe drawing fewer pickoff throws.
Putting on my amateur psychologist hat, I think a big part of it is mental, that Gardner's just afraid of getting caught so he doesn't run as much as he should. Drawing fewer pickoff throws with a shorter lead might make him feel a little more comfortable when it comes to getting reads, which in turn might make him a better base stealer overall. I dunno, that's just my crackpot theory. What do you think?