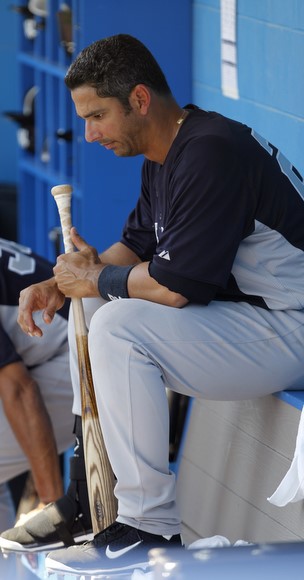 It's no secret that Jorge Posada has been struggling this season, you didn't need me or last night's 0-for-3 to tell you that. He's hitting just .147/.250/.343 at a time when the average designated hitter is hitting .256/.337/.392, so the Yankees have been playing with a significant disadvantage this season. Whether it's just old age, or Posada finding life as a designated hitter difficult after all those years behind the plate, or something else entirely is really none of my concern, all I know is that Jorge's struggling and it's a drain on the offense. The season is still young, but we're starting to reach the point where we can't just blindly blame things on small sample sizes and expect him to snap out of it. Posada's been terrible for almost 120 plate appearances now, so the Yankees have to starting thinking about alternatives and soon.
Fortunately, they have a very obvious alternative stashed away in Triple-A by the name of Jesus Montero. The organization's top prospect hasn't hit for much power this year (just two extra base hits in his last 20 games, .070 ISO), but we all know it's in there.  If he wasn't hitting for average (.333) or getting on base (.355 OBP), then it would be a concern. Montero's bat is big league ready, there's very little doubt about that, the only hold up is that there wasn't an obvious spot for him on the roster or in the lineup. Now there is.
So if the Yankees do call up Montero to take over as DH, how would the lineup and bench work? Just thinking out loud here, but Posada could essentially take over the Eric Chavez role. No, he wouldn't be able to play third base obviously, but he could certainly back up first base, pinch-hit, and DH on occasion. Eduardo Nunez would have to be the primary backup third baseman, and it's worth pointing out that both Russell Martin and Frankie Cervelli have some experience at the position at the Major League level (71.1 and three defensive innings, respectively). It's not ideal, but they're always there in case of an emergency. Montero takes over as the primary DH and Ramiro Pena hits the bricks. Done and done.
The service time stuff isn't much of an issue with Montero at all. We're already well past the point of delaying his free agency by a year, and the Yankees could always afford whatever extra it would cost if he qualified as a Super Two player. CAA Baseball's preliminary internal studies peg next year's Super Two cutoff at two years and 146 days, which is right in line with what it had been in recent years. That's basically 40 days into the 180-something day long season, so we're right there (just for reference). Plus there's also a non-zero chance that Super Twos will go away in the upcoming Collective Bargaining Agreement, so it might be a non-issue all together. Point being, there's little incentive to be gained by keeping Montero down in the minors right now, at least not financial incentive.
I don't think it's time to pull the plug on Posada just yet, but we're fast approaching it. We've got to see some considerable improvement out of him during this 16 games in 16 days stretch (now 15 in 15), which brings us to May 26th. I've been saying that June 1st was my target date for Jorge's turn around, but May 26th is close enough. He has to be hitting by then because we're going to be a third of the way into the season. They can't wait forever. The first third is for evaluating, the second third is for making changes, and the final third is for riding them out. The simplest change the Yankees can make right now is at DH, and right now Posada is giving them every reason in the world to make that change.