And in the 15th inning, the Yankees finally won. This game featuring everything but a 1-2-3 inning from Rafael Soriano (zing!), including great pitching, (some) clutch hitting, great defense, and even a baserunner getting hit with a batted ball. It's a good thing the Yankees managed to pull out the win, this is one that would not have sat well with the natives if it ended up in the loss column.
Nom Nom Nom
Eight shutout innings, three hits, one walk, seven strikeouts, ten ground balls, 87 pitches, 61 strikes, and one no decision. Was this the best pitchedgame by a Yankees' starting pitcher this year? Yeah I think so, and Game Score agrees with a score of 82. CC Sabathia's seven shutout innings against the Twins on April 5th was the previous best at 78, the game when Soriano blew a four-zip lead in the eighth. Nothing nice, eh?
Anyway, Colon was marvelous, commanding the fastball to both sides of the plate and adding velocity as he went along. The guy just continues to pitch well and deep into games, and unfortunately it all went for naught on Wednesday.
Gotta Go To Mo
It's never a bad move to give the ball to Mariano Rivera, especially in a close game, but sometimes it just doesn't work out. This was one of those times. Whether or not Colon should have been left in for the ninth is debatable (I would have left him in, personally), but the bottom line is that Mo had to get three outs before allowing a run and he didn't get the job done. He's now blown back-to-back saves against the Orioles (granted, they were like four weeks apart) and three on the season. If you really want complain about something regarding Mo, complain about him not going back out for a second inning of work after throwing just nine pitches.

Goodbye Offense My Old Friend
Remember when the Yankees' offense was a wrecking crew, capable of beating teams one through nine … well, two through nine? Those were good times, I miss them. Yankees' batters left the go-ahead run on base in the 10th, 12th, 13th, and 14th innings, stranding a total of 15 men on base and going just 3-for-13 with runners in scoring position. It took back-to-back flare singles from Mark Teixeira and Alex Rodriguez to leadoff the 15th and a Robinson Cano first pitch two-run double to plate the winning runs.
That double was the biggest relief I've felt in a while, because the Yankees just refused to capitalize on the chances they were giving. I don't know what it is with this team, but they seem allergic to the big hit and incapable of finishing off a rally. They have no problem starting them, that's for sure, but turning them into runs has been like pulling teeth lately. The Cano double was by far the biggest play of the game for New York at +0.262 WPA, it's just too bad we had to wait 15 innings for it.

Trial By Fire: Hector Noesi
Given the circumstances – his Major League debut in an extra innings game with zero margin for error – I thought Noesi was absolutely fantastic. Four walks and four hits in four innings is nothing special, but he made pitches when he had to and looked anything but rattled. It had been 11 days since he last pitched, but Noesi did a fine job of pounding the zone to his glove side, with both fastballs and breaking balls. Sixty-six pitches in all, and he got the Orioles' batters to swing and miss at ten (!!!) of them (15.2%). Just a great job by the kid, and there's a good chance he'll be rewarded with a bus ticket back to Triple-A Scranton to get a fresh arm in the pen for Thursday. It's hard out here for a Yankees' rookie, yo.
Leftovers
It's late and I'm not going to drag this out too much, but the top five hitters in the lineup combined to go 11-for-32 (.344) while the bottom four went 4-for-21 (.190). A-Rod had four hits, all singles, and both Tex and Cano had two hits and a walk each. Russell Martin's day off ended up not being a day off at all; he pinch-hit in the tenth and had to catch five innings. He actually had more at-bats (four) than the starter Frankie Cervelli (three). Gotta figure he'll get another day off tomorrow.
Scary moment in the 14th, when Chris Dickerson took a Mike Gonzalez fastball to the head. He walked off the field under his own power and went to the hospital for a precautionary CT scan, and hopefully everything checks out okay. Just to satisfy my nitpicking habit: I'm not sure I would have used A.J. Burnett as the pinch-runner there. They have a lot of money committed to him over the next few years. I'd have just sent Ivan Nova out there and told him to jog, that's it. Anyway, that's it, I'm done.
WPA Graph & Box Score
That's one for the fridge, eh? MLB.com has the box score and video highlights, FanGraphs everything else.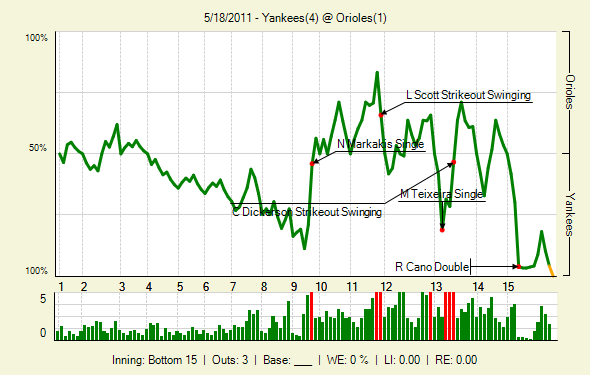 Up Next
Two game winning streak! The Yankees will try to make it three in a row on Thursday night when CC Sabathia takes on … someone. Scheduled Orioles' starter Jeremy Guthrie warmed up and threw seven pitches in this game, and I'm not sure what that does for his availability later tonight. If he doesn't go, I assume it'll be Brad Bergesen on regular rest (thanks to their rain out on Tuesday).