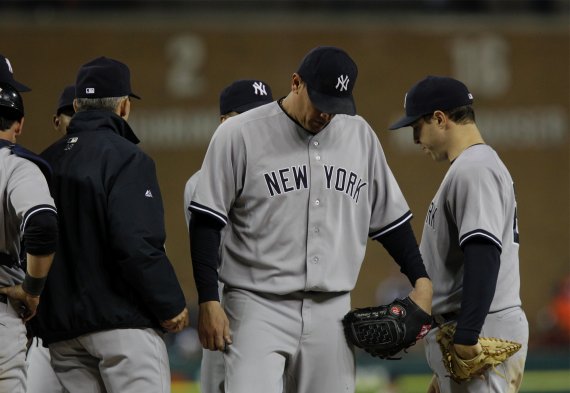 During and after last night's game, I noticed a deluge of complaints rendered against Freddy Garcia. When they came during the game it was understandable. He put the Yankees in an early hole, and with a non-functioning offense he might as well have given up 10 runs. But he didn't. Following Magglio Ordonez's third-inning homer Garcia didn't allow another run, and actually struck out seven in the next four innings. (Well, five, since two were Austin Jackson.) His line on the night was actually pretty decent: 7 IP, 10 H, 4 R, 4 ER, 2 BB, 8 K, 8 GB. And the second walk came in the eighth, which he wouldn't have pitched at all if the Yankees had scored some runs.
It's easy to get frustrated with Garcia, because he's the misfit of the group. The Yankees piled up veteran starters on minor league deals, because they couldn't get Cliff Lee and Andy Pettitte retired. That's strike one. Garcia doesn't tantalize with his stuff, basically throwing slow, slower, and slowest pitches. That's strike two. When he gives up runs — and he absolutely will give up his fair share — that's strike three. And so the frustrations can run high, and they'll run higher when the Yankees aren't doing anything on offense. Hence, the reaction to last night.
As is the case so frequently, the reaction far exceeded the infraction. Garcia actually pitched better than CC Sabathia the night before. CC clearly gets a pass, because he's the ace and he has already contributed so much to the team. But any way you measure it, Garcia had better numbers. He allowed the same number of hits, runs, and unintentional walks, and had more strikeouts than Sabathia. Neither was stellar, and really, neither was quite good. But neither was horrible, either. That seems to get lost with Garcia.
To this point, Garcia has given the Yankees everything they could have hoped for, and perhaps more. after all, he's thrown 25 innings to a 2.88 ERA, including two six-inning, no-run performances to start his season. Even by fielding independent numbers he's doing fine, a 3.98 FIP and 3.70 xFIP. There is really nothing to not like about Garcia right now. Yet he generates plenty of complaints, because he happen to turn in last night's performance when the Yankees offense had nothing.
I don't particularly enjoy writing in response to fan reaction, but we're all fans and we all want the same things. As it stands, Freddy Garcia is helping the Yankees towards their goal of winning the division and eventually the World Series. He's highly flawed, which makes him an easier target. He also symbolizes the failures of the off-season, which further hurts his case. But to this point he has been better than the Yankees could have expected. Even last night he wasn't bad. He was just not great. Which, really, is what we should get from Garcia at his best. It's not the ideal solution, but it's better than many of the alternatives.