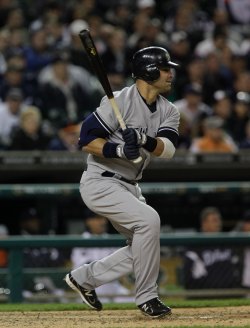 It appears as though Mark Teixeira didn't simply buck his trend of slow Aprils. Instead, he might have handed them off to Nick Swisher. Through the team's first 27 games Swisher is hitting .231/.348/.297, with just one home run among his 17 hits. This isn't anything new, really. Swisher finished last April at .250/.345/.434, hitting only two home runs and four doubles in the month. What's the difference, then, between .250 and .231 at this point in the season? Probably two measly hits. And we all know how Swisher turned it around last year.
Amid the weak outs, there are signs of encouragement from Swisher. For instance, he has 17 walks already, which is nearly a third of his total from last season. That's in large part because he's laying off more pitches out of the zone, both compared to last year and compared to the league average (which is important, because the league average spiked last year). That allows him to remain somewhat productive when he's not hitting, and it will come in much more handy when he is hitting.
On area where Swisher has lagged this season is in his performance against fastballs. Even during his horrible 2008 season he produced a positive pitch type value score on fastballs. In the last two years he has been at 25.3 and 21.9 runs. This year, though, he's a -4.2. It could be, then, that this is just a timing issue. He has also hit a disproportionate number of infield pops, which further points to a timing issue. He's just missing on some pitches, and it's hurting his line. There's little reason to think this will continue, given his career numbers.
You know what else stands to improve? His BABIP. It is currently at .267, which doesn't seem all that out of line for Swish. He did, after all, finish 2009 with a .272 BABIP. But in order to get a grasp of BABIP we need a baseline for comparison. Swisher's current xBABIP is .309, which is far ahead of his current pace. This could again be tied to the timing issue, where he's just making poorer contact on pitches he'd otherwise drive. It's frustrating for now, but it's not likely that it will continue for much longer.
We know that Swisher, like many other players, is prone to slumps. Yet he has always seemed to rally after them and put up big numbers. This year his slump is a bit more noticeable because it started early and has lasted a few weeks. Last year he had a similarly slow start, and then broke out in a big way. In a span of eight games in early May he went 14 for 32 with a double and five homers. Maybe his breakout this year won't be quite as dramatic, but it will happen. And it doesn't seem as though it's that far off.