You know, Sunday night's game started out so promising. The Yankees scored early, had a nice lead and a rested bullpen, but yet again they couldn't get out of their own way. Freddy Garcia gave back every run his team scored the very next half inning, and more defensive gaffs cost them runs on the board. The end result was yet another Yankees loss, their fifth in a row.

Early Runs …
Like I said, it started out so promising. Mark Teixeira singled in Derek Jeter for a quick first inning run, then Andruw Jones and Curtis Granderson went deep to give the Yankees their first three-run lead in what seems like forever. But, of course, it wouldn't be a Yankees' rally these days without an ill-timed bunt attempt. After Andruw led off the second with his dinger, Russell Martin drew a five-pitch walk. That's when Gardner squared around to bunt, predictably popping it up on the infield and failing to advance the runner. Textbook example of the Yankees again shooting themselves in the foot.
Granderson hit the two-run homer a few batters later, and for all we know Gardner could have grounded into a double play and killed the rally even further. But good grief, I know the Yankees are struggling, but that early in the game you have to see if Jon Lester was willing to work himself into trouble. He sure looked like he was. If you try to force things when you're struggling, it only gets worse. Stick to what your good at.
… But Freddy Gives Them Back
Oh Freddy. Freddy Freddy Freddy. You pitched so well last month, but lately you've shown that if you're facing anything better than a hacktastic offense, no lead is safe. Tex's first inning RBI single was answered with a strikeout/passed ball (on Martin, obviously), single, a walk, and a sacrifice fly. The two homers were met with a double, walk, and a three-run Kevin Youkilis homer. Seriously, look at this pitch…
Eighty-eight miles an hour. It gets no worse. That's even worse than this 3-1, 89 mph meatball from last year. Garcia also served up a solo homerun to David Ortiz in the fifth inning, which effectively gave Boston the lead for good. Sweaty Freddy's final line was five runs (four earned) in 5.1 IP, coming on six hits and two walks. It was obvious that he was in over his head right from the get-go, the Red Sox batters just weren't chasing his junk off the plate.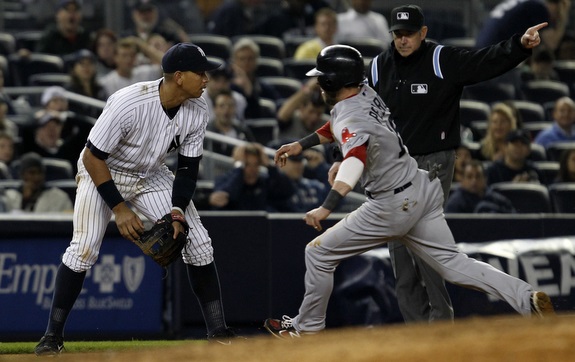 Late Inning Shenanigans
David Robertson created a little bit of a mess with a pair of walks (one intentional, one not) in the seventh inning, but he got his ground ball, the inning should have been over. But instead, Alex Rodriguez rushed towards third base, failing to first secure the routine ground ball. Through his legs it went, Bill Buckner-style, and Dustin Pedroia came around to score. That was the only run Boston would get the inning, but frankly they should have gotten none. There seemed to be plenty of time for Alex to step on third and first to first for the double play. Again, another defensive miscue cost them a run. We've seen plenty of that lately.
HowEVA, the Yankees got that run back a half-inning later when Carl Crawford make a defensive mistake of his own in left. A-Rod hooked a ball down the third base line and Crawford's bobble give Granderson the extra time he needed to go from first-to-home rather than just first-to-third. But, of course, Joba Chamberlain gave that run right back when he surrendered a solo homer to Jarrod Saltalamacchia in the eighth. It was a total Yankee Stadium cheapie, but they all count the same. That was Boston's first homerun from a catcher all season. Whenever the Yankees managed to draw close, they gave it right back up. What else is knew.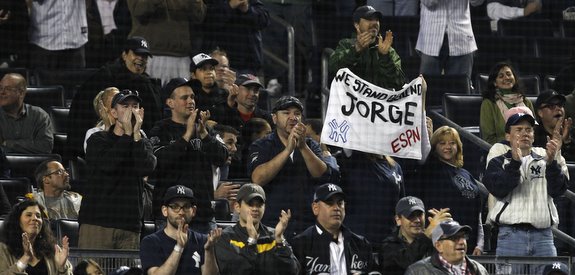 Leftovers
Brett Gardner: five steals, six caught stealings this year following the fourth inning pickoff. Like I said a few weeks ago after that baserunning episode in Detroit, just keep running when that happens. Force them to make the play, stopping and getting stuck in a run down is as close to an automatic out as it gets. He really couldn't be any worse of a base stealer. It's a shame he can't use his best tool effectively.
Offensive star of the night was again Granderson, who homered and also drew a walk. Mark Teixeira chipped in two singles, but also popped out on the infield twice. For his sake, I hope the Yankees are paying him by the pop-out. Robinson Cano had a hit and walk, Martin three walks, and Jorge Posada a pinch-hit walk that was met with a standing ovation*. That's pretty much it. The Yanks had a not terrible performance with men in scoring position (2-for-5), but they still left eight ducks on the pond.
So that's five losses in the row and nine losses in the last 12 games. It's ugly, real ugly, but you know what? They could be in first place 48 hours from now. It's always darkest before the dawn, or something like that.
WPA Graph & Box Score
MLB.com has a box score and video highlights, FanGraphs the rest.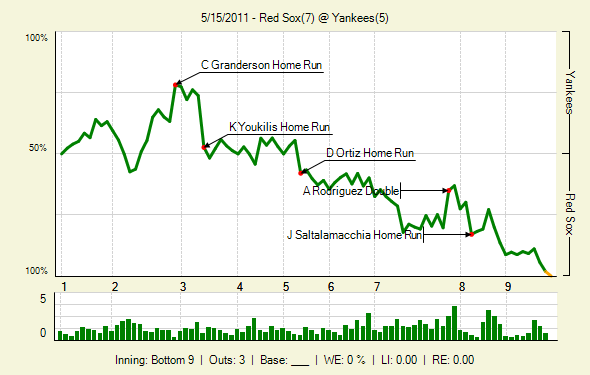 Up Next
Off to the second home in Tampa for a quick two-game set. A.J. Burnett gets the ball against David Price on Monday night. Fun fun fun.
* After pulling himself out of the lineup the night before. Oh to be a True Yankee™.