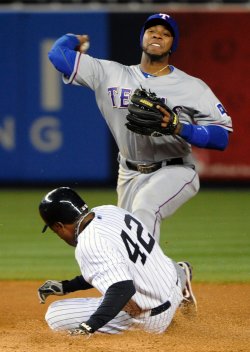 Home runs produce runs. Double plays prevent them. This the story of the Yankees first 32 games this season. They have hit 54 home runs, 13 more than the next closest team, despite having played only 32 games, fewest in the league. At the same time they have grounded into 41 double plays, which is second most in the league. The only team ahead of them, the Cardinals, have played three more games (and have grounded into three more double plays). Anyone can see that cutting the latter will do wonders for the offense, but I'm far more interested in the why. Why are the Yankees grounding into so many double plays?
The most obvious explanation is that they simply find themselves in more double play situations than other teams. We know the Yankees as a team that gets on base at a healthy clip; they have led the league in OBP the last two seasons. This year they're second, and first in the AL. Their 265 hits and 130 walks (leading the league) in 1210 PA make it more likely that they'll have have a man on first with zero or one outs. But we can rule out this explanation right away. If you go to Baseball Prospectus and check out their Balls In Play data, you can see that the Yankees are fourth in the league with a double play in 17.6% of their situations. That is, the Yankees might get into more of those situations, but they still ground into double plays more often than the others, too.
Are they hitting the ball on the ground more, then? That would go some way in explaining why they're hitting into so many double plays. This year they've hit the ball on the ground 46.4 percent of the time, which ranks 11th in the majors. This is slightly higher than last year, when they were at 44.9 percent (14th) and 2009, when they were at 43.1 percent (19th). Yet the Yankees hit ground balls less frequently with runners on base. That rate is only 44.7 percent, which ranks 19th in the league. So while their ground ball rate is a bit higher, the increase comes mostly with the bases empty.
At The Yankee Analysts yesterday, William made an interesting observation: perhaps it's the teams lack of willingness to run that is causing their double play totals to flourish. To quote: "In order to maximize home runs, the team has stopped running, which in turn has led to more double plays that have left fewer chances to hit a home run." This is certainly plausible, but I'm not sure it works out. The Yankees have attempted 26 steals this season in 32 games, or 131.6 per 162 games. They attempted 133 last year and in 2009 they attempted 149. That's not to rule out the possibility, since there is more detail to be examined here. But it's a pretty quick way of showing that it probably isn't the main reason.
What is it, then? What is causing the Yankees to hit ground balls to infielders in those precise situations when a ground ball hurts the most? Much as I hate to say it, luck has to play a predominant role here. Just as the Yankees are getting lucky in some regards with their 17.3 percent home run to fly ball ratio, they're getting unlucky with their double play rate. As one evens out I expect the other will, too. Which is perfectly fine. They're not in 1:1 proportion, but as they slow down creating runs via the homer, so they will create more runs via double play avoidance. That's good news for a team that leads the league in runs per game.