The six-game losing streak is in the rear-view mirror, but not far enough that we can forget about it. Five games against the Red Sox and Rays are always tough, but things get a little easier for the Yankees tonight when they kick off a two-game set against the Orioles in Yankee Stadium South, a.k.a. Camden Yards.
What Have The Orioles Done Lately?
Believe it or not, the O's come into this series having won five of their last seven games, sweeping the Mariners and taking two of three from the Rays over the last week. They blew a big early league against the Sox on Monday before getting rained out last night, so they're rested. Baltimore is still 13-20 since their 6-1 start, and their -21 run differential is the worst in the division and the fourth worst in the AL
Orioles On Offense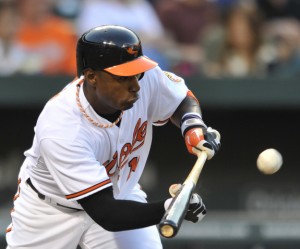 When we last saw the Orioles, they were a bottom five offense in terms of OBP and wOBA. They've improved somewhat, but still only sport a .314 OBP and .312 wOBA as a team. No longer bottom five, but still bottom half in the game. Derrek Lee will be placed on the disabled list before tonight's game with a strained oblique, but that might be a good thing for the O's since he was hitting just .174/.273/.370 over the last two weeks and has a .295 wOBA on the season.
Baltimore's offense is being carried by four players at the moment. Adam Jones (.422 wOBA in May) and Vlad Guerrero (.398) have been monsters this month while Mark Reynolds (.364) and Nick Markakis (.363) have contributed at an above-average rate as well. Brian Roberts (.167) and Matt Wieters (.295) have cooled off this month, and Luke Scott is kind of moseying along with a .329 wOBA this month. Good, not great. J.J. Hardy came off the disabled list about a week ago and already has two homers in seven games since. That means no more Robert Andino or Cesar Izturis, for shame.
Orioles' hitters have the highest walk rate (10.3%) and fifth lowest strikeout rate (19.0%) in the AL, which makes it hard to believe they rank so low on the team OBP leaderboard. They won't get themselves out on pitches out of the zone as much as you might expect, but there are some definite holes that allow pitchers to work around guys and pick their spots in the lineup.
Orioles On The Mound

Wednesday, LHP Zach Britton: Oh no, a rookie starter the Yankees haven't seen before, and Britton's no slouch either; Baseball America ranked him as the 28th best prospect in the game before the season. The 23-year-old southpaw has made eight starts since being called up, and he's getting away with striking out just over five batters per nine (5.02 K/9, to be exact) thanks to a 2.77 BB/9 and a 54.4% ground ball rate. Britton is the rare true sinker-changeup pitcher, with the fastball coming in around 91-93 and the changeup in the mid-80's. He'll also break off a few sliders, but we're talking one out of 20 pitches or so. He's very good, trust me. The Yankees are going to have their hands full with this one.
Thursday, RHP Jeremy Guthrie: The Yankees got lucky and missed Baltimore's two best starting pitchers the other two times these clubs have played, but they won't be so fortunate this time. We've seen so much of Guthrie over the last few years that I don't need to tell you too much about him, though I want to mention that he constantly outperforms his peripherals and is doing so again this year (3.98 ERA, 4.64 FIP). He's like Matt Cain in that sense, it's been so long that I don't think we can call a mid-to-upper 4.00's FIP his true talent level. The ERA is closer to what he really is. Anyway, wooo Jeremy Guthrie. Hopefully he doesn't hit anyone tomorrow.
Bullpen: Kevin Gregg is perpetually shaky in the ninth and blew Monday's game against the Red Sox, his second blown in his last three chances. Koji Uehara (3.87 FIP) and Jim Johnson (3.56) have been very good in setup roles while Mike Gonzalez has been questionable (5.29 FIP) from the left side. Jason Berken (5.08) crashed back to Earth after the great start, and then you have Jeremy Accardo (5.57) and lefty specialist Clay Rapada (6.93) doing forgettable work in low-leverage spots.
The Orioles bullpen is pretty well rested, they had last night (rain), Saturday (Brad Bergesen complete game), and Friday (Guthrie complete game) off. Hopefully we'll see lots of them over the next two days because Mo knows the Yankees could use some games in which they score a ton of runs and force the starter out of the game early. Some blowout wins sure would be nice right about now.
Recommended Orioles Reading: Camden Crazies